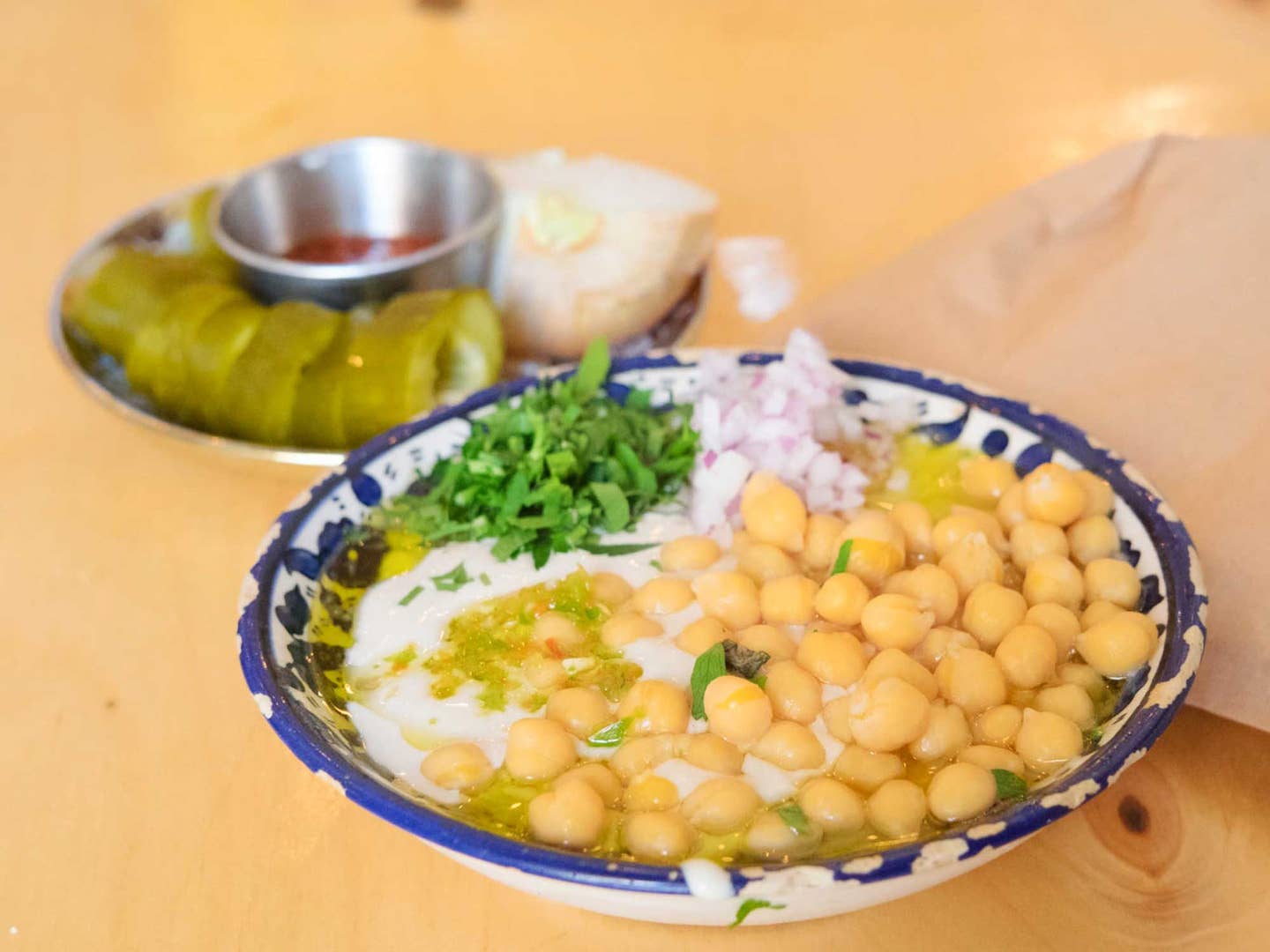 Travel
What Goes Into Making Israel's Top Bowl of Hummus
At Han Manuli in Jaffa, a young black-clad chef is ditching the food processors and obsessing over a pot of Bulgarian chickpeas
At 10 on Sunday morning, the chickpeas in a giant pot on chef Felix Rozental's counter have already been soaking for close to 12 hours. Rozental is on his own today (Sundays in Israel are equivalent to Mondays in the U.S.), so he is chopping the parsley that tops the hummus, or as it's called here at Han Manuli, msabaha.
By noon, service will start: Rozental tastes the chickpeas and strains some, tossing fistfuls into the broad metal bowl serving as a mortar. He only makes the one batch a day, enough for the 150 or so servings of msabaha he sells each day. His hefty pestle scrapes the side of the bowl, slamming down onto the hummus with its own weight. A few glugs of fresh lemon juice go in, lots of water from the boiling of the chickpeas. He pours in tahini from a pitcher held a few feet above, letting it drizzle in slowly, the final flourishes on his bowl of hummus that's so much more than a bowl of hummus.
Great hummus is as common in Israel as taco stands in Mexico, but there is no place else serving it the way Han Manuli does: finessed and perfected by the trained hands of an obsessive who treats the dish like a chef would a $200 tasting menu.
"Every msabaha is a hummus, but not every hummus is a msabaha," Rozental explains. Msabaha is more of an entire chickpea dish, which includes the basic puree with which most Americans are familiar, but elaborated upon. Here, at its most basic, it comes with loose chickpeas, herbs, and tehina on top, but options include wild mushrooms, lamb, and "sea monsters." (Tahini, called tehina in Israel, refers to both the pure sesame paste and the sauce made from it with garlic, lemon juice, and water. In his cookbook Zahav, Philadelphia's chef Mike Solomonov describes how Israelis love tahini "unconditionally and a bit irrationally.")
Calling anybody's bowl "the best hummus" in Israel is like declaring a favorite slice in New York City: It depends on your personal preferences, what you grew up with, and more than likely what's near you at the moment. A recent survey found that 93% of Israelis eat hummus more than once a week—and 5% eat it six times a week. At any given time, 70% of the country has it in their fridge.
The morning I came to Han Manuli to talk hummus with Rozental, Time Out Tel Aviv called it one of the best in the city (note: article is in Hebrew). The building dates back to the Ottoman empire, taking the restaurant's name from the han, or guest house, that previously occupied the space, operated by an Armenian named Manuli. Rozental and his partner in business and life, Chen Rozenhak, hope to recreate the welcoming atmosphere of a guesthouse in their restaurant, serving msabaha in Jaffa, the Arab town at the south end (and historic root) of Tel Aviv.
Thick and warm—a sure sign that it's freshly made—Han Manuli's msabaha comforts with its freshness, each bowl hand-mashed when ordered. The finest Bulgarian chickpeas, a carefully weighed ratio of baking soda, and constantly monitored simmer result in an ethereal texture that Rozental rightfully prides himself on. The beans stay whole for topping but, when prepared as hummus, practically melt under the rhythmic pounding of the pestle, as if they were pats of butter on a hot stove, giving up structure, but never flavor.
Looking south from Tel Aviv's sprawling beaches, the minaret of Jaffa's Sea Mosque extends into the sky much as the sand-hued stone of the old city protrudes into the blue waters of the Mediterranean. The Arab town existed long before Tel Aviv—a planned city created at the beginning of the 20th century—and the daily call to prayer, the remaining mosques, and Arab hummus joints remind the coming onslaught of gentrifiers of the neighborhood's roots. Nearly 10,000 years of history shaped Jaffa, but now it's almost wholly consumed by the modern, cosmopolitan Tel Aviv. Han Manuli's Israeli ownership marks it as part of the new guard, but serving great hummus is long-standing tradition of Jaffa.
Rozental, with black skinny jeans, a tight-fitting black t-shirt, and a quick, sly smile, is forthright and unapologetic: When I ask him why he decided to open in Jaffa two and a half years ago, he cites the usual reasons—he and his partner lived nearby, rent was cheaper—but he also flashes a devilish grin and says, "You know, an Israeli opening a hummus restaurant in Jaffa, I thought it would be a little bit nice…and rude."
Han Manuli bears little resemblance to the traditional hummus joints nearby: literal holes in walls where customers are asked to eat it and beat it and the menu is made up, in its entirety, of three different styles of hummus. The bathrooms are down the street. Rozental cooked at London's St. John and for Alain Ducasse in Paris, and he's bringing that fine-dining mentality to his Han Manuli. He wants to make the best hummus possible, and that involves the setting, along with ingredients and technique.
"It's not that traditional," he says of his msabaha, pointing specifically to the toppings. But in other ways, it's even more so—he ditches all recent advances in hummus technology. No whirring food processors touch Han Manuli's hummus. In fact, from the old-school Arab-style coffee-making to the open-flame grilling, nothing in the kitchen couldn't have been there a century ago. His pricing, however, takes its cue from modern restaurants: He readily admits that he makes one of the most expensive bowls of msabaha in the world. At 38 shekels (just over $10 U.S.) it's almost twice the 20 shekels charged at typical hummus shops.
Around 10:45, he weighs out a small amount of baking soda and adds it, along with plenty of water, to the chickpeas and puts them on the stove to boil. The baking soda is essential to soften the beans and, in his words, "make them more friendly on the stomach." The whole kitchen is barely more than a 20-foot hallway, with a wooden counter for prepping and plating, a stove, and a sink. While the chickpeas come to a boil, Rozental rotates eggplants on and off the naked flame of another burner and sears well-oiled tomatoes hard on a cast iron grill plate over another. The tomatoes, onions, eggplant, and more are toppings for the variations of msabaha they serve.
Getting all of the prep done in the small kitchen on the six burners is a bit of a Tetris game—he's constantly moving one vegetable to make room for another. At one point, it becomes a literal balancing act, as he places the screaming-hot grill full of tomatoes on top of the fryer—trying to balance it on the protruding handle. (The stove itself, too, is balanced: each of the four legs is raised off the ground by a small brick.)
As the chickpeas boil away on the stove, Rozental pauses to skim the foam from the top. It is clear why that foam has become all the rage as a vegan egg white substitute: It puffs, creeping up the sides of the enormous pot like a proto-merengue. The skimming, which he does every ten minutes or so, prevents the whole thing from boiling over. After about 40 minutes, he moves the chickpeas to a lower heat so they don't fall apart completely—bad "for texture and aesthetics," he explains.
Throughout the day, Rozental talks about his ingredients. He recently consulted on the opening of a hummus restaurant in Moscow, where he admits it will never be as good as in Jaffa, because the raw produce isn't as good. The buzzwords for many of the ingredients in Israel are the same as anywhere—local, organic, handmade, fresh—but they take on special significance in a country mad about vegetables. At Han Manuli, they use small Bulgarian chickpeas. Even raw, they are flavorful and barely harder to bite than a peanut. "It's the best chickpea in the world," Rozental insists, not just for its flavor, but also for how it grinds into a soft paste.
Rozental shuffles between boiling potatoes and peeling eggs but never seems hurried. He pulls out enamel baking dishes and lines them with crumpled parchment paper to store the grilled onions. They look like they might be straight off Pinterest. Most of Han Manuli has that look, in fact: the mustard yellow, muted aqua, and rust-orange painted chairs, the raw brick walls, and the copper pots hanging from the floating wood shelves.
Shortly before the restaurant opens at noon, Rozental gets ready to make the hummus itself. He crushes cloves of garlic one by one under the palm of his hand, then adds them to a large prep bowl with coarse-grained sea salt and nearly obliterates them under the weight of a heavy gold pestle, before adding tahini to complete the basic hummus--just the canvas upon which he creates msabaha.
Twice a day, he mixes that same tahini "dough," as he calls it, with lemon juice and cold water, creating tahini sauce. It is one of the standard toppings for Rozental's msabaha. Each bowl also sports a colorful palette of fresh-squeezed lemon juice, olive oil, green herbs, chopped red onions, and chiles (chopped and submerged in oil with salt and garlic).
The pita at Han Manuli comes from a nearby bakery, from Rozental's own formula, par-baked to 80%, then finished in—and served warm from—the restaurant's combi-steamer oven. Each serving of msabaha comes with a plate of accessories: pickles, lemon, a hot sauce called harif (Israeli harissa), and raw onion. The onion, Rozental says, is to use to pick up the hummus instead of bread. "It's our secret, it's how we do in Israel," he smiles.
The roots of msabaha come from Lebanon. Rozental considers his version to be more Jordanian or Jerusalem-style, but as nearly anyone here will remind you, hummus belongs to all of the Middle East. Israelis, however, are particularly proud of theirs. I ask Rozental why. "This is what we Israelis do. We are proud." Rozenhak, his partner in business and life, adds, "it's a representative dish. We chose it to be our specialty becomes it gathers people together at the table."
At noon on the dot, the restaurant opens and the first ticket hits the line: two bowls of take-out msabaha that the same person orders every day. Rozental smiles like a sprinter setting up on the start line and prepares each bowl with impressive speed. This is the best part of running the restaurant, Rozental says, "The people, they come. They come and they eat."
How to Up Your Own Hummus Game
If you can't make it to Jaffa for msabaha at Han Manuli, you can at least steal a few tricks from Rozental to make it at home:
Look for the best ingredients. Canned chickpeas have their place, but dried ones are more flavorful and make a richer purée. When it comes to tahini, Mike Solomonov of Philadelphia's acclaimed Zahav Restaurant recommends the brand Soom for its extra-nutty flavor.
Add a pinch of baking soda to your dried chickpeas to get them extra soft.
For a more complex texture, mash your chickpeas with a mortar and pestle, not a food processor.
Save a few of the cooked chickpeas after boiling to serve on top.
Make it into a meal by topping with grilled meat or vegetables.
Naomi Tomky is a Seattle-based food and travel writer. Learn more about her at The GastroGnome.