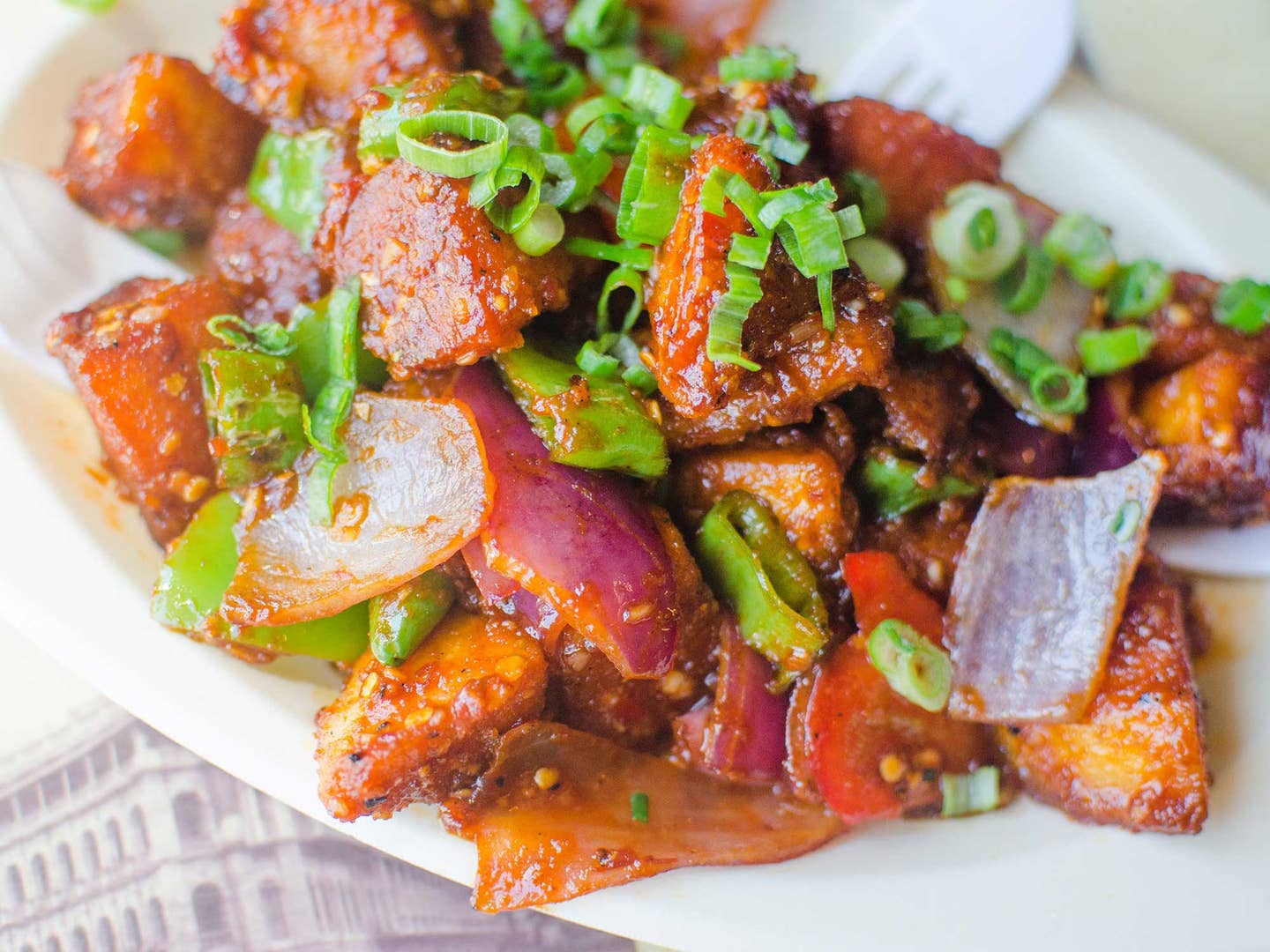 Travel
A One-Day Snacker's Guide to Edison, NJ, One of America's Best Indian Food Destinations
Oak Tree Road is home to dozens of excellent Indian restaurants and bakeries. Here's how to eat it all.
The best General Tso's you'll ever eat comes from an Indian restaurant in New Jersey called Dimple's Bombay Talk.
It's a dish made with idli, fluffy South Indian steamed rice flour cakes, cut into chunks, given a hard fry until they're crisp all the way around, and cooked with an unbelievably good spicy-sweet sauce low on goop, high on heat, and with just enough rounded, gingery sweetness to get you going back for more. The idli retain their crisp edges while softening just a little to a satisfying chew, and while they may seem to the uninitiated like an odd substitute for chicken, they manage to work even better—more sauce absorption, less mushy crust.
Much as I'd like it to be, the dish's name is not General Tso's Idli. It's 'Chinese' Idli, and it's one of the excellent items on the Indo-Chinese section of Dimple's menu in Edison, New Jersey, which is home to one of the largest Indian populations in the Northeast and, if you didn't see it coming, where you'll get some of the tastiest Indian cooking in America.
The neighboring towns of Edison and Iselin have long been home to a diverse population of first- and second-generation Indians from Gujarat, Punjab, and beyond, and along a couple miles of Oak Tree Road through the two towns you'll find dozens of restaurants (estimates put the number around 60) catering pretty much exclusively to locals, along with Indian groceries, fabric shops, and jewelry stores.
My neighborhood, Jackson Heights in New York City, has a reputation as an Indian food destination. Several decades ago that reputation was earned. Today the most proficient cooks in the tristate have set up shop elsewhere; some on Long Island, in and around New Hyde Park, but mostly in New Jersey, which is why I've spent a few weekends in a car, passing my local kebab shops, to drive an hour to taste my way down Oak Tree Road. For students of Indian cooking, there are few better places to see a wide range of cooking styles, techniques, and flavors in such close proximity.
That sheer number of restaurants means picking a starting point is difficult. Enter this quick-and-dirty cheat sheet on what's there and worth an order, for a one-day snacker's guide to the best of Edison.
Dimple's is actually an international chain, which bodes well—Indian chain restaurants that make it overseas are, by and large, really good, from Saravana Bhavan (respected even in India for its dosas) to the Chettinad restaurant Anjappar and Moti Mahal Delux. At Dimple's, the specialty is Mumbai-style snack food, so in addition to that excellent idli you should also order yourself some chaat: mixtures of potato, legumes, raw vegetables, little crunchy fried bits of chickpea flour, and a hurricane of sauces designed to hit all your bliss points: cool and creamy, fresh and herbal, hot and spicy and tangy and sweet.
Of these, one of the most impressive (visually and taste-wise) is the tokri chaat, in which shredded potatoes are arranged into a nest shape and fried as an edible bowl to hold your chaat components, from the perfectly cooked potatoes to the topping of crisp sev.
The marks of a great dosa: paper-thin with a smooth, lacquer-like exterior that's toasted and buttery, contrasted by the flavor of the batter itself, which should taste bright and tangy from its time spent fermenting. Dosa Express nails all those points for a textbook dosa and some cool coconut chutney on the side.
For a good dosa, fillings are secondary; the point's really the crepe itself, and that's where the cooks' attention lies at Dosa Express. But the plain spiced potato filling is more than worth an order.
Dosa Express
1170 Green St
Iselin, NJ 08830
(732) 404-0047
A small, blink-and-you'll-miss-it sweets shop in one of the many shopping centers on Oak Tree Road, the go-to at Jassi isn't actually the sweets (see below for a better dessert recommendation), but the chole bhatura, a specialty of Delhi consisting of a bowl of gently spiced chickpea curry and two fat bhatura: puffy, flaky maida flour fry breads that fill with air like pillows when they hit the oil.
You'll see the dish all over Oak Tree, but Jassi's may be the best in town. Those chickpeas are loaded with ginger, bright and almost refreshing beneath their layers of spice, and delicately creamy but not yet falling apart. The bhatura are also remarkable: tender with a touch of chew, and practically greaseless.
Jassi Sweets
1404 Oak Tree Ave
Iselin, NJ 08830
(732) 283-4065
A favorite of chef Floyd Cardoz, Swagath is a good place to sample a lot of South Indian flavors at once. The restaurant specializes in thalis: big serving platters full of lots of little things designed to come together for a full meal. In the photo above, that's a puffy fried puri, various pulses and vegetable curries, yogurt curry, sambar, and a small dessert. It's all well done, particularly the vegetables, which retain their flavor and freshness despite getting cooked down to a collapsing softness. Swagath also recently introduced a North Indian thali, coming soon to the menu, which offers a standout butter paneer and gulab jamun.
Alka and Ashok Patel's mom-and-pop operation opened in Edison in 1999, and since then Jhupdi has been serving some of the finest Gujarati cuisine in all the land. What is Gujarati cooking? Purely vegetarian, heavily spiced but also enriched by an intriguing sweetness from jaggery (Indian raw sugar). It's rib-sticking food that's pulsing with heat, fresh herbs, and deeply caramelized vegetables, best shared with as many people you can gather around the table so you can eat as much as possible.
Go for the thalis here so you can experience the full range of Gujarati cooking in one dish, and be liberal with the dark, moody chile paste that sits on the plate next to a clump of sugar to further season your food. But do save room for the menu's "small" dishes, which are really anything but, especially when it comes to khandvi: seasoned chickpea flour batter flavored with herbs and spread into a thin, flat sheet, then rolled up into little curls. It's tricky work—you have to manipulate the batter by hand while it's still piping-hot to ensure it's thin enough—but the lithe rolls are remarkably delicious for how simple they are. Tender, floppy, and full of that classic chickpea nuttiness.
Jhudpi
1679 Oak Tree Ave
Edison, NJ 08820
(732) 906-2121
Indian sweets have a reputation for being treacly without much else going on, and most of the desserts you get in American restaurants and bakeries back up this point. But done right, Indian desserts are rich but full of flavor, with textures from fudgy to feather-light and everything in between. For an education in how good such sweets can be, head to Mithaas, which has a far wider selection and overall higher quality than the competition.
Start off with the tall dairy-heavy cakes in the photo above, ringed with pomegranate seeds or orange blossom water, for something almost tres leches-like that's delicate and not too sweet. Chewy fig cakes take on an almost gummy candy-like texture. There are marzipan-like fruit made from cashews and, of course, crisp-crusted gulab jamun. These are just a few of the dozens of sweets made from milk, chickpeas, and cashews that you can purchase by the piece or pound for comparative nibbling. But skip out on the savory items—the Mumbai-style snacks won't do you any favors.
Mithaas
1655-170 Oak Tree Ave
Edison, NJ 08820
(732) 947-3014