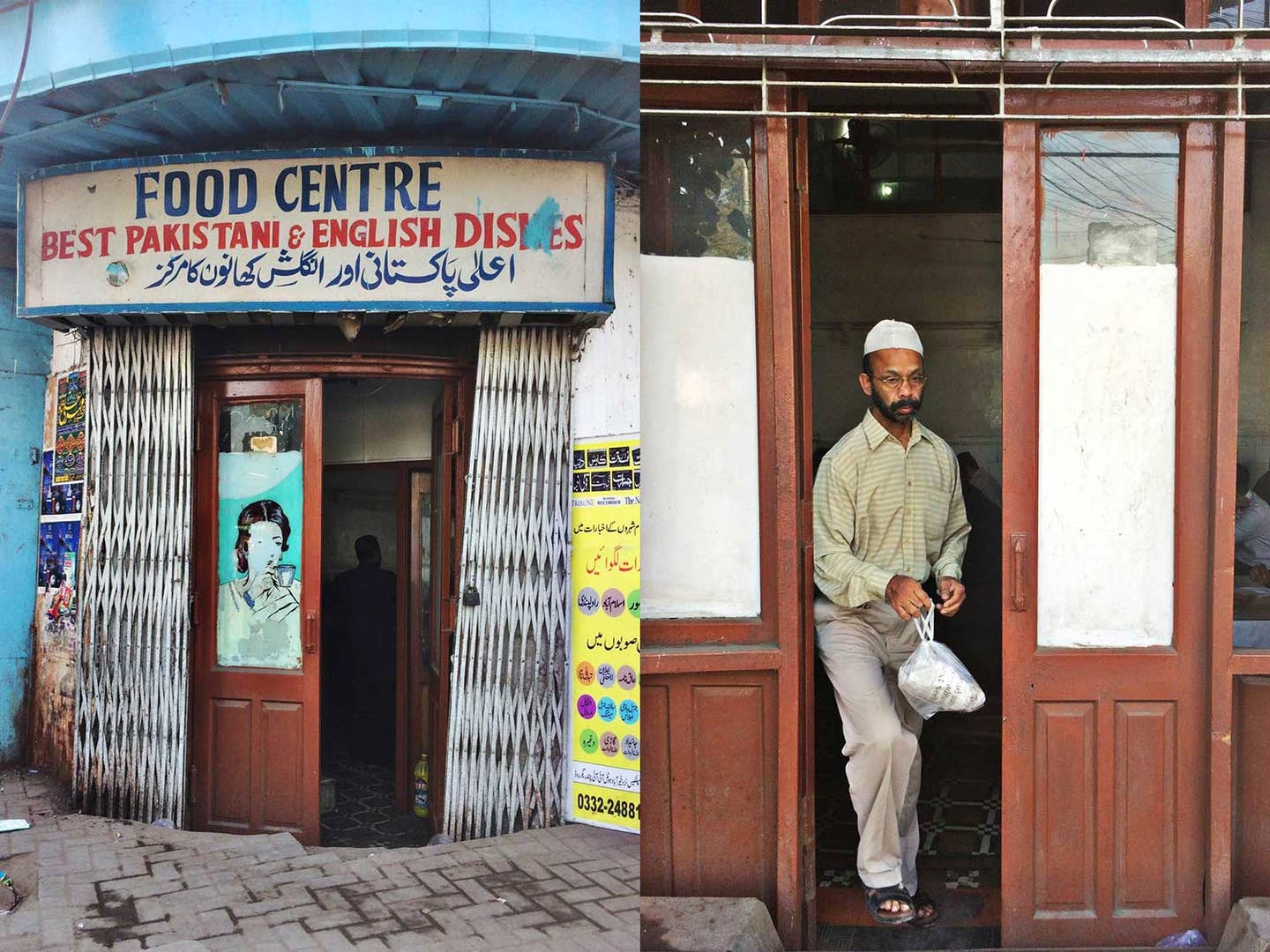 Travel
Inside One of Karachi's Last Iranian Lunch Cafes
As other Iranian tea shops and cafes in Pakistan have come and gone, Cafe Khairabad has somehow survived, serving lunch to the diverse workers of Chundrigar Road for generations
It's a weekday afternoon in Karachi, Pakistan, and Abbas Ali is sitting behind the counter at Cafe Khairabad, his face impassive as he observes his customers walking in, the uniformed servers, and the open kitchen. Khairabad sits at the corner of I.I. Chundrigar Road, anchoring this street of banks and television studios and the stock exchange that comprises the city's media and financial district. It is 1p.m.—lunch hour—and on Chundrigar, lunch means Cafe Khairabad.
People make their way through open wooden doors, past Ali's counter, and slide into high-backed booths. A group of young men in pastel shirts and ties effusively greets another group of similarly attired men. At another table, there's a guy in a shiny blue suit, whose ambition hasn't quite been knocked out of him yet. This is a neighborhood of hustlers in sharply creased pants. Chundrigar may be a street that feeds off chaos, yet Khairabad remains oddly calm.
For over forty years, Cafe Khairabad has served lunch to the city's writers, bankers, and journalists, to utility workers, office employees, and TV crews. Lunch at Khairabad is an experience, from the patterned floor tiles (a feature of colonial-era buildings) to the narrow wooden doors and glass-front cabinet with a list in Urdu script: custard, chullow mahi(fish), green tea, coffee, ice cream. It's also remarkable that the place even exists at all.
Khairabad is the last of the Iranian-origin cafes in Karachi. In 1936, Abbas Ali's great-grandfather, an Iranian merchant from the Yazd region, opened Khairabad here, which was then part of British colonial-ruled India. Iranian traders traveled to the Indian subcontinent and opened tea shops and cafes like Khairabad in major Indian cities, and they quickly became famed for housing public intellectual life and serving tea in an elegant, modern space. In 1947, after the independence of India and the creation of Pakistan, Karachi became the new country's capital (later to be replaced by Islamabad), and Khairabad was part of its cultural life. Ali says his family liked the fact that this was a Muslim-majority country. The family kept adding onto Khairabad, and in the mid-1970s, they started offering lunch.
Most of the Iranian cafes have closed down in Karachi—the owners left, or passed away, or were squeezed out as the land became more valuable—but Khairabad continues to thrive. The secret might not be the menu, but the man behind the counter.
Abbas Ali, who people call agha sahib, a Persian and Urdu honorific, is almost 70, but he still runs the lunch service. The cafe gets four to five hundred lunch orders every day, some days making up to one thousand rotis. In the kitchen, servers load up plate after plate of daal fry (one of the cafe's most popular lunch orders), chicken tikka, fried fish, sabzi ghotala (a vegetable curry with an egg scrambled through), chicken jalfrezi—and bring it to the counter, alongside a tower of naan or chapatis, fresh from the tandoor. Ali casts an eye on the tray, and pencils the orders into a notebook. A server carrying a dish of noodles flits past and up the stairs into the "gallery hall," a space added after 1975 with windows that look out onto the dining area below.
Over ninety dishes are listed on the menu, including barbecue, seafood, sandwiches—even cow's brains. It's also one of the cheaper lunch dates in town. "People's incomes are limited, not unlimited," Ali says. "We have set prices based on that." At Khairabad, lunch could be anything from a samosa with tea to a giant plate of chullow kebabs. The prices are so low that I almost wonder if Khairabad isn't subsidizing half of the city's office workers. "If I decrease the size of the roti, people will say, 'What's happened, agha sahib?'"
There are few people like Ali left anymore: people who care about their customers, and what they eat, and whether they can afford to eat it at all. That is why, every morning, Abbas Ali goes to nearby Empress Market—a fruit and vegetable market housed in a colonial-era space—to pick out produce, and keep an eye on the butchers as they prep his orders. "What I eat myself, I serve to customers. I have breakfast and lunch here," Ali tells me one afternoon after the last of the lunch crowds have left. "We work with honesty," he says, to explain why people keep coming back to Khairabad. "We cannot serve a second-rate thing." Ali seems to have made Khairabad into a personal mission, despite the fact that dozens of Iranian cafes and restaurants have closed down over the decades, and pervasive street crime makes it difficult to live and work in Karachi. Yet Ali is persisting, as long as he can; his children aren't involved in the business, and Khairabad's future seems uncertain. "We are old people," he says, "and we run an old system."
But for now, Khairabad is open, and it's time for lunch. As a parade of kebabs and daal go out to customers, I sit in a booth that faces an open doorway and order prawn masala with naan while watching people hurtle across the road amid the traffic. I eat every last drop. It costs less than $3.
It's rare to be in a space that's not just a relic, a faded photograph from another generation. Someone else sat here once, in this very booth, and dreamed about socialist politics or the Great Pakistani Novel. Someone ate their feelings in puddings and smoked away their work stress. Every year, generation after generation discover Khairabad as they hunt for a meal they can afford on their first salary. Protesters pass its wooden doors as they make their way down the street to register their rage at the media or the cops or the city. The miracle of Khairabad is that I could be in the year 1978 or 2018, there could be a coup unfolding or a citywide strike, but I know that Khairabad will still be serving lunch.