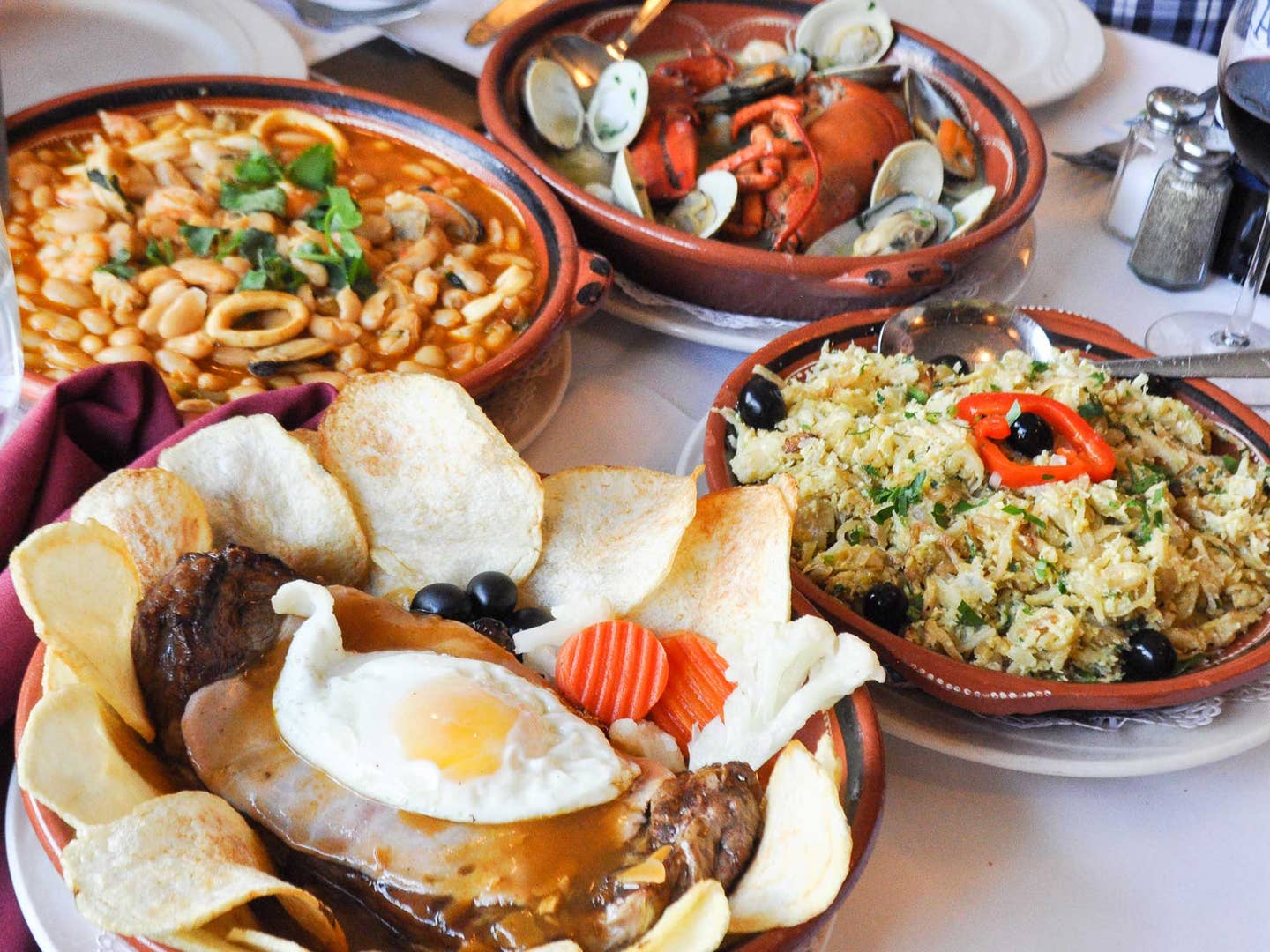 Travel
The Portuguese Lunch Paradise of Newark's Ironbound
In New Jersey's robust Portuguese and Brazilian community, the restaurants are family-run, the lunches are long, and the food is unfancy but deeply delicious
"The thing you have to know about Portuguese food is…" my father begins, and then launches into a monologue. We're headed to the Ironbound district of Newark, New Jersey so that we can share a longstanding Portuguese tradition—the three-hour lunch—which he and his brothers have nobly mastered. But first things first.
The Ironbound district is so-called because railroad tracks flank the area on three sides, and a railroad yard closes it in on the fourth. Between these borders, "Little Portugal" has flourished since the late 1950s, when the largest waves of immigration to the area began. Nestled side by side are single-family homes, bakeries fragrant with sweet breads and custard-filled pastries, and cafes where customers stand at the bar at first light with espressos in hand. Grocery stores supply imported meat, cheese, and sweets, and on Sundays after church the streets ring with a cacophony of Portuguese and English, the two often blending mid-sentence.
Many restaurants in the Ironbound combine traditional Portuguese dishes with those of Brazil or Spain so that their menus attract the largest audience possible. But we're headed to Taste of Portugal on Delancey Street, where the food is solely continental Portuguese. Other than my feminine presence—jokingly affirmed as only acceptable because I'm footing the bill—there's nothing unique about this lunch. Which is why it will be so special.
Growing up in a Portuguese household, food and family were intricately linked. For me, being Portuguese meant being part of a tightly-knit family, having strong faith, working more than is healthy, and doing the best you can with whatever life hands you. Our food reflects that. We cook humble ingredients to nourish family and friends, and time together centers around massive feasts of these simple dishes, when we take take over the private room every Portuguese restaurant has nestled in the back, or stretch table after table through our homes. Portuguese culture—and Portuguese food—is about family, not fancy.
At the restaurant, we meet my father's two brothers, my tios (uncles) Celso, the patriarch of the family, and Octavio. We immediately order wine and rip into squishy Portuguese rolls, their slightly crisp and floured crusts opening up to chewy insides that we slather with butter. I take in the scene. I see the bar next door is packed with locals in for a quick lunch. At a large corner table in the dining room, a family lingers, elbows-deep in seafood and glasses half full of wine as their laughter wafts over.
The décor is a variation on the theme of all Portuguese restaurants: sparse, neutral tones highlighted with the red of a chair or the deep copper of traditional Portuguese serving dishes. Wine glasses, plates, tableware; they're all utilitarian. There's warmth in Portuguese restaurants, but not from calculated design; it all comes from the food, and the people who share it.
Which my father begins to explain again now that we're seated (Portuguese people in my experience like to tell the same story over and over, despite whether or not you've already been treated to the show before). "A Portuguese restaurant is family-run and family-managed," he says. "It goes down from one generation to the next generation, and the food that's served is the food that the particularly family cooks. There are no recipes for the dishes—every family and every chef just cooks slightly uniquely. That's what makes one Portuguese restaurant different from another."
You only truly comprehend this by eating around, as I have at the hundreds of post-First Communion lunches, wedding engagement brunches, baby showers, soccer match viewings, and random celebrations hosted by my family over the decades. Go to any traditional Portuguese restaurant and you'll find the same staple dishes. There's caldo verde—potato soup emulsified with peppery Portuguese olive oil, laced with shredded kale or collard greens, and studded with slices of chouriço or linguiça, depending on the preference of who's making it. There are grilled sardines, of course, because the Portuguese are famous for their fishing prowess. There's charred octopus, the thin tentacles blackened to a crisp and the meaty legs soft and sweet. And there's one of my favorite dishes on the planet—mariscada em molho vermelho—where white rice gets flooded with a stew loaded with clams, shrimp, lobster and mussels.
Today we've headed to Newark to stock up on market supplies, and have chosen Taste of Portugal to see what they do with the staple dishes we each covet so much. I select cold octopus salad and some chouriço for the table, and we dig in.
The octopus starts firm, popping open into a sweet, soft interior, and bracingly tart from red wine vinegar and chopped onions. Nodding our heads in agreement as we chew, we decide that the chouriço's crispy edges mean it must have been pre-sliced and grilled in the oven, where we'd cook it whole over flaming alcohol and slice it when fully charred. No dish is immune to comparison, and while we may note how we'd cook a dish differently, we clear the plate of every last slice in admiration.
The wine kicks in, we order our entrees, and talk turns to their past. My family emigrated in the late 1960s, but we return often to our home in the Azores, and they want to make sure Celso gets back again before travel becomes too complicated for him. They tell jokes about stubborn aged family members of yore, share memories of butchering the pig before Christmas when refrigeration hadn't yet hit the island, and they challenge which brother was the most troublesome as a child, and which is the best cook now.
When our entrees come, the talk shifts back to food. The plates are gigantic; Octavio notes "they're proud of how much food they give you." My "Portuguese Steak," cooked in the oven and topped with ham and a runny fried egg, served with crispy rounds of fried potatoes, could feed three (and, indeed, potatoes get quickly pilfered). Dad's bean and seafood feijoada is disarmingly simpler than its Brazilian counterpart, with clams and sausage decorating white beans in tomato, but full of an earthy, pungent flavor that certain food people like to call "umami." The lobster and clams in Celso's mariscada em molho verde are lightly boiled just until their flesh is barely cooked through. And Octavio's bacalao with potatoes, found on every menu often served in chunks, here comes shredded. I learn the next morning while ripping through leftovers that this makes for some killer breakfast hash.
Pretty much everything is finished off with a rough chop of parsley and a squeeze of lemon. It's generous, filling food, flavored from simple vegetables most Portuguese people grow at home, whether in Europe or the United States: red peppers, chilies, onions, tomatoes, parsley, garlic, and lemon. The three of them have generous gardens on the verge of flowering. Tio Celso is notorious for making cases of red and white wine I'd steal by the case. In New Jersey, cement driveways are often lined with pots and cans of growing things. Even my modest Manhattan window box grows me enough herbs to get through summer.
We order coffee and Port and I ask if this tradition is universal: Are there Portuguese men back home knocking off early from work on Friday and sitting as we are, now, with espresso in hand as the sunlight slowly crosses the dining room? Dad laughs in my face: "People in Portugal do Friday lunches every day!" In all seriousness, they explain how many local cafes offer a daily lunch special where, say, for five Euros, you can get bread, cheese, either a meat or fish entrée, coffee and wine. Some scurry in and out in their lunch hour. Others, like us, talk until the wait staff gets antsy for their pre-dinner shift meal.
The family in the corner still lingers, their laughter penetrating ours now and then. Other tables have filled and emptied, and the bar remains packed the entire time. I slap my credit down to claim the bill, which marks a shift of sorts, a changing of the social guard. At least it does for a few minutes, before my tios load me up with the leftovers and hug me like I'm still a kid.