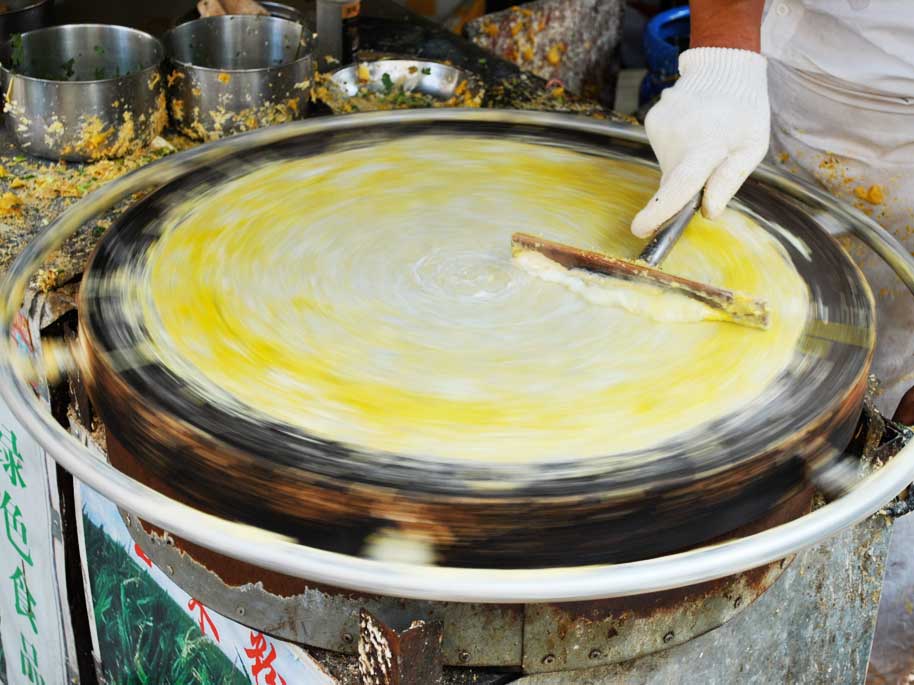 Travel
Why is China in Love With This Savory Pancake?
Inside the crispy, crunchy, floppy folds of jianbing, one of China's most popular street foods
Imagine the lovechild of a crepe and a burrito with aspirations of being a breakfast sandwich, and you have, in essence, jianbing (literally: "fried pancake"). What a cigarette and coffee is to Paris and the bacon-egg-and-cheese is to New York City, the jianbing is to Beijing: a ubiquitous breakfast, available streetside, capable of restoring your darkest morning to its brightest self. Why is China in love with this savory pancake? Reporter Yulin Lou gives the answer in the video above.
Hundreds—and perhaps even thousands of years old—the jianbing is simple stuff. Start with a wheat flour batter spread paper-thin over a massive circular griddle, much like a crepe. Top with an even layer of beaten egg. Paint on myriad sauces—oyster, hoisin, chile oil—then apply toppings of chopped fried crullers, scallions, cilantro, hot dogs, crab sticks—anything goes in a jianbing. Then fold up, wrap in wax paper, and dive into a kaleidoscope of textures and flavors.
That's part of the joy of jianbing—nearly anything goes, and the more bits and bobs, the better. At Tao Rice Rolls in Flushing, New York, where the jianbing come out reliably flavorful and not-too-greasy, the house specialty is pickled mustard greens, a welcome rejoinder to the layers of starch and egg.