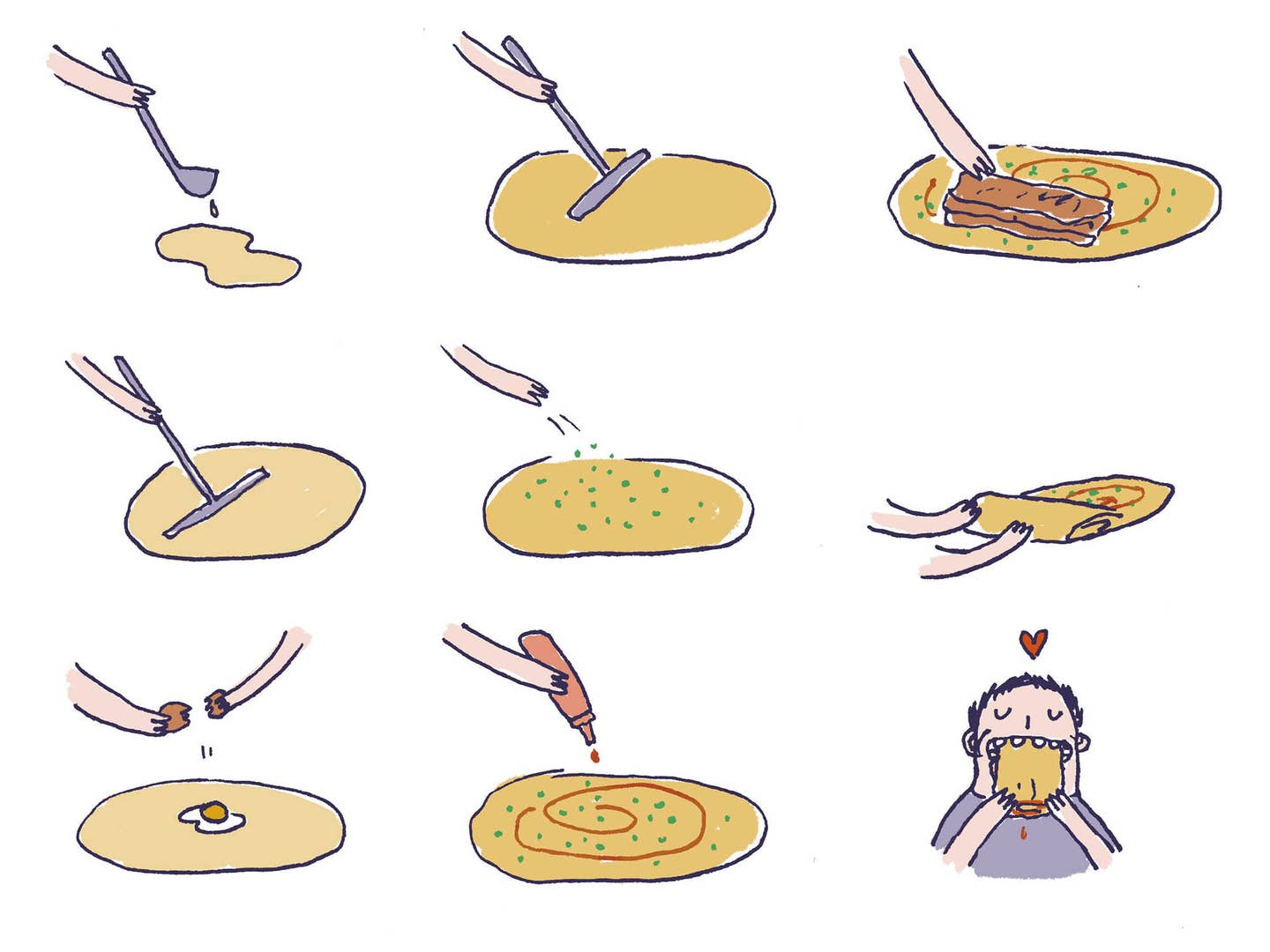 Travel
Jianbing: Beijing's Crunchy, Eggy, Perfect Street Food
In China's capital city, a sandwich reigns supreme
There are a lot of things that might kill you in Beijing. The pollution is off the charts. Traffic has a way of drifting onto the sidewalks. Mild to severe cases of food poisoning run rampant through the expat population. Then there's cholesterol, the city's most appealing threat. During my time spent living and working in China's capital city, my greatest vice was jogging down from my office above Beijing's only Hooters, crossing the street to a small grocery store, and devouring a jianbing.
The jianbing is northern China's answer to New York City's bacon, egg, and cheese, though I like to think it's slightly healthier. Both are portable snacks made from eggs, but in Beijing it's a crepe wrapped around a thick, crunchy plank of fried dough dotted with green onion, cilantro, and black sesame seeds. Its name literally translates to "fried pancake," but around the office we just referred to the snack as "crack." As in, "Oh, you're having crack for lunch again?" as if a colleague had taken to eating nachos slathered with fluorescent cheez every day.
Yet there is something irresistible about the jianbing. Watching one being made is a study in economy, as raw ingredients come together in front of you over the course of a minute, like a poem improvised aloud. Batter goes on the crepe stone, then eggs, then sprinkles of pungent pickled vegetables, herbs, and seeds. With the help of the stiffened eggs, the entire mixture cooks into pancake uniformity. Fermented soybean paste and hoisin sauce are slathered on. The crunchy layer, often a deep-fried dumpling wrapper, comes last.
Throughout this process, the cook is utterly calm. She reaches into the metal receptacles that hold her ingredients with minimum movement. She tosses them with precise aplomb. The round stone sizzles invitingly. As with any good street food experience, the anticipation builds as the dish comes together.
The crepe dough is draped over the fried bit in the center, more hoisin sauce is painted on, and then the cook thwacks the entire package with the edge of her crepe spatula, a sound that inspires in me Pavlovian drooling, allowing the jianbing to be folded into a layered rectangular brick not much larger than a bagel. It's stuffed inside a plastic-y paper bag that becomes immediately and unpleasantly hot to the touch as the grease soaks through.
It's best to eat it fast, but thanks to an absence of the congealing dairy that makes our bacon-egg-and-cheeses a race to the finish, the jianbing holds up even if you can't devour it all at once. I was never able to hold back. Beijing is a street-food heavy city, with chili-oil bedecked cold noodles, gristly lamb skewers, and the roujiamo sandwiches filled with slow-cooked pork or lamb that have earned the nickname of the "Chinese hamburger" (they're more like sloppy joes, I'm tempted to argue). But jianbing has a particular place in the ecosystem, since it's native to the area rather than Sichuan or Xinjiang. It's a kind of lifesaver. If you can make out a tiny jianbing cart at the end of a long block, even through intermittent smog, you know your stomach's going to be fine.
As obsessed as the world has become with riffing on Asian snacks—ours is the era of the Korean hotdog and the sushi burrito—the jianbing has made surprisingly little headway outside of its homeland. This might be because of its obscure origins. Legend has it that soldiers first cooked jianbing out of necessity 2,000 years ago in Shandong province, south of Beijing, after they lost their woks and were forced to cook on flat copper griddles. Odds are the soldiers didn't have access to deep-fried dumpling wrappers, but I'm sure they would have appreciated the addition.
Luckily for us, jianbing stands are slowly popping up in cities like Seattle, Chicago, and San Francisco. They offer fusion versions as customizable as pizza—you can order jianbing with pork belly, kale, or roast duck. But at the Beijing grocery store across from Hooters, where long lines form everyday at lunchtime, there's only one choice, or rather no choice at all: the traditional plain version, served scalding and plenty artery-clogging as is.
Jingkelong Supermarket
11 Workers' Stadium North Road
Chaoyang, Beijing
Kyle Chayka is a writer in Brooklyn.