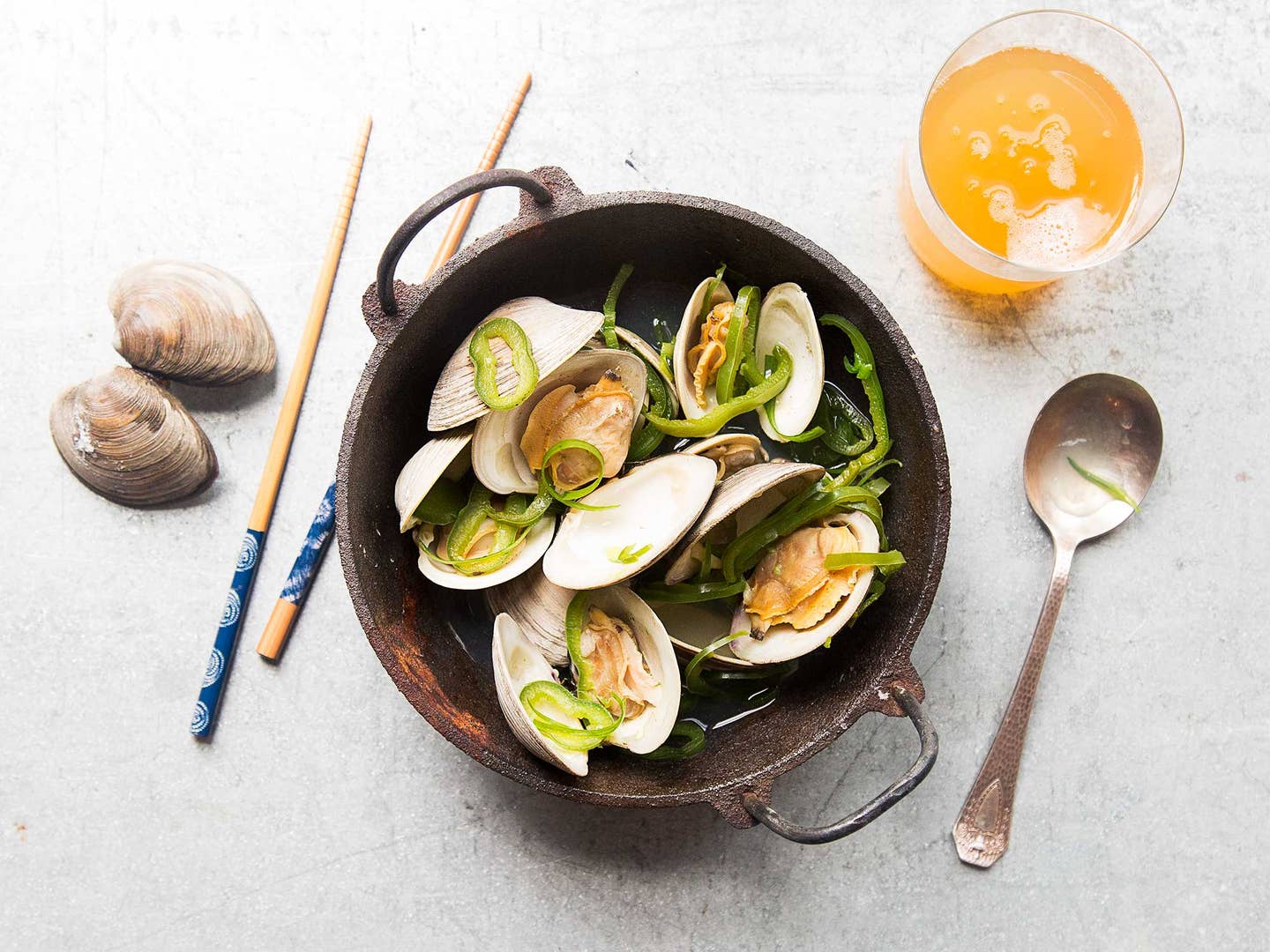 Travel
Korean Clam Soup for the Drunk Soul
How to party Korean-style on the fringes of San Francisco
In Asia, drinking-food (and drinking properly with food) is an art form. So welcome to Asian Drinking Food Adventures, where Dan Holzman, chef-owner of The Meatball Shop, and Matt Rodbard, author of the Koreatown cookbook, seek out the best food from bars, izakayas, pojangmachas, and then some.
It's closing on 1 a.m. and we're Ubering through the thick fog of San Francisco's Outer Sunset in search of ballast for our drunken souls. There's a sense of loneliness in trading downtown SF's bustle for the deserted streets and gentle lullaby of the nearby sea. A loneliness that only jogaetang, a spicy clam soup, can fill.
It was in the Hayes Valley offices of ChefsFeed earlier that afternoon that the mention of a little-known pojangmacha called Toyose piqued our interest. Let me be clear, this is not the slick SF of guidebooks and bread-centric Instagram feeds, but the fringes of a city perpetually on the fringe. And stumbling from our car, the warm and welcoming Korean tavern is a refuge from the empty streets.
Operating in a converted garage since 1998, Toyose has long been a favorite of in-the-know SF chefs and writers, and one of the few places that stays open until 2 a.m. in a city that famously retires early. The restaurant is run by the husband and wife team Kong Kim and Jong Yu, who along with their daughter Young serve a Greek-diner-sized menu of comforting dishes that are meant to be eaten between shots of soju. We feel a profound sense of Korean hospitality; even as obvious outsiders, we're treated like family.
After spending time in Seoul and Busan—and studying Korean food and culture throughout the United States—I've come to realize that Koreans, simply-put, are some of the most dedicated partiers on the planet. In Korean culture, eating food and drinking alcohol are so tightly interwoven that it's often hard to separate the two. At restaurants and pochas (short for pojangmacha, the tented street restaurants lining the majors cities in Korea), you will find packs of Korean men and women sitting at tables lined with amber and green shaded bottles, a ritualistic communal unwind that will always include plates upon plates of food.
Toyose is this kind of place. The menu is too long, the drinks are too big. Torn with indecision in the face of six pages of small print, we settle on a snack plate to accompany the massive plastic jug of Hite beer that's just arrived. There is a pile of dried file fish and squid, a sort of Pohang pupu platter that also includes peanuts, wasabi peas and, as a wild curveball, dried mangos and bananas. The seafood is dunked in a choice of Sriracha mayonnaise or chojang, a blend of gochujang (sweet and spicy pepper paste), mirin (sweet rice wine), garlic and rice wine vinegar.
The plate arrives with a pretty minimal banchan set up (small plates of snacks and condiments that accompany every Korean meal) of daikon and cabbage kimchi, seasoned bean sprouts, and stale popcorn and we dive in. On this weeknight, the place is half full, and mostly Korean—less our warmed-up group of four ordering the fish jerky. And while snacking is part of the pocha experience, the food at a Korean bar can run wild, from soups and stews to noodles. This is not snacking food, but Koreatown pub grub.
Jaengban guksu is kind of like a Korean chef salad, a showcase of knife work, and a great example of the Korean kitchen outside of the universally known grilled meat and tacos. On this night, one in which we'd gotten a little loose with Dominique Crenn, we were pretty much full when we arrived, and the jaengban guksu is no small undertaking. A mountain of soba noodles with a rainbow of vegetables: napa cabbage, carrots, romaine lettuce, pickled daikon, chrysanthemum leaves, and bell peppers, all topped with more chojang. In the center, a fist of boiled eggs and sliced pig's feet. It was wonderful to behold.
But the jaengban guksu wasn't the main event. When I think of pocha eating, especially the final pocha stop of the night (in Koreatown, you can pocha x 3 if you're really feeling ripe), I think of one dish: jogaetang. It's a light, very spicy clam soup that is typically served boiling over a butane burner. The heat comes at you from multiple directions: the scalding stock, the fire from beneath, and a handful of sliced chiles burning your tongue. It's a reset of sorts, a piping elixir that blankets the belly and washes away the effects of that last, ill-advised Jameson shot.
At Toyose, the soup came just in the nick of time. 15 minutes later, check paid and our hearts glowing with the warmth of Korean comfort food and bottles of soju, we were passed out in an Uber while Yeezus played on the radio, starting our long journey back to Oakland.