Recipes
Jogaetang (Korean Green Chile Clam Soup)
Slurp down a bowl of this briny, spicy hangover cure any time of day—or night.
Serves

2–4

Cook

1 hour 20 minutes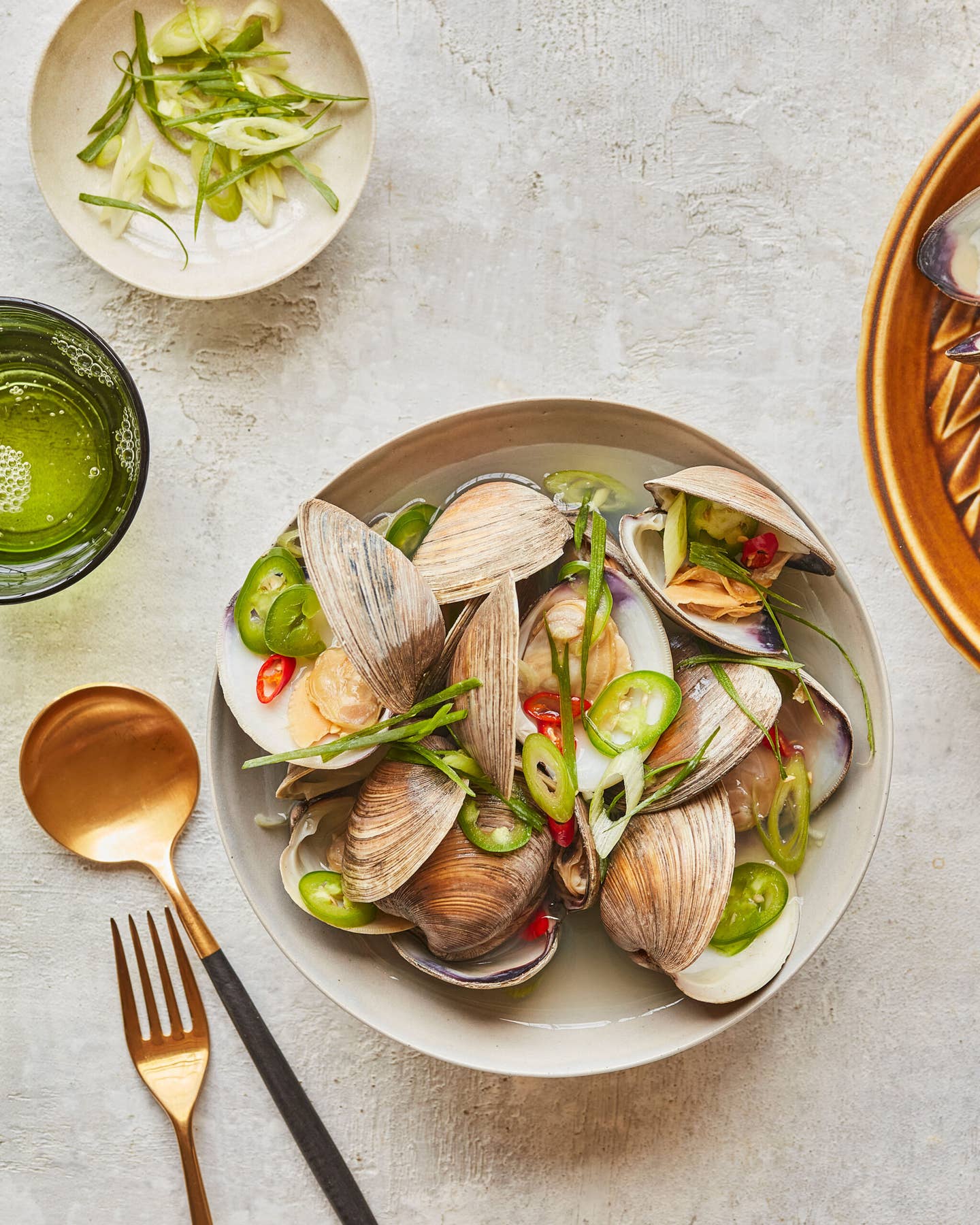 The light, Korean soup called jogaetang is served up at San Francisco's Toyose, run by husband-and-wife team Kong Kim and Jong Yu. Short on neither heat nor spice, it's traditionally served over a butane flame, so the broth remains hot, and a heavy dose of heat is delivered from two types of thinly sliced green chiles. Jogaetang's popularity derives from its status as a kind of Koreatown pub grub that functions as a reset of sorts, a piping elixir that blankets the belly and washes away the effects of the night past. Find dasima in well-stocked supermarkets, Asian grocery stores, or online; a type of dried kelp frequently used for adding briny richess to stocks and sauces, it is sometimes sold by its Japanese name, konbu or kombu.
Ingredients
2 lb. littleneck clams, scrubbed clean
One 4-in. square dasima (dried kelp)
1 garlic clove, thinly sliced
1 small jalapeño, stemmed and thinly sliced crosswise with seeds
1 Korean or Anaheim chile, stemmed and thinly sliced crosswise with seeds
Kosher salt
½ scallion, thinly sliced
Instructions
Step 1
To a large bowl, add the clams and enough cold water to cover by an inch. Set aside at room temperature to purge for 1 hour.
Step 2
Gently lift the clams from the water, leaving the grit behind; discard the soaking liquid and any grit.
Step 3
To a large pot, add the dasima and 3 cups water. Bring to a boil, cook for 3 minutes, then remove and discard the dasima. Add the clams, garlic, jalapeño, and chile, cover the pan, and cook until the clams open, about 4 minutes. If there are still closed clams, remove the opened clams to bowls and continue to cook the clams until they open; discard any clams that don't open after 8 minutes total. Season the broth with salt to taste.
Step 4
Divide the jogaetang among 2–4 wide bowls, garnish with scallions, and serve hot.