Culture
This 'Korean Bisquick' Makes Restaurant-Quality Pajeon at Home
Buchimgaru is the Korean home cook's secret to perfect savory pancakes, great for fast breakfasts and using up leftovers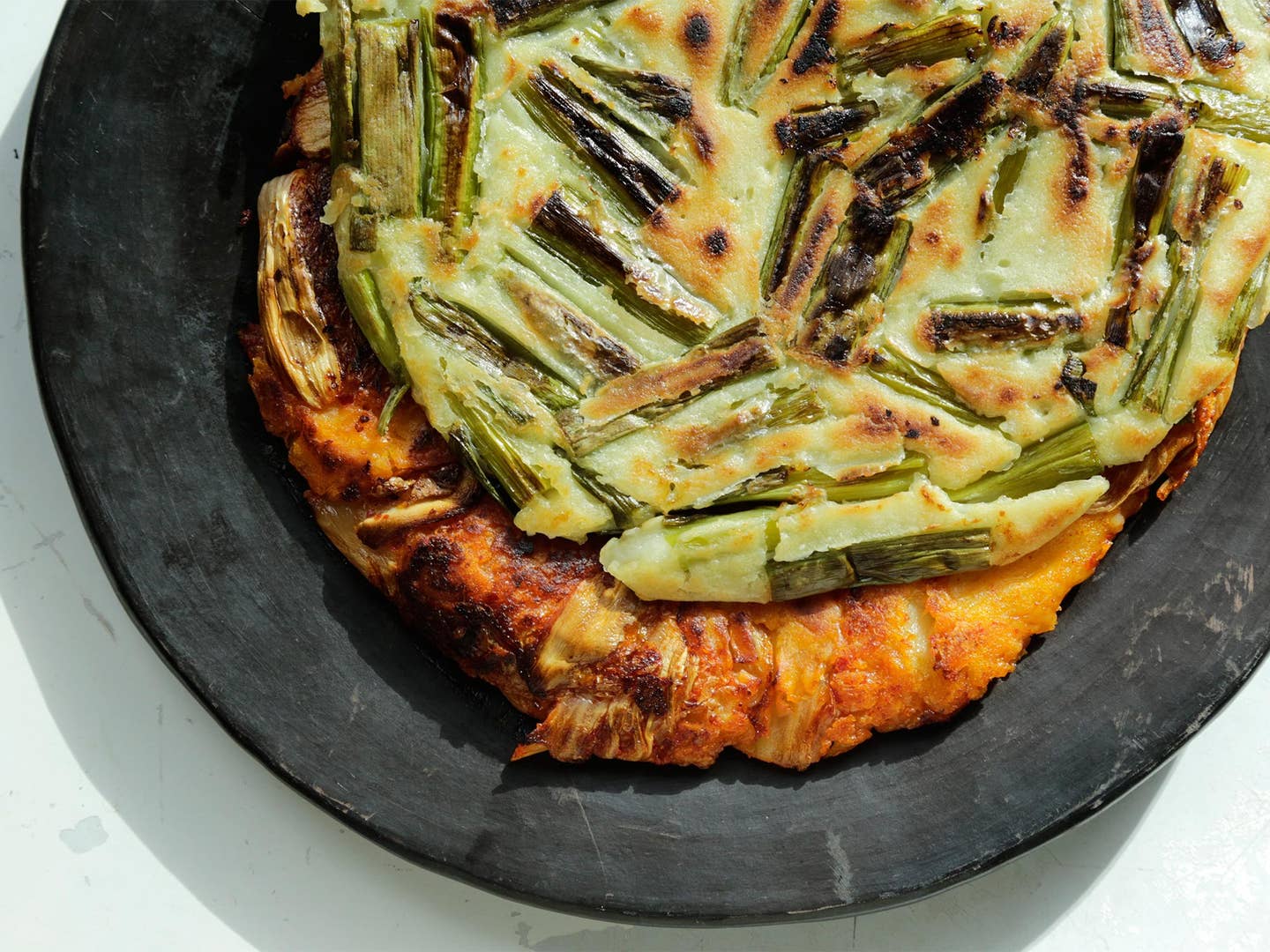 If you've eaten Korean food, you've likely already fallen in love with jeon. The lacy-edged savory pancakes hit the table at all types of Korean restaurants, cold and chopped as banchan (side dish), sizzling-hot as appetizer, or alongside a spirited beverage as anju—drinking snacks. A mix of crunchy outside, slightly chewy inside and the endless options of fillings—commonly seafood or green onion—please crowds and soak up alcohol. But unlike so many delicious foods that are common in restaurants, there's an easy shortcut to getting restaurant-worthy jeon at home: buchimgaru, or pancake mix.
Korean pancake mix comes in giant bags at Korean food stores (or, should you not have one nearby, on Amazon), takes mere minutes to whip together, and costs very little. One bag will last through endless quick breakfasts, leftover-adapted lunches, and dinners where you're desperate to get something on the table.
While I spend my food-writer days trawling my city for new-to-me foods from around the world, always looking for the best of something or an exciting way to use a beloved ingredient, I've long since made peace with the sad fact that I'll never cook most of these foods half as well as the people in the kitchen who have devoted their lives to producing the best version. Nor even a quarter as well as those who may have grown up making this at their parents' apron strings. But, occasionally, in my wild rampages through various international-foods stores, I stumble upon an ingredient that helps bridge the gaps in my cooking skills—like Korean pancake mix.
The mix, which can be prepared just by adding water, feels like cheating. So I consulted with Eileen Cho, a Korean-American photographer who holds two certificates in Korean cooking, who assured me it's a pantry staple, even for those steeped in the cuisine. "I've only made [jeon] at home with the mix," she admits. Sure, she says, you could make it with flour and salt, "but why bother when the mix is already seasoned?"
The mix, whose ingredients are mostly flour, potato starch, salt, baking powder, sugar, MSG, and garlic powder, is simple—but the results aren't. The edges crisp up better than a plain flour batter, each bite has that moment of stretch that differentiates it from a Western pancake, and the added spice and umami make it taste just like the restaurant version.
The first few times I made it, I followed the instructions on the package faithfully, measuring my water, weighing my powder, chopping the seafood and scallions to mix in. I've since gotten lazier: I've adapted it to my work-from-home life, using it as a catch-all way to get a complete meal on the table in a matter of minutes.
For a standard, everyday lunch, I simply chop up some kimchi (a staple in my fridge), toss it into the batter, heat a non-stick skillet to high heat with a bit of vegetable oil, and cook it (with a flip in the middle) until both sides are browned to the brink of burning.
If I'm feeling more ambitious, perhaps I'll add some frozen shrimp to the pan first, or some ground pork, both of which pair well with the scallions. But even more of the time, it's not as carefully thought out: I toss in whatever is leftover or about to go bad in my fridge. In winter, it's likely some broccoli or brussels sprouts; now, in spring, I'll chop some asparagus. Come summer, I'll throw in fistfuls of corn and bright peppers. The adaptability of the pancake mix is one of its best features and I'm unashamed to share that leftover Chinese take-out has produced some of the best versions ever (particularly using twice-cooked pork). It's usually flavorful enough to eat without sauce, but if I'm making a plain pancake, I'll whip up a quick dipping sauce with soy sauce, rice vinegar, honey, sesame seeds, and peppers.
By the time I reached the bottom of my first two-pound bag, many years ago, I'd long since abandoned the instructions. Depending on the ingredients, I would thin my batter, good for adding extra surface area—and thus crunchiness—to a green onion version, or thicken it with extra mix, like when adding shredded zucchini, which needs a little more heft to hold it together. I guesstimate the ratios, knowing by feel how much liquid I need. I stopped adding watery ingredients—frozen shrimp, kimchi, and zucchini—to the batter itself, instead adding them to the pan first, until they gave up their liquid, then pouring in the batter afterwards, slowly, starting at the outside so the ingredients stay evenly distributed. For a breakfast version, I might skip the oil entirely, instead chopping up a little bacon and cooking the pancake in its rendered fat, letting the meat stud the finished product with crunchy bacon bits.
Writing this up, my inexpert thoughts on a pantry staple borrowed from someone else's cuisine, I wonder if I've taken the pancake too far. But then Cho tells me about the latest trend in Korean homes and restaurants: adding shredded cheese to kimchi pancakes.