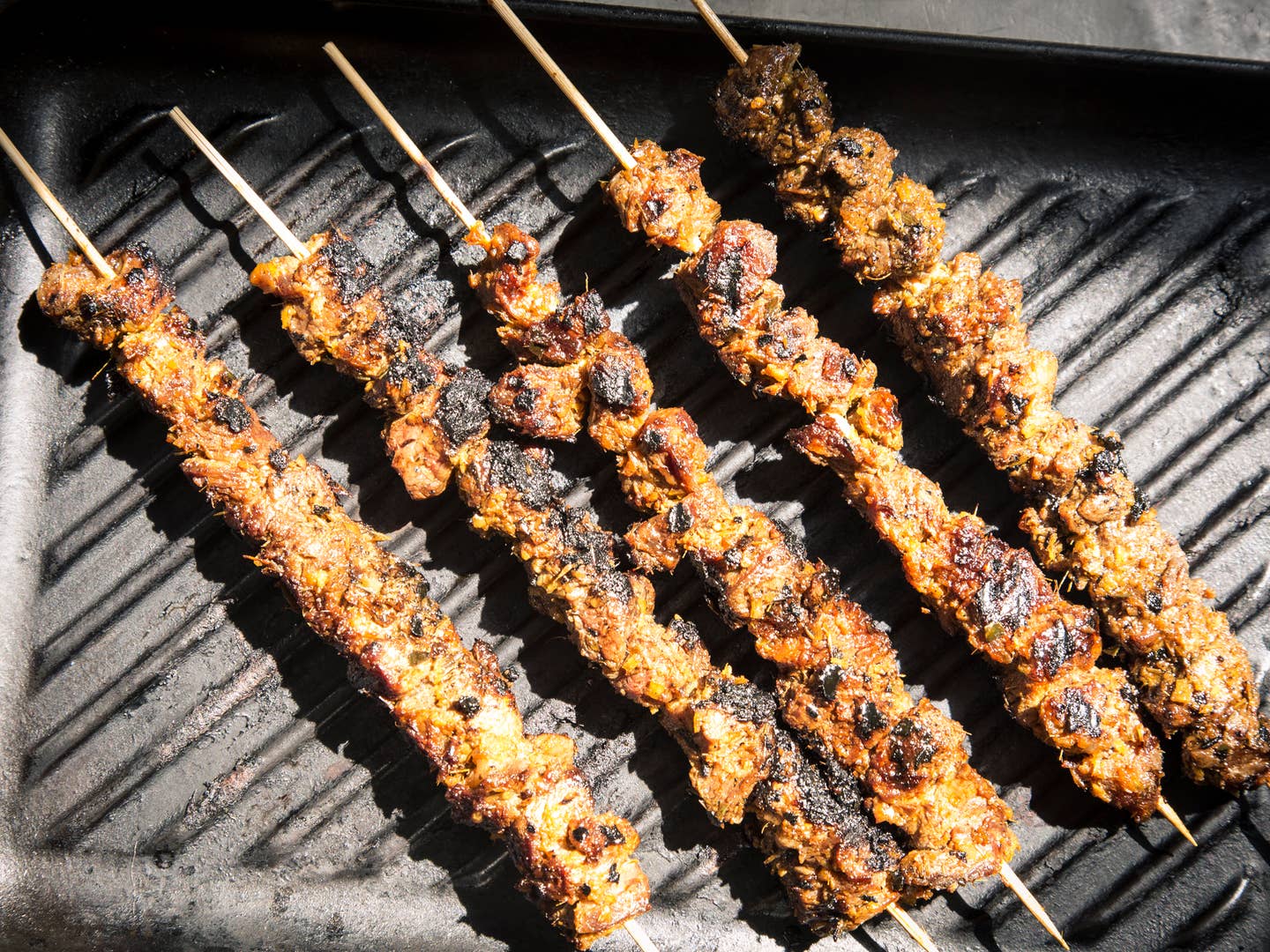 Culture
Celebrating Cambodian Cooking in California
La Cocina's Nite Yun is resurrecting Cambodian recipes and introducing them to a new audience
La Cocina is a nonprofit kitchen incubator, housed in a modern building in San Francisco's Mission District, that helps low-income women, particularly immigrants, formalize and grow food businesses. In the 10 years since opening, the organization has provided support to dozens of women from every corner of the globe—from Cambodia to Oakland, Nepal to El Salvador.
On August 15 and 16, the organization will host its seventh annual San Francisco Street Food Festival, which brings together the current crop of incubating entrepreneurs, La Cocina graduates and restaurant chefs for a two-day eating bacchanalia.
Leading up to the festival, we'll be posting profiles of some of the La Cocina entrepreneurs. Here is Nite—pronounced "night"—Yun, and her delicious Cambodian beef skewers, for round number two. Check out Binita Pradhan's profile here.
On Nite Yun's first trip to Cambodia six years ago, she learned of her father's love of '60s-era Khmer rock-and-roll and her mother's hidden past as a beauty queen in her hometown of Battam Bang.
But Yun's greatest discovery on the month-long trip was the food.
"I was sitting in a market in Phnom Penh, eating a bowl of noodles and just thought, this is what I want to do," recalls Yun, who quit nursing school six years ago to launch Nyum Bai—it translates colloquially to "let's eat," a common Cambodian greeting—which specializes in Cambodian street food.
Yun was born in a refugee camp in 1982 but eventually settled in Stockton, California, a small city in the Central Valley, with her parents and other Cambodians who had fled the Khmer Rouge regime. It was there that she learned many of her recipes from her mother.
"It's one of the largest Cambodian communities in the country," says Yun. The gardens are planted with lemongrass and Makrut lime trees, essential ingredients in Cambodian food."
Those ingredients are the foundation of Nyum Bai's signature dish, a rice noodle soup known as kuy tiew. The pork broth is brightened by kroeung, a pounded paste of lemongrass, Makrut lime leaf and zest, galangal, shallots, garlic and fresh turmeric. Last year, she cooked kyu tiew for La Cocina's board of directors; the fragrant soup, garnished with crispy garlic, sprouted mung beans and a splash of her mother's hot sauces, earned her a place in the organization's program for food entrepreneurs. Yun slathers that same fragrant paste on beef, threading the meat onto skewers that she then grills over charcoal. She calls them Angel Cruz beef skewers, named after a Stockton park where Cambodian families gather to hang out, grill, and eat.
"Cambodia was culturally gutted during the war," says Yun, "and an entire generation of cooks virtually disappeared." Far from her parents' native land, Yun is resurrecting Cambodian recipes and introducing them to a new audience. "I want to open a Cambodian-style diner, maybe with a donut window," says Yun. "We'll play Khmer rock-and-roll, the stuff my dad likes." (Yun is keen on Dengue Fever, an LA-based band that does covers of old Cambodian rock songs.)
"My parents tell me that before the war, Cambodia was a happening place," she continues. "That's what I want to celebrate. The good times."
To learn more about Yun and her business visit nyumbai.com.