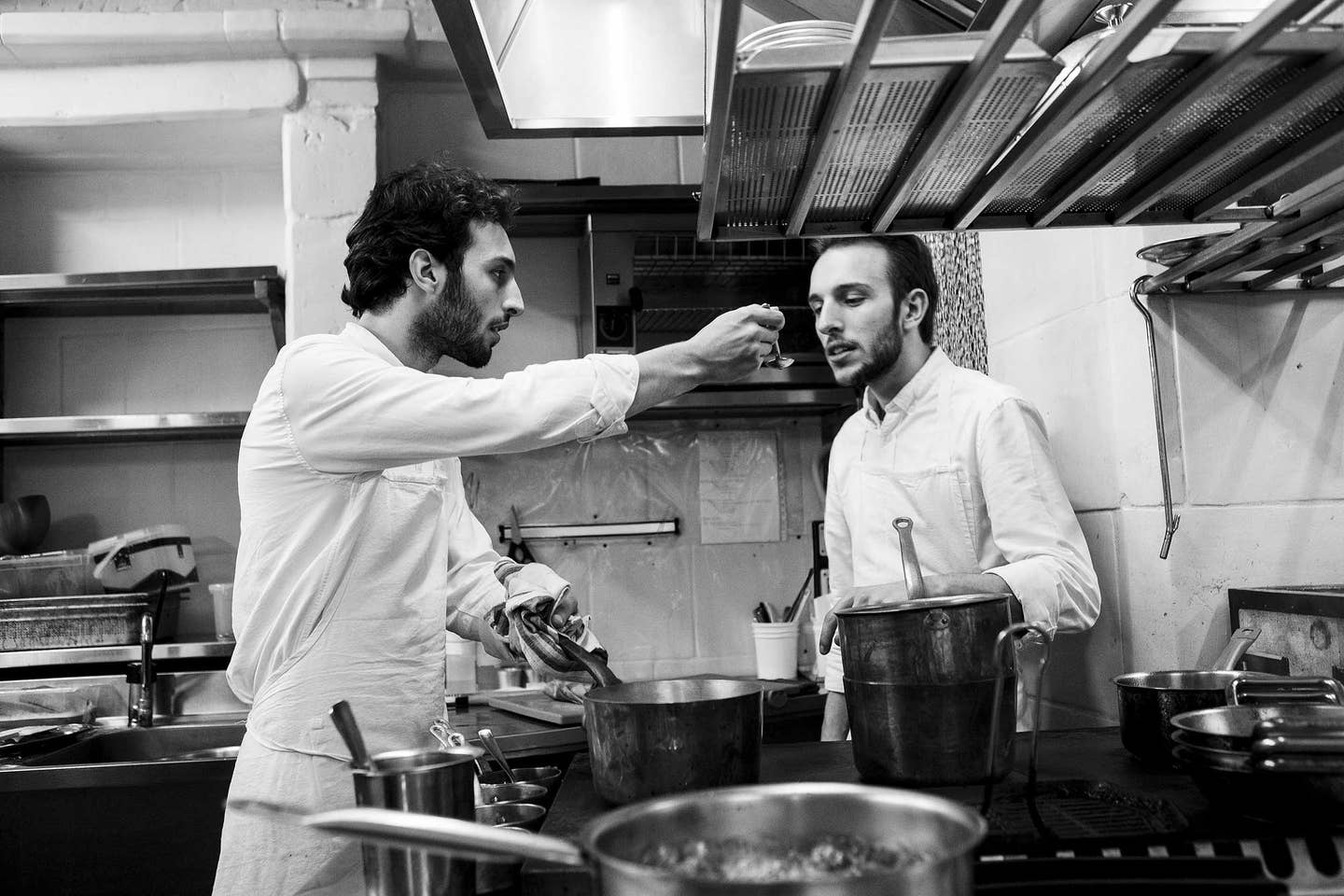 Travel
What it's Like to Eat in the Heel of Italy
Change comes slowly to the southern town of Lecce, but a pair of foraging chef brothers are trying to change that
In Lecce, a singular Italian city of whitewashed dwellings, Baroque architecture, and palm trees near the southern tip of Italy's heel, most restaurants have served the region's comfort food for centuries—peasant dishes like pezzetti di cavallo al sugo, a stew of slow-braised horse meat in sweet tomato sauce, and fava e cicorie, a homey dried fava mush served with wilted, garlicky chicory leaves.
"People don't like change in Lecce," says 26-year-old Floriano Pellegrino, one half of the sibling chef team at Bros', an ambitious modern Italian restaurant in a city that, until recently, had catered mostly to tourists visiting the surrounding beaches. "They want comfort food, lots of food, and food that's cheap." Floriano and 22-year-old Giovanni trained separately in far-flung fine-dining destinations like Noma in Copenhagen, Lasarte-Oria and Mugaritz in the Basque region, and Yamamoto in Tokyo. Impatient with the slow pace of change and their hometown's lack of creativity, the pair returned to open their restaurant a year and a half ago.
"Cicorie—it's all around us and in season right now," Floriano says on an afternoon foraging trip in the nearby countryside of Scorrano, a sparse, rural town minutes from the bottommost coast of Puglia. "But the restaurants in Lecce buy it frozen from China. They also buy dried fava beans from Morocco and serve them all year long." Though cooking modern haute cuisine, the brothers are attempting to revive the romanticized notion of Italian food as being of a place and a season, a quality that's been lost in Lecce for some time.
Speeding toward Scorrano, Floriano suddenly yanks the Mini Cooper's wheel and exits toward an abandoned, woodsy plot. Having familiarized themselves with the unsung region's wild produce through biweekly foraging trips, the Pellegrinos are planning another restaurant on this family-owned 30-acre parcel of land. This new venture, situated around a hearth, will focus on Mediterranean techniques and a loyalty to the bounty of Salento. But today, Floriano is searching for a formula of 20 herbs and vegetables to feature in a pork dish on Bros' current menu. He hops out of the car, leaving the door open behind him. "Verbena," he says, scanning the ground with the intensity of a hound.
In an adjacent lot, Floriano lights up. "Do you smell the perfume? It's olive trees," he says, pointing to a patch nearly 100 years old, which smells rather like old men do, of oil and musk. He jogs toward a skein of greenery 60 yards ahead, and plunges his tattooed forearms into herbage and bushes, cracking off brittle branches and emerging with a disheveled bouquet. Among the treasures are lentisco, a resinous, pine-scented shrub that will be infused into housemade bread; mirto (myrtle) or murteddhra in the local dialect, a licorice-like leaf that will be wrapped around red shrimp and grilled over charcoal; and malba, a leaf reminiscent of clover that will be steeped in the restaurant's water for subtle fragrance. Floriano begins loading the trunk, the vegetation fanned out haphazardly. The car looks strangely alive, as if trailing a tail of peacock feathers.
At a final stop just up the road, I see a shallow stone depression laid out across the grass like a ballroom floor. Here, Floriano says, his family scatters their farmed buckwheat groats and runs horses over the top to remove the grains' hulls—an ancient process known in the region as aia. Around us, hollow, wild peppercorns or falso pepe (false pepper) dangle from trees, pink and perky. Floriano smashes a few in his palm, and the piquant aroma unfurls. He clips bundles of spicy wild oregano for a lemon tart and grabs a few handfuls of hay from the ground outside a barn for flavoring ice cream.
Back in the kitchen at Bros', I taste Scorrano-raised veal as tender and pink as ahi tuna, and thick spaghetti cooked in buttermilk and sauced with stewed sweet prunes. Floriano stands at the pass, calling out orders for a dining room seated with Australians, Belgians, and New Yorkers. "We came back to Lecce to show people here that change can happen," he says, looking out at the room with paternal pride. "Something new can come along."
Where the Bros Go in Scorrano, Italy
About 30 minutes south of the city of Lecce (fewer if you drive like Floriano Pellegrino), Scorrano is a tiny, mostly locals town, worth a day trip if you're looking for a piece of untouched Italy.
Bizio Alberto: The town's best dry goods market sells fine pasta (Benedetto Cavalieri brand is Pellegrino's favorite), oil-packed tuna and anchovies, and Italian deli meats like prosciutto di suino nero, a fatty, nutty ham made from rare Sicilian black pigs. Via Marco Emilio Scauro, 73020 +39 0836 465053
Angelo Rizzo: This indoor-outdoor fruit and vegetable market also carries a few local specialties like dried beans, shell-on nuts, and moniceddri (municeddhi in local dialect)—sweet land snails. Piazzo Vittorio Emanuele
Schioppa: Traditional, whole-grain breads at this bakery include frizzulu, a lightly risen Pugliese loaf with olives. "We eat this with ricotta scante (a strong, fermented ricotta) and anchovies," Pellegrino says. Piazzo Vittorio Emanuele
Le Stanzie: An 1890 farmhouse just outside Scorrano, this inn-restaurant is surrounded by fruit trees and adorned with dried garden herbs and flowers. Preserves like caroselle (vinegar-pickled fennel flowers) and dried winter tomatoes are exemplary of their hyper-traditional kitchen. Strada Provinciale 362, km 32.9, 73040 Supersano, Italy