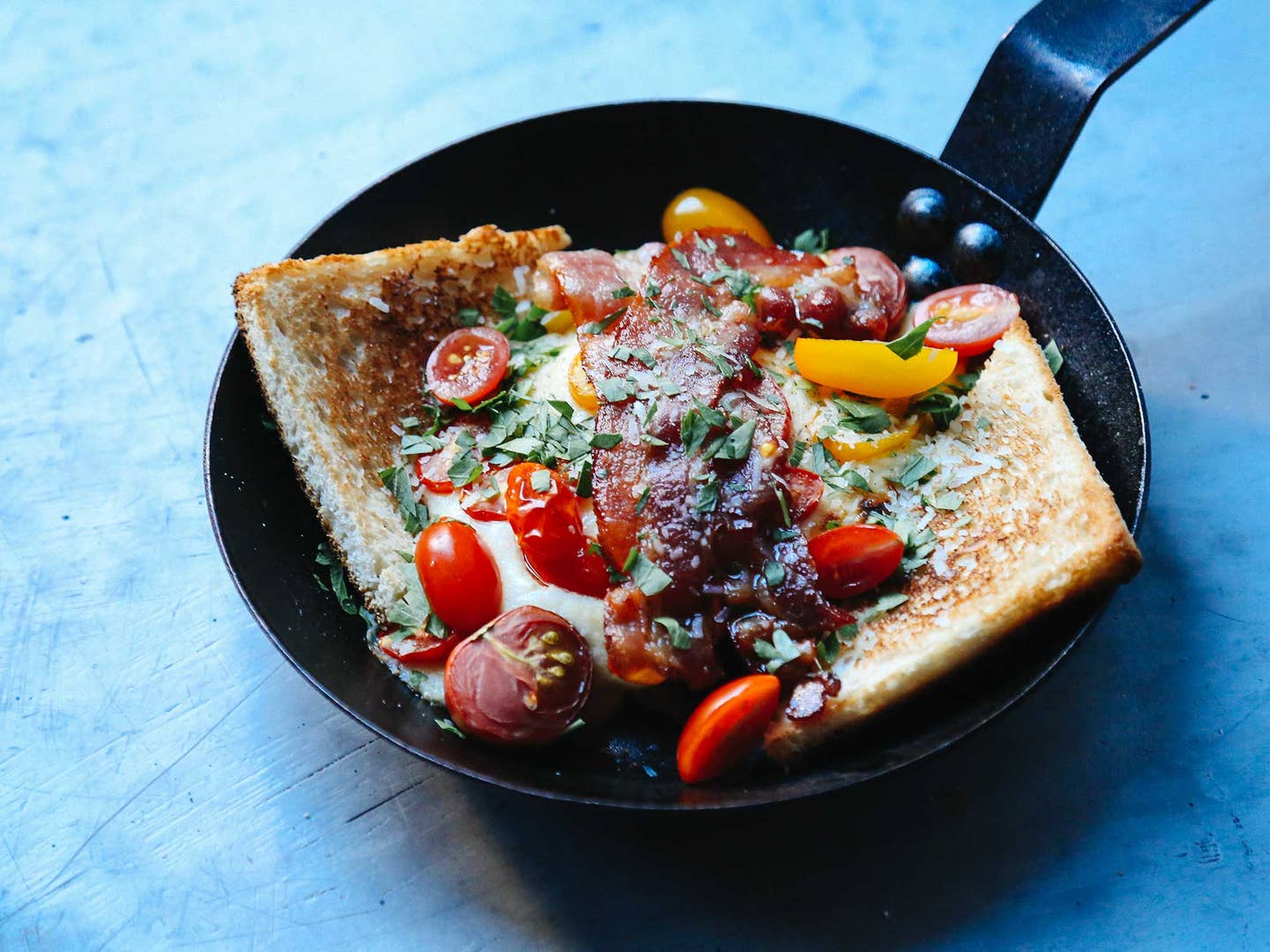 Culture
Here's to the Hot Brown, the Hangover Helper Everyone Loves
Why this lavish Louisville original is so much more than a sandwich
When writer Ronni Lundy was growing up in Louisville, Kentucky in the 1950s and '60s, the culinary map was pretty plain and simple. Young people like herself; well, they hung out at one of three Frisch's Big Boy establishments, where they flirted with boys while chomping on tartar-sauce-covered hamburgers and rye-bread-bunned Brawny Lads. If Lundy was shopping for school clothes with her parents, she would likely end up at Stewart's; a long-gone department store with a restaurant that served benedictine sandwiches and made their own mayonnaise. But if she was going into town for something fancy—say to buy nice clothes for a wedding, or to celebrate a family milestone—that's when she would find herself at the Georgian Revival landmark known as the Brown Hotel. And when she was there, she did exactly what she was supposed to do. She ordered the hot brown.
As far as legendary dishes go, the history of the hot brown is surprisingly straightforward. The open-face sandwich was the bluegrass-born brainchild of chef Fred Schmidt, who helmed the kitchen at the Brown in the 1920s. It's composed of two slices of Texas toast (crust removed) cut into triangles and placed on the bottom of large baking dish along with hunky slices of tomato, which lend the rich dish some much-needed acidity. The bread is covered with fresh, hand-sliced turkey breast, and slathered in a mornay sauce made with both heavy cream and pecorino romano cheese. It's then topped with four slices of thick-cut bacon, more pecorino, and baked until bubbly. No, it's not what one would call a refined dish—especially for a high-falutin' hotel like the Brown. But that's exactly why people here in Louisville think it's so special. As Lundy puts it, "the hot brown always had a sense of attainment about it. If you had a hot brown, you weren't just eating—you were dining."
As many a bourbon-loving local will tell you, the hot brown is also among the most perfect hangover foods ever invented—and that's exactly what chef Schmidt intended. Back in his day, the Brown was known as the gathering place for the elite—everyone from thoroughbred owners and bourbon barons, to celebrities and politicians. In its grand ballroom, hundreds patrons would gather regularly for dancing—lots of dancing: fox trots and Charlestons; tangoes and Lindy Hops. After a long night of revelry, guests would retire to the hotel's dining room, looking for something to sponge up all the alcohol. While most settled for a helping of ham and eggs, on one particular night in 1926, Schmidt upped his game by tossing together that magical meat and mornay medley of his making. The rest, as they say, was hot brown history. Not that there weren't some bumps along the way.
Watch: How to Make a Hot Brown
Just like its namesake hotel, which closed in 1971, and spent some time as headquarters to the city's Board of Education, before reopening in the 1980s, the hot brown has had its ups and downs. As Louisville dining migrated outward toward the chain restaurants of the suburbs, so too did the hot brown, often with mixed results. On one hand, Lundy recalls a tasty variation that used country ham instead of turkey, and replaced the bacon with a grilled peach. But other versions fell flat. "I feel like we reached the pit of despair when one restaurant started dumping a can of creamed mushroom soup on some bread and meat, and topped it off with cheese and bacon," Lundy recalls.
The resurrection of the hot brown is hard to pinpoint, but Lundy attributes its return to the late Louisville chef Timothy Barnes, who opened a restaurant called J. Timothy's in the 1980s. "He served a classic hot brown there," Lundy says. "It was very important to him. And it made people remember, "Oh yeah that is what it was all about. Up until that period, there were only bowdlerized versions of it. And they were so much less than what it had been." Barnes' traditional version started what Lundy refers to as a bit of a hot-brown renaissance. And not just in area restaurants. Home cooks rediscovered the pleasures of the hot brown, especially around Thanksgiving, when there's plenty of leftover turkey to be had.
Thanks in part to America's continuing obsession with regional cuisines, the hot brown is now more popular than ever (even celebrity chefs such as Bobby Flay, David Chang, and Sean Brock have their own recipes.) Local variations still exist, but they are held to a far higher standard than the ones Lundy recalls from the '70s and '80s. Yes, Louisville is now considered something of a top-tier dining destination for everything from stellar pub grub to Korean-American cuisine. But the hot brown is still, well, hot. So hot that restaurants are almost obliged to include one on their menus, says says Austin Wilson, head chef Bristol Bar and Grille on Bardstown Road. "The challenge is to make one that really stands out."
Wilson makes his hot brown using French bread instead of Texas toast, and sharp cheddar instead of pecorino-romano. Meanwhile, at another popular restaurant called Wild Eggs, it's topped with, as the restaurant's name would suggest, a fried egg. Other chefs have "elevated" the dish by incorporating crab meat and fried green tomatoes. Over at Sicilian's Pizza & Pasta you can even get a hot brown pizza.
Of course, the most popular place to tuck into a Kentucky hot brown is and will forever be its namesake Brown Hotel. And no other chef feel the same pressure to make one right than the hotel's current chef de cuisine Andrew Welenken. "I always read our online reviews that ask, "Why are you staying at the Brown?" he says. "Half of the people saw it on TV, and came to get the hot brown. It kind of blows my mind."
Welenken is a seasoned chef, whose menu includes such dishes as eggplant cannelloni and beef wagyu tartare. And while he loves the hot brown as much as anyone else, he does harbor a bit of jealousy toward the classic dish. "We have all this wonderful food that I pour my heart and soul into," he says. "And then we have hot brown. Everyone wants the hot brown."