Madhur Jaffrey's Secrets to Perfect, Paper-Thin Parathas
The queen of Indian cooking on the flaky flatbread fit for royalty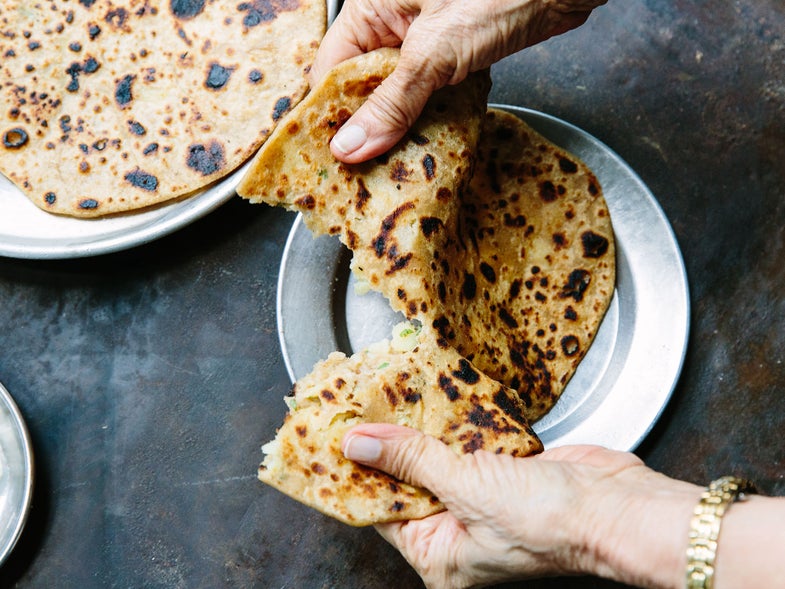 "You don't eat them all the time because they're not all that good for you," Madhur Jaffrey says, but we wouldn't be mad if we had to build in extra gym time to start every morning with her parathas: nutty and buttery and flaky, with layers so tender and thin you can almost see through them.
As part of her week-long foray into India's essential breads, our breaditor and test kitchen assistant Kat Craddock reached out to Jaffrey for advice on how to roll and cook perfect roti and parathas. To no surprise, she delivered; as the reigning queen of Indian cooking pedagogy in the West, the woman who introduced South Asian cuisine to Americans before branching out to explore the whole world's great vegetarian cuisines, Jaffrey knows a thing or two about transforming simple ingredients into something extraordinary. In the video above, she shows how it's all about technique.
Said technique is dead simple: Make a dough of atta (nutty-tasting Indian whole-wheat flour), water, and a touch of oil, then roll it into a round disk. Brush on a whisper-thin coat of fat on top, then fold up the dough, roll it flat again, and repeat. "It's the same method as if you were making a croissant," she says, and as with the fussy French pastries, details matter.
Jaffrey tugs and presses her dough as she rolls to make it as thin as possible, takes care to brush just a bit of oil on top (though rich, parathas, shouldn't be greasy), and keeps a vigilant eye on them as they cook in a dry cast iron skillet. The parathas should develop charred blisters and turn crisp on the surface while staying tender and pliable within. Frequent flipping is your friend.
Depending on how you want to serve (and stuff!) them, there are several routes to paratha perfection. Bone up on our basic recipe, then try these three different methods straight from Jaffrey's hands.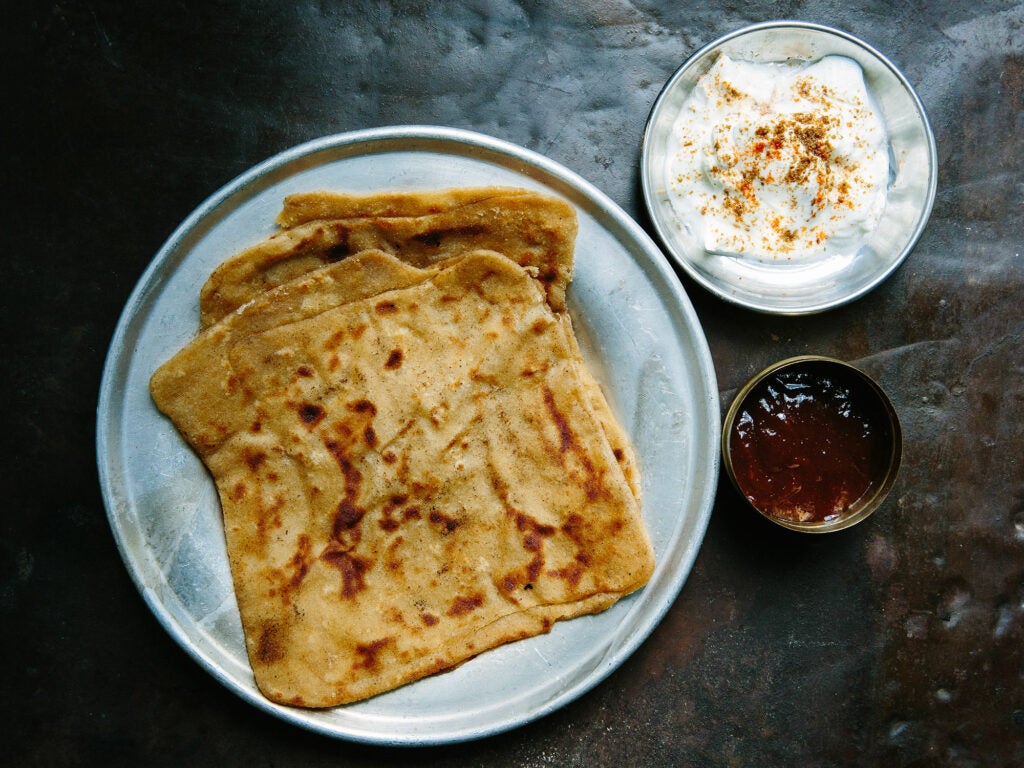 Folded
The simplest paratha method is a series of simple folds. Roll the dough out into a thin disk, then paint it with oil and fold the edges up over themselves, brushing with oil or ghee at each fold. Once it's folded into a neat square, smush it flat and roll it thin again, flipping as needed.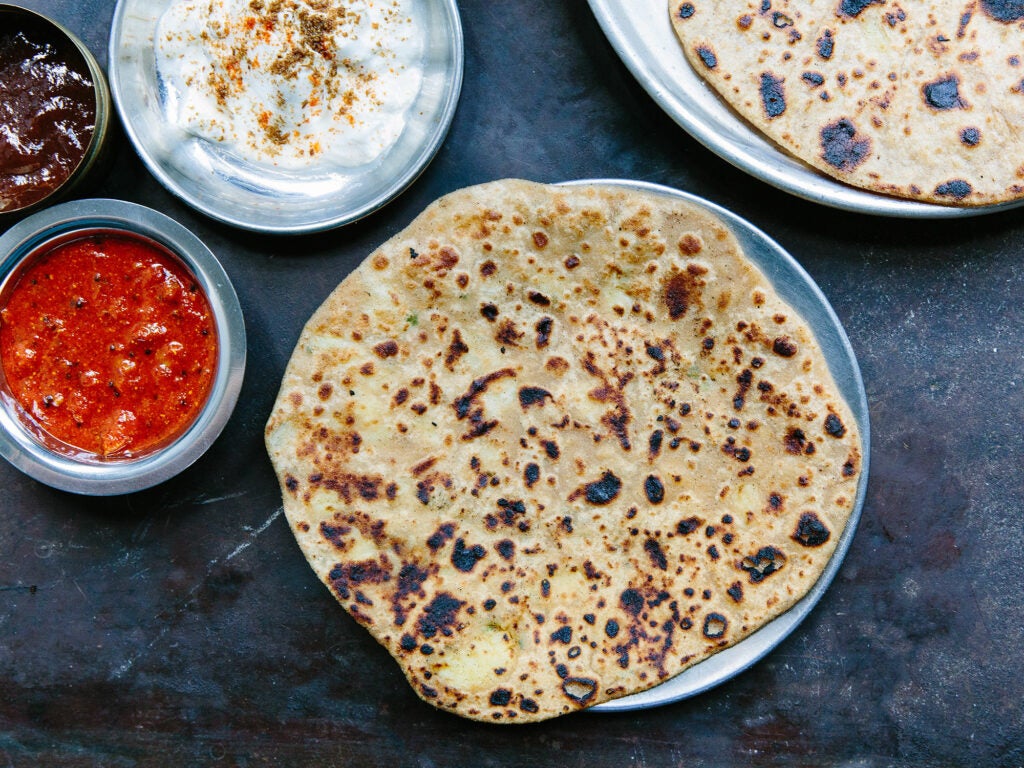 Coiled
For a neater round shape, roll out your dough, paint it with oil, and then roll it into a long log. Coil it tight, mush the coil flat, and then roll it thin again. The disk is now layered nicely from the inside.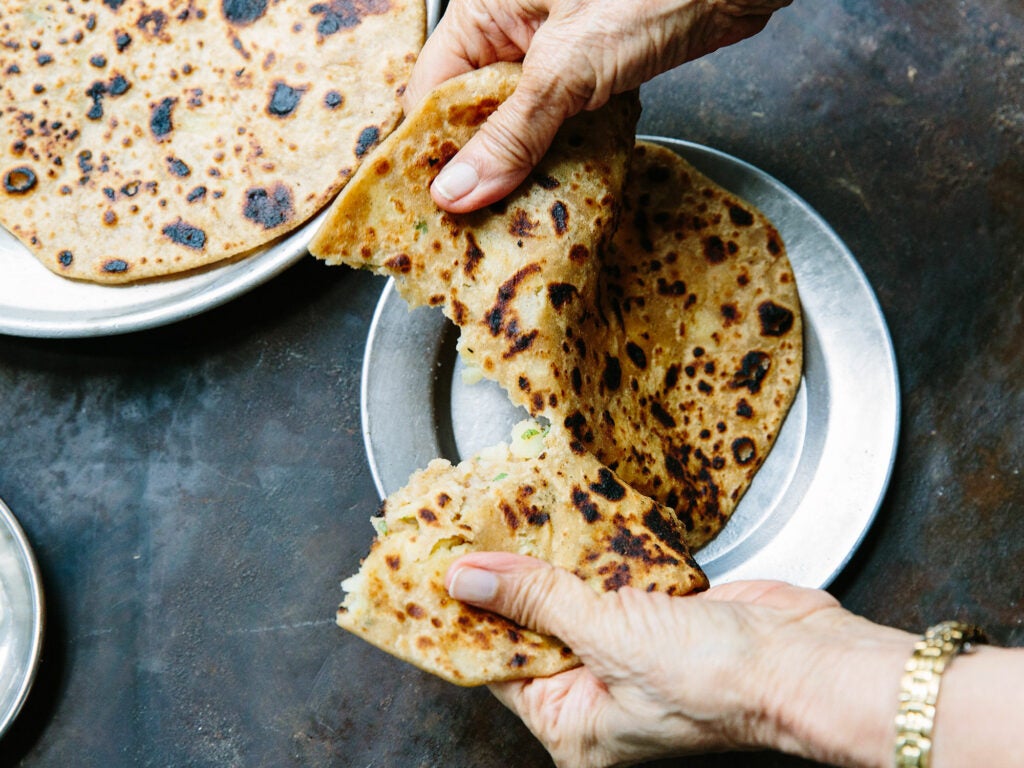 And Stuffed!
For an extra rich treat, stuff your paratha with, well, anything, so long as it's soft and not too wet. Roll, paint, fold or coil, and roll your dough as above, then plop a small amount of filling in the center. In this case it's some mildly spiced, roughly mashed potato Jaffrey made, and she uses less than you think you need—as with pizza toppings, less is more.