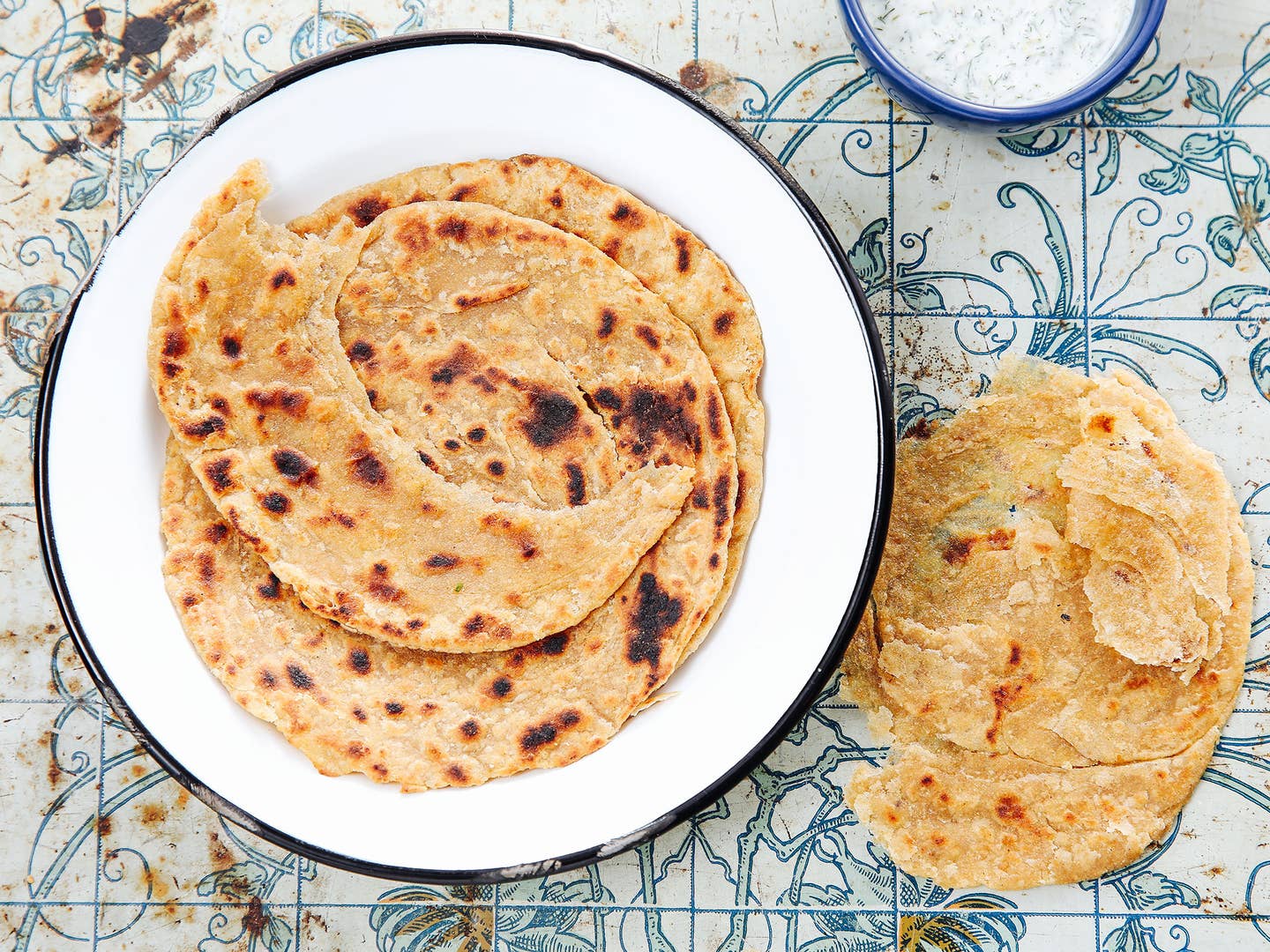 Techniques
How to Make Roti, the Essential All-Purpose Indian Flatbread
No oven, no yeast, and no mixer required—just tasty, tender carbs good for sopping up all kinds of curry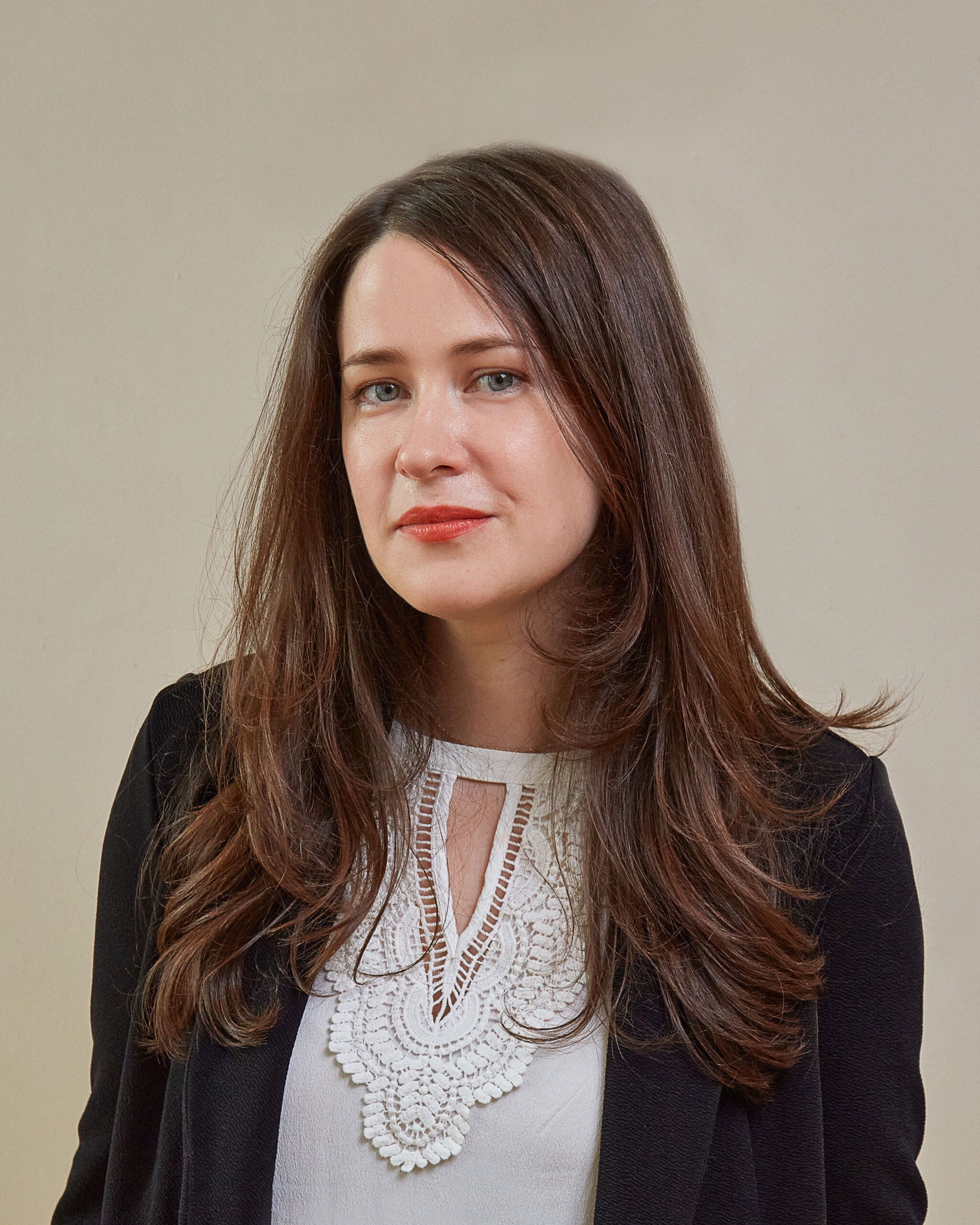 ---
This was thrilling news for a newcomer to India's kaleidoscope of carbs, especially in this summer heat. Roti, which basically just translates to "bread" in Hindi, can refer to many different styles of flat, unleavened whole-wheat breads, many of which can be made from the same simple dough. Once you get the hang of working with basic roti dough, a whole world of stove top bread cookery opens up, allowing you to make mountains of fresh bread without turning your kitchen into a sauna.
"Good Daughter-in-Law" Material
The most basic roti are a lot like flour tortillas, but they differ in a couple key details. The simplest and most common roti recipe is made from a mixture of low-protein, stoneground whole wheat flour known as atta, or chapati flour, water, salt, and oil. The Indian method for milling hard durum whole wheat generates heat through friction, and begins to break down some of the grain's protein. This "weakened" flour is ideal for breads like roti, that are typically kneaded by hand, and immediately rolled out to thin rounds. When rotis are rolled and cooked properly, they puff full of hot air, similar to pita bread, but far more delicate, with lots of toasty, whole wheaty flavor.
Rotis can be rolled to a range of thicknesses, and Jaffrey explains that the thickness determines the style. Thick roti with a bit of bite are common. Thin, delicate ones are called chapatis, and thinner still are pulka, "about five inches in diameter," Jaffrey notes, "and the most delicate of all. You get it in the best homes of india, very thin and fine and perfectly puffed up like a poori."
According to Jaffrey, an Indian cook's skill could be judged by the delicacy of their roti and, when she was growing up in Delhi in the 1930s and 1940s, "you could say, 'in that household they have the best food, they have the finest pooris, they have the finest this and the finest that.'"
Yamini Joshi, an Indian cooking instructor with the League of Kitchens in New York City, jokes that, if a young woman can get her roti to puff perfectly, she is said to be good daughter-in-law material. I'm not going to make any claims about my own roti, but I will say that, with plenty of flour and a little bit of practice, just about anyone can achieve that level of marriageability.
With a Little Help From Some Equipment
The belan is nimble and lightweight, and Shah appreciates that "its slender body lets you apply pressure to specific areas for more evenly rolled flatbreads. It's also handy for rolling out finicky doughs that might tear easily under the weight of a regular rolling pin." While you can certainly shape rotis using an ordinary rolling pin on a well-floured countertop, these two tools are inexpensive and helpful for rolling out the most delicate of flatbreads.
Cast iron or nonstick skillets work well for cooking rotis on the stove, but Indian cooks typically use slightly concave pans called tawas or tavas for frying their rotis. The curved pans are only suited to gas stoves, but they work wonders for evenly cooking even the most delicate of roti. When the pan is properly preheated, the breads need cook no more than a couple of minutes per side; as a final flourish, the roti is slid off the tawa, directly over the gas flame, where it quickly puffs full of hot air, toasts, and chars.
A pair of tongs (smooth, so as not to pierce holes in the delicate bread!) is handy for flipping your roti, but the bravest and baddest roti-makers out there—much like their crèpe-making French counterparts—just pinch and flip quickly with the tips of their fingers. A drizzle of oil or ghee is the typical finishing touch, and sometimes all that a fresh roti needs.
You can use the same basic whole-wheat roti dough to make more complicated breads like parathas, which can either be enriched and layered like a croissant or stuffed with fillings such as potatoes, cheese, or vegetables. The chewy layered version is a rich and luxurious treat that takes very little extra effort to prepare. Jaffrey explains that, growing up, "the pulka was our everyday bread, then on special days we would have a paratha, because it was considered to be very rich and not something you had every day."
This enriched style of paratha is made by rolling roti dough very thin, brushing or spreading it with melted clarified butter (ghee), folding or rolling it up into a small packet, and rolling it thin again before cooking. The fat keeps the dough layers separated—much like in a flaky pie crust—which leads to a softy and chewy texture reminiscent of the tender insides of a croissant.
The filled variations are even simpler, provided you don't put a lot of fuss into your fillings. Crumbled paneer or some roughly mashed spiced potatoes are great, traditional fillings, but leftover curry, vegetables, or roasted meat are tasty options as well.
The filling method is exactly the same as making a North Indian kulcha or Georgian stuffed khachapuri: just stretch the dough out to a round, place a mound of filling at the center, pleat the edges up to meet in the center, pinch the dough closed, and roll the parcel back out to a flat disk.
When filling parathas, or any stuffed bread, take care that your filling is not too wet, lest the dough break or not seal or crisp. The goal with both filled and layered parathas is a crispy exterior and soft and tender middle; moderate the heat under the pan accordingly and don't walk away from the stove.
And once you get used to eating fresh bread on a regular basis, it's hard to go back to sopping up your supper with old loaves or those sad, bagged sandwich slices. When you're too short on time to break out the yeast, or when it is just too hot to fire up the oven, rotis are a great way to whip up some warm, wholesome carbs on the fly.