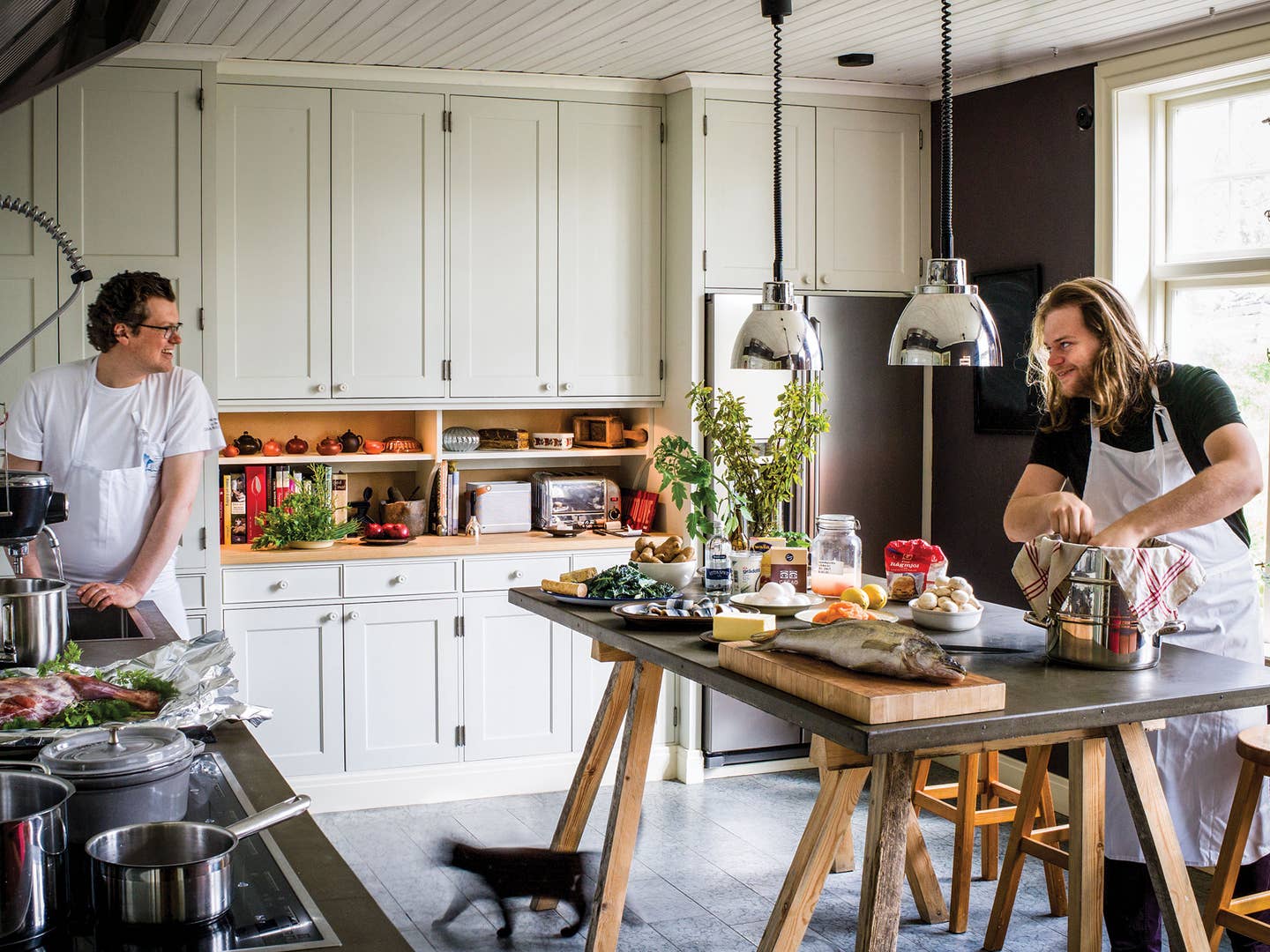 Culture
The Sunday Suppers Project: A Scandinavian Family Feast
Chef Magnus Nilsson spent years researching classic Nordic recipes; his friends and family reap the benefits
The sounds in the kitchen this morning are few. The kids are playing in the garden, and the current moment of calm contrasts brightly with the bustle of moments ago, when we were having Sunday breakfast. The only sounds now are those of whey dripping out of a batch of skyr hanging in a muslin-lined colander placed over a pot, and that of Jesper, the head chef from my restaurant, Fäviken, peeling carrots over the sink.
For almost three years now I have been working on a book about the culture and traditions of eating in all the Nordic countries. I have been traveling: meeting, interviewing, and eating with people in their homes, photographing and photocopying recipes, sniffing around the gastro-cultural underbrush, looking to capture the tastes of a region encompassing more than a million square miles. The amount of material collected has been huge, and because of that I have been working almost every Sunday, testing recipes in my kitchen all day and hosting friends and family for dinner with the results in the evenings. Today marks the end of recipe testing, as my book is almost on its way to the printer.
We are preparing bleak roe in a classic Baltic way along with a Finnish recipe for pike-perch with horseradish butter, known as kuhaa Mannerheimin tapaan. It's named for Marshal Carl Mannerheim, a Finnish military hero often referred to as the father of modern Finland and apparently also the father of quite a few classic Finnish dishes. We are cooking two Icelandic recipes: slow-roasted leg of lamb and skyr, the cultured Icelandic fresh cheese. There will be some fried pickled herring, which I remember my grandmother often making in the summer—it's already marinating in a glass jar in the fridge. We'll close with a particular kind of gooey Swedish chocolate cake called kladdkaka—it translates, simply, to "gooey cake"—which has become something of a staple in the Nilsson home. A relatively recent addition to Swedish cake culture, first appearing in the mid-'70s, it has exploded to national prominence and is now the most common search word on Swedish recipe websites.
The Icelandic recipes are less familiar to me. I have eaten skyr many times but never prepared it myself. The lamb would have traditionally been cooked in a fire pit in some Icelandic backyard; we're using the oven instead. (I'd rather let my children play in the garden than dig a giant hole in it and risk a fire.)
As I rub coarse salt and herbs into a leg of lamb, I think about all the great meals I've had since I started this project. Some of the best are those that weren't planned at all. Like the time in northern Iceland when I met a former air force meteorologist who makes his living collecting the speckled eggs of sea-loving guillemots, birds that nest in cliffs overlooking the ocean. His family has held the rights to collect eggs on those particular cliffs for 17 generations. After some pleasantries, the egg collector invited me into his pickup truck for an impromptu lunch. Damp, foggy, north Atlantic air mingled with our warm exhalation in the enclosed space, and the windows quickly fogged up, little beads of water rolling down. We each peeled a fist-size, almost conically shaped, bright turquoise egg and ate it just like that, with some salt. Perfectly cooked and simply served by a stranger in the seat of a battered pickup truck in the Icelandic countryside—this was my best meal of the year, because someone really wanted to show me something. He took genuine care cooking and sharing that egg with me, even though I was a stranger.
We tend to forget that the essence of hospitality is looking after the well-being of others, whether offering a new acquaintance a bit of your lunch or cooking an elaborate meal for a crowd. True, tonight I will be treating my family—it's just us this time—to a dinner of scraps from a photo shoot, but every meal is a chance to entertain, an idea that often gets lost in the planning, preparation, execution, and excitement.
The food from today's testing turns out well, especially the pike-perch—I am surprised by the intense sweetness of the horseradish when it is cooked for a bit in butter. The plate of chocolate cake marks the end of the final tasting session, the end of three fantastic years learning so much about a food culture I thought I already understood, the end of three years sharing all I found with friends and family over the dinner table. I take a final bite of cake, a sweet ending to my Sundays of work.