Recipes
Pike-perch with Creamed Mushrooms and Horseradish Butter
Serves

serves 4

Cook

45 minutes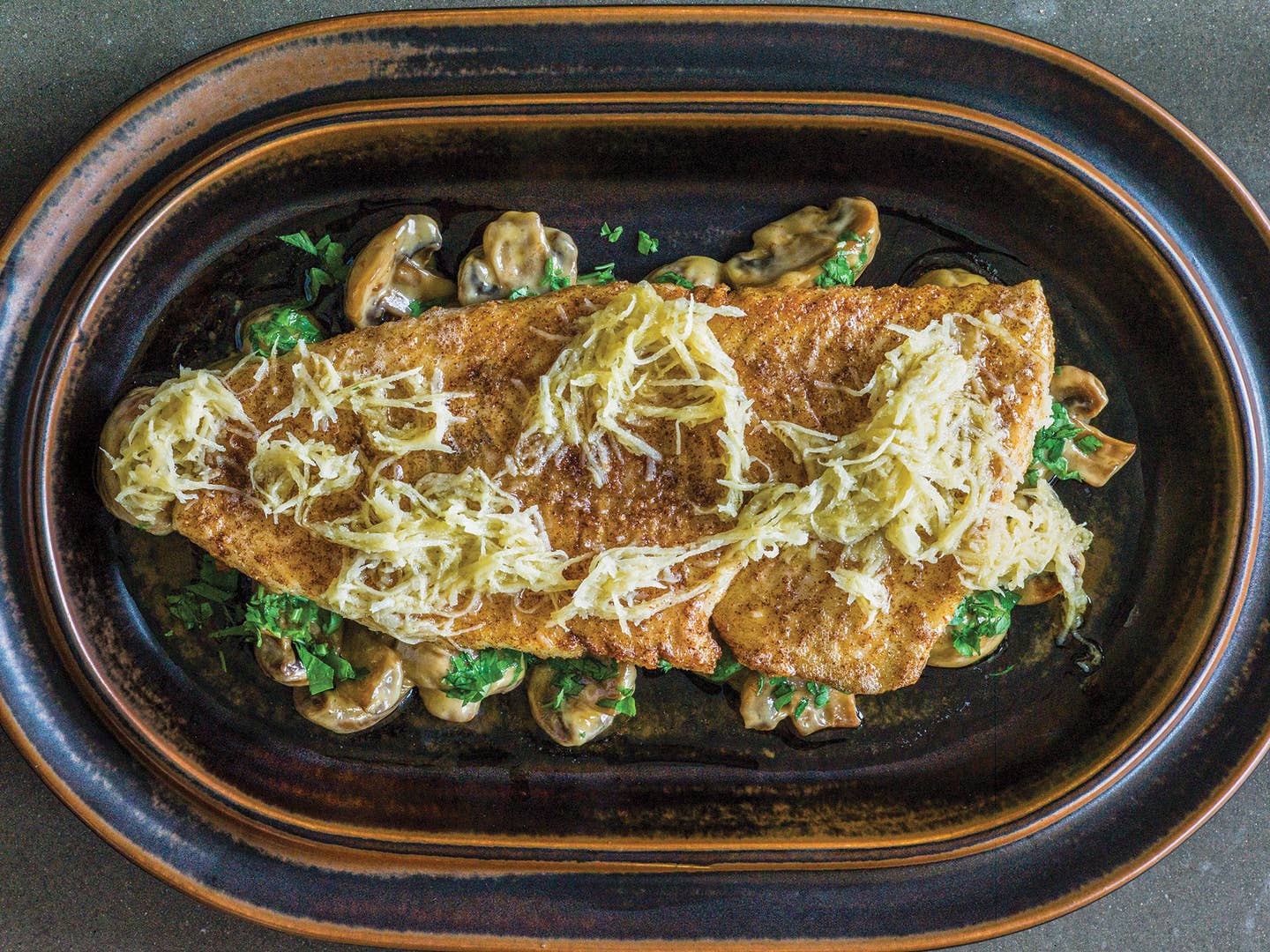 In Sweden, chef Magnus Nilsson of Fäviken uses pike-perch, a distinct fish that's neither pike nor perch but is similar in size and taste to American walleye. If you can't find either, red snapper or any firm, white-flesh fish with moderately sized fillets will work.
Ingredients
2 sticks plus 4 Tbsp. unsalted butter
1 3⁄4 lb. cremini mushrooms, halved
Kosher salt
Ground white pepper
2 tbsp. heavy cream
1 (4-oz.) piece fresh horseradish, peeled and finely grated (or 1/2 cup prepared horseradish)
1 1⁄4 lb. skin-on pike-perch or walleye fillets
Freshly ground black pepper
1⁄2 cup plain bread crumbs
2 tbsp. roughly chopped flat-leaf parsley
Instructions
Step 1
In a large skillet, heat 2 tablespoons of the butter over high. When the butter just melts, add the mushrooms and cook, undisturbed, for 4 minutes. Continue cooking the mushrooms, stirring occasionally, until lightly browned and all their liquid evaporates, about 4 minutes more. Season the mushrooms with salt and white pepper, and then stir in 2 tablespoons of the butter and the cream. Remove the pan from the heat and keep warm.
Step 2
In a small saucepan, melt 1 stick of the butter over medium heat, and then stir in the horseradish. Cover the pan and turn off the heat. Let the horseradish butter stand for 10 minutes as you cook the fish.
Step 3
In another large skillet, heat the remaining 1 stick of butter over medium-high until it begins to brown. Season the fillets with salt and black pepper, and then sprinkle with the bread crumbs until evenly coated on all sides. Working in batches, add the fillets to the skillet, skin side down, and cook, turning once, until golden brown and cooked through, about 5 minutes. Transfer the fillets to paper towels to drain.
Step 4
Spoon the mushrooms onto a larger serving platter and sprinkle with the parsley. Arrange the fillets, skin side up, over the mushrooms and then spoon over the warm horseradish butter and serve immediately.