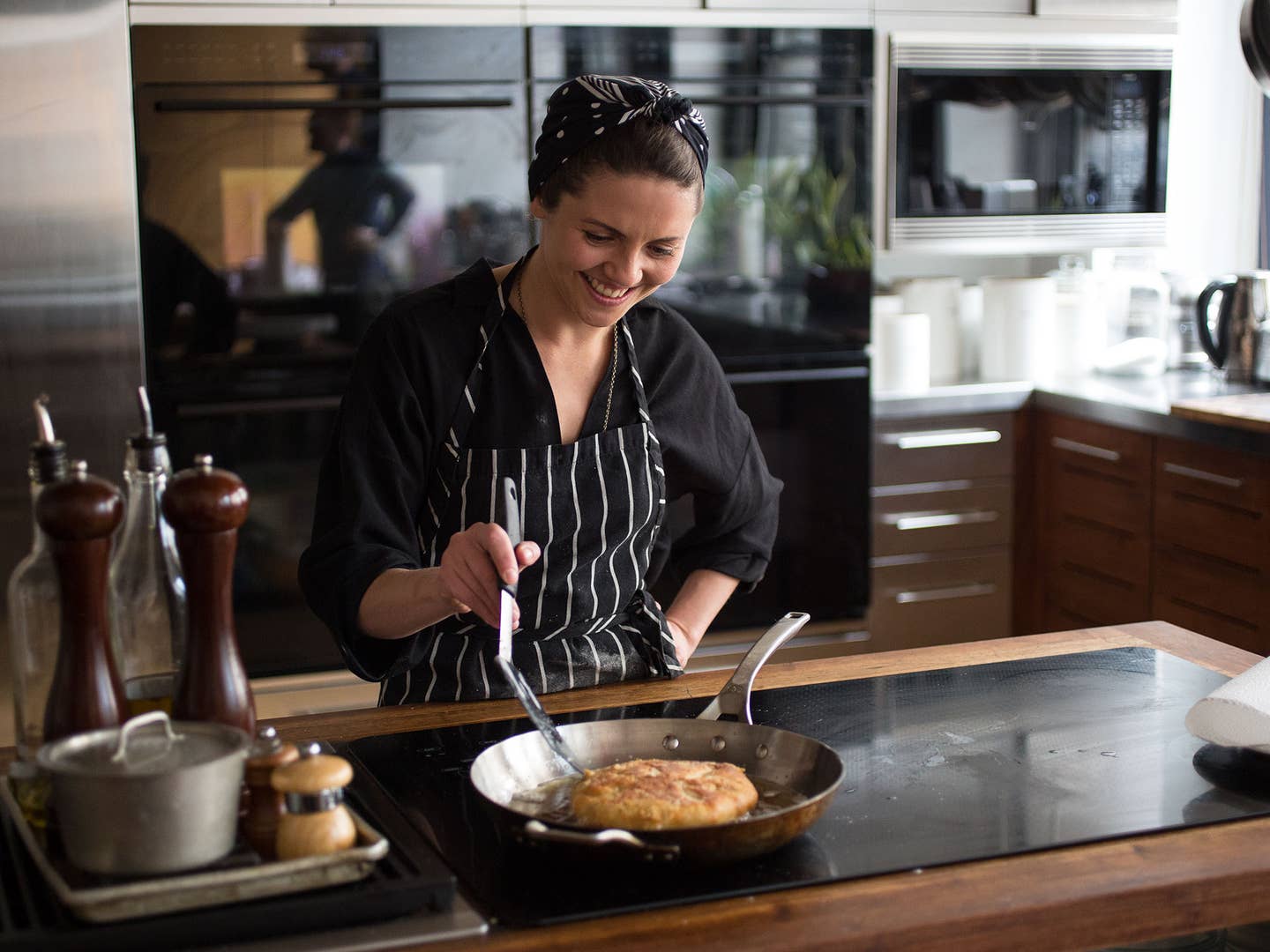 Culture
Making Moldovan Flatbread with Olia Hercules
Stuffed with spring greens and fried until golden, these flatbreads are almost foolproof
Olia Hercules is very jet lagged and making us flatbreads. The London-based and Ukraine-born food stylist, author, and chef arrived in New York not 12 hours ago, and is doing a great job of covering up the fact that she feels like a zombie—until she realizes, five minutes too late, that she has forgotten the baking soda.
She considers the dough in front of her, shrugs, and emits a small eh, with resignation familiar to any home cook who has skipped a step or forgotten an egg or turned their oven up a notch too high. She dusts a little baking soda onto her cutting board, tops it with a coating of flour, and kneads a ball of dough—made only from kefir, vinegar, and water—into a soft little pillow, trusting that it will absorb enough leavener to rise when she pan-fries it.
"In the Soviet Union, all the [bread] that you'd get in the shops would be really horrendous," Hercules explained. "So my grandma would just make a huge pile of these instead." These Moldovan flatbreads—known as plachinda—were originally made with whey leftover from making fresh cheese, but kefir, or even thinned-out yogurt, makes a good substitute. The dough is wrapped around a vegetable filling, then pan-fried into a puffy, crispy, doughy golden round. It's a happy mash-up of spanikopita, focaccia, khachapuri, and fried dough.
"People think the Ukraine is all about potatoes and dumplings—which it is, especially in the west—but where I'm from in the south is so diverse. I grew up eating food from all over, from Uzbekistan to Georgia to Armenia." So much of cooking, of cookbook writing, of feeding others, is an attempt at saying, please understand where I am from. With her forthcoming cookbook, Mamushka—to be published this fall by Weldon Owen—Hercules is doing just that, exposing the diversity and vibrancy of Eastern European food. In another bowl she tosses a springy mountain of chopped dill, sorrel, and scallions with a beaten egg and a pinch of salt. It becomes a bright green slurry she'll tuck into the dough.
Hercules left Ukraine when she was 12 to study in Cyprus and then in England. After a brief stint working at a film magazine, she decided to turn cooking—her hobby—into her life. So she trained at Leith's School of Food and Wine, then worked in London's kitchens—including the famed Ottolenghi—for a number of years. She left professional kitchens behind after having a child and now freelances as a food stylist, writer, and recipe developer. She has a chef's tidy attention to detail and a stylist's aesthetic touch, but watch her in the kitchen for more than a few minutes and you'll see the telltale signs of a purebred home cook: Dumping flour directly from the bag into the bowl of kefir, shaking off mistakes, chatting all the way.
This is partially inherited: Hercules' mother and grandmother were both avid cooks who kept gardens and chickens and entire orchards of stone fruit. "When I went back to the Ukraine to test recipes for the book, my aunt and my mom were like, 'Get away from me with the scales and the measuring spoons!'" But just as she is determined to update traditional foods, she's determined to make them accessible to—and successful for—home cooks. As with the gorgeous photos filling her book, her food is vibrant and fresh-feeling.
I steal the last round of dough and try my own hand at a green-filled parcel. Hercules keeps an eye on me from the stove as I knead, but the process is quite simple: work it until it's soft, roll it out, fill, roll, fry. Her flatbreads come out golden and puffed (and perfectly leavened!), and the crowd that has accumulated in the test kitchen all huddle over it, attempting decorum while vying for a slice. Mine comes out a little underdone—I was a little aggressive with the temperature of my oil, and the dough is still a bit raw—and Hercules gives me that same optimistic shrug. Eh! "We'll just put them back in the pan," she says, and we do, and come out with fried golden triangles, bursting with green.