Recipes
Stuffed Moldovan Flatbreads with Dill and Sorrel
Serves

makes 4 breads

Cook

1 hour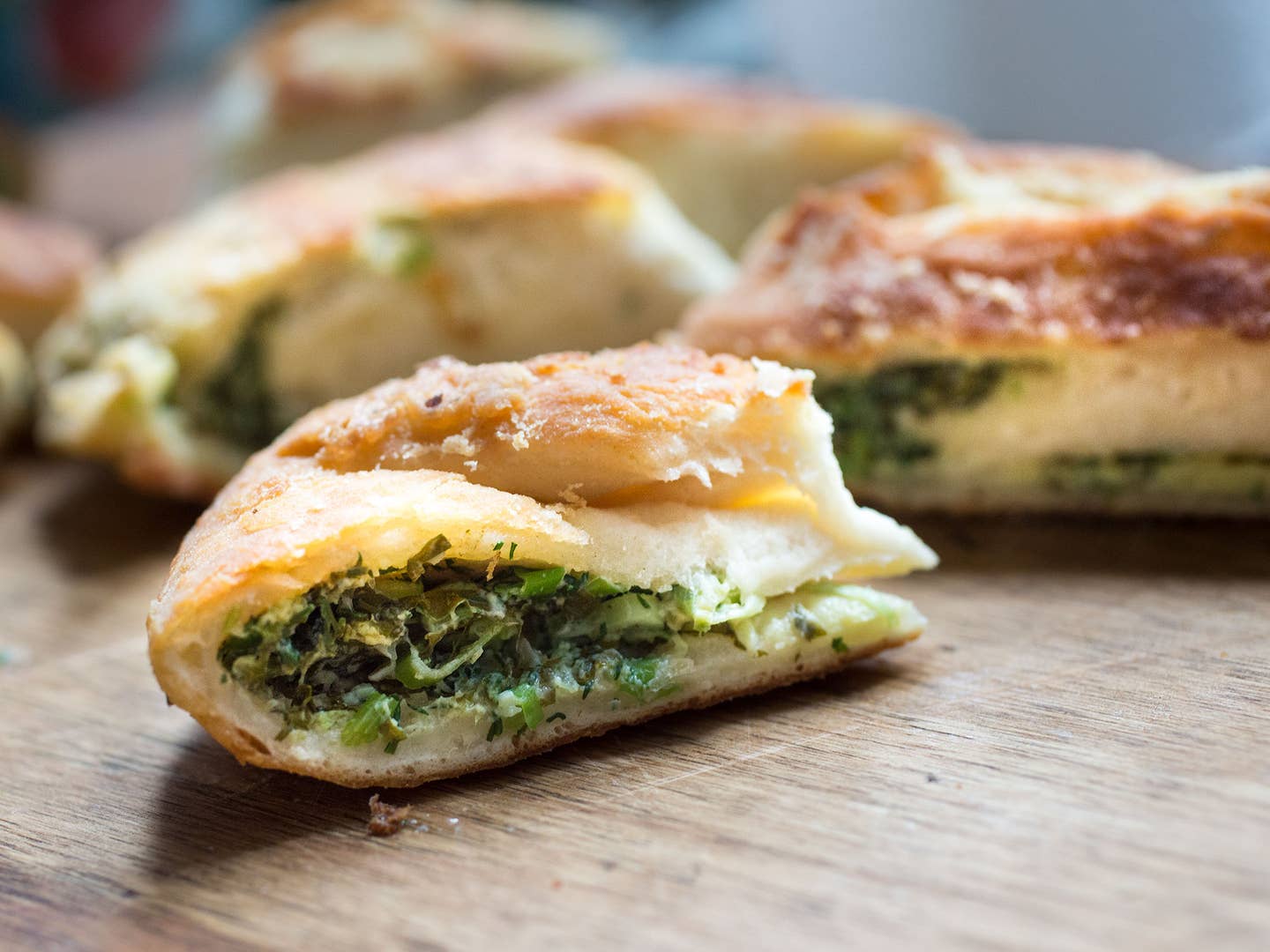 Kefir, a traditional Russian fermented milk drink, adds tenderness to the dough for these flakey Moldovan flatbreads, stuffed with dill, scallions, and sorrel—perfect as an afternoon snack or the starter for a large picnic. If you don't have access to kefir, simply substitute 3/4 cup natural plain yogurt mixed with 1/4 cup water. This recipe comes from Ukraine-born chef Olia Hercules, author of Mamushka: Recipes from Ukraine & Beyond.
Ingredients
1 cup kefir
1 cup plus 1 1/2 tbsp. vegetable oil
1 1⁄2 tsp. white wine vinegar
1 1⁄2 tsp. sugar
1⁄2 tsp. kosher salt, plus more to season
2 1⁄2 cups all-purpose flour, plus more for dusting
1 tsp. baking soda
1 bunch spring onions, roughly chopped
1 bunch dill, roughly chopped
1 bunch sorrel, roughly chopped
2 eggs
Freshly ground black pepper
Instructions
Step 1
In a large bowl, combine the kefir with 1 1⁄2 teaspoons of the oil, the vinegar, sugar, and 1 1⁄2 teaspoons salt. Stir in the flour and baking soda, and knead until a smooth, soft dough forms. Divide dough into 4 balls and cover with a kitchen towel.
Step 2
For the filling, in a medium bowl, stir the spring onions, dill, and sorrel with the eggs, salt, and pepper.
Step 3
On a lightly floured work surface, work with one ball of dough at a time, and roll the dough into an 8-inch circle. Spread one-quarter of the filling in the middle of the circle and then fold in all sides to make a 4-inch square, sealing the dough where the edges meet. Roll the dough packet into a 6-inch square, and then fold each corner inward to meet in the middle of the square. Roll the dough into a 6-inch hexagon, and cover with a kitchen towel. Repeat rolling and filling the breads with the remaining dough balls and filling.
Step 4
Heat the remaining 1 cup oil in a 12-inch skillet over medium heat. Working with one dough packet at a time, fry the bread, flipping once halfway through, until golden brown on the outside and an instant-read thermometer inserted in the middle of the bread reads 200°, about 6 minutes. Transfer the bread to a rack to drain and repeat frying to make remaining breads. Let cool for 5 minutes before serving.