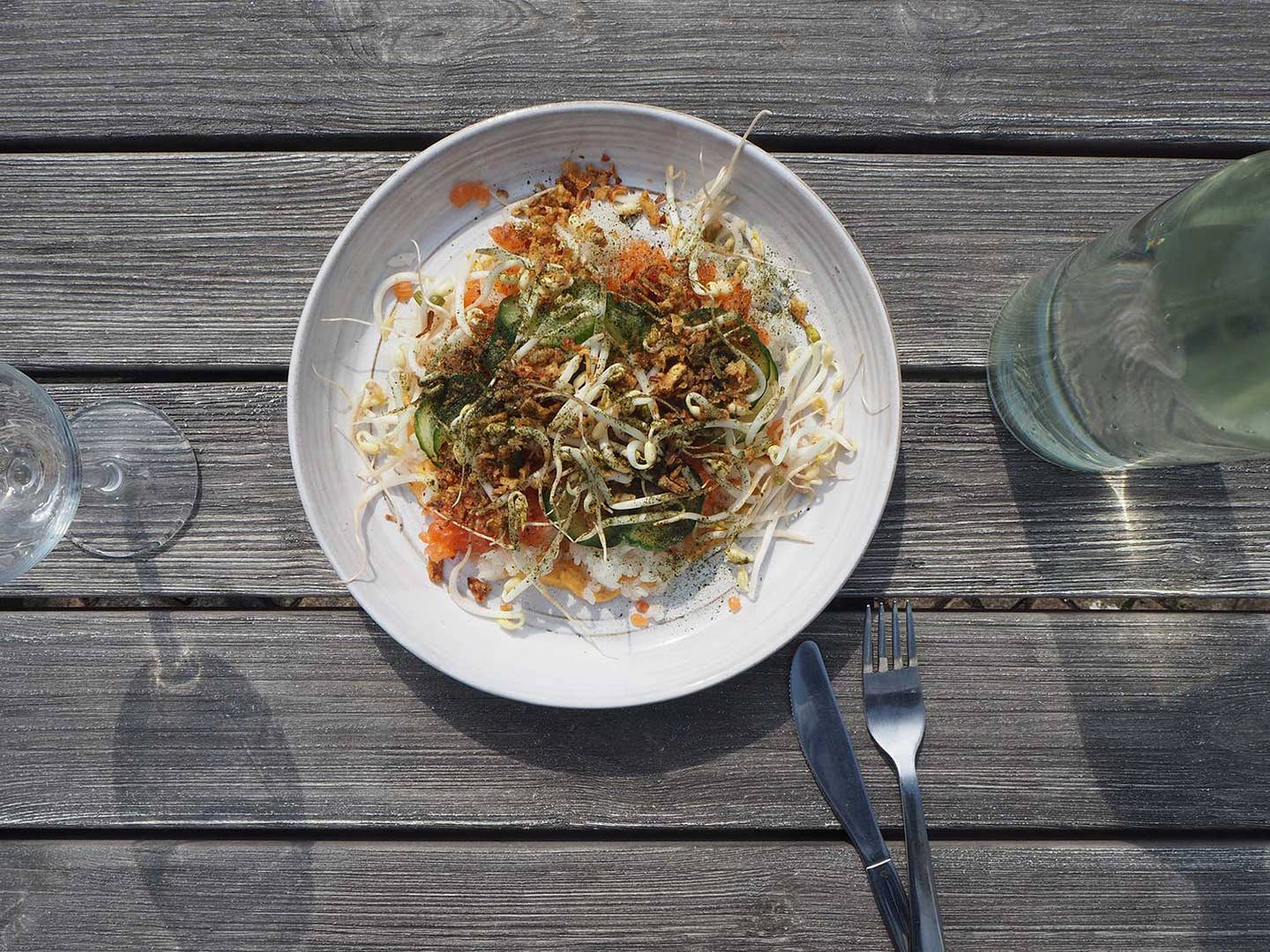 Travel
This Might Be the Quintessential Modern Swedish Restaurant
At Malmö's Saltimporten Canteen, you can try modern Swedish food at its best, as part of a time-honored tradition: dagens lunch
Saltimporten Canteen, a waterfront restaurant in Malmö, Sweden, is defined as much by what it doesn't do as what it does. It is open for two hours, noon until 2pm, on weekdays, and that's it. It offers two pre-prepared options—a vegetarian plate that changes weekly, another with meat or fish that changes daily—that each cost about $10, plus one dessert, a few wines, and coffee. And it's one of the most exciting restaurants in Malmö, and maybe the entire country.
The format is an update of the Dagens Rätt—or daily lunch special—a traditional Swedish workers' lunch, served relatively quickly at communal dining tables with a curated choice of pre-made plates. It's a tradition that is coming back in the area, gracing a few modern chef's menus who are reinvigorating it with fresh local ingredients and global flavors. Visiting as a tourist, I felt like a bit of an interloper among the solo diners who seem to work in the area and co-workers grabbing a quick bite together. And yet, despite its low price, it is an ambitious statement of how simple cuisine can be elevated, and what modern Swedish cooking might look like.
When I visited at the end of last summer, I couldn't help but compare it to the most famous Swedish restaurant of the last decade, Fäviken, a 24-seat tasting-menu temple in a remote corner of the north of the country kind of near the ski town Åre. It is apparently the kind of place you need to take some time off of work to visit properly, 14 or so courses of New Nordic wizardry, nettles and reindeer and lichen. I say "apparently" because there is just one seating of 24 people a night, and reservations disappear months in advance, so most of the dining public—and I—have only experienced the restaurant and its chef, Magnus Nilsson, through season one of "Chef's Table."
But a paradox of New Nordic tasting-menu food has been that, despite representing an entire region to the outside world, it has very little to do with the way most people actually eat—normal Swedes don't generally feast on nettles and reindeer and lichen. They do eat the kind of food of which Saltimporten Canteen makes exceptional versions: stews, cured fish, and grain salads. And at the restaurant these are all rooted in classic Scandinavian flavors with a bit of East Asian and Middle Eastern influence. To me, that makes it a better ambassador for the potential of Swedish cooking to the outside world.
Like Fäviken, Saltimporten Canteen requires a pilgrimage of sorts. It's at the end of a long industrial pier that projects into the city's harbor, a 15 minute walk through a working industrial port. (The name means "salt import," and refers to the previous use of the building.) It requires the trip, I should say, of people that don't work in the area—it's probably best visited on your lunch break.
The chefs and owners, Ola Rudin and Sebastian Persson, have a fine-dining background, and they cook seasonally, with almost exclusively local ingredients. The day I visited, the rotating menu featured Gravlax served over rice with cucumbers, sprouts, and sweet fried onions, all of it dusted with fine seaweed powder. The communal tables were bustling, but it wasn't hard to grab a seat. I contemplated a glass of wine from excellent French natural producer La Granges aux Belles and snagged an extremely good piece of gratis bread. Relishing the last few bites of the comforting yet inspiring meal, I couldn't help but fantasize about an alternate life as a stylish Swedish graphic designer: I'd visit three times a week; take in all the flavors, colors, and voices of the crowd; then just pop back to my office next door and get back to work.