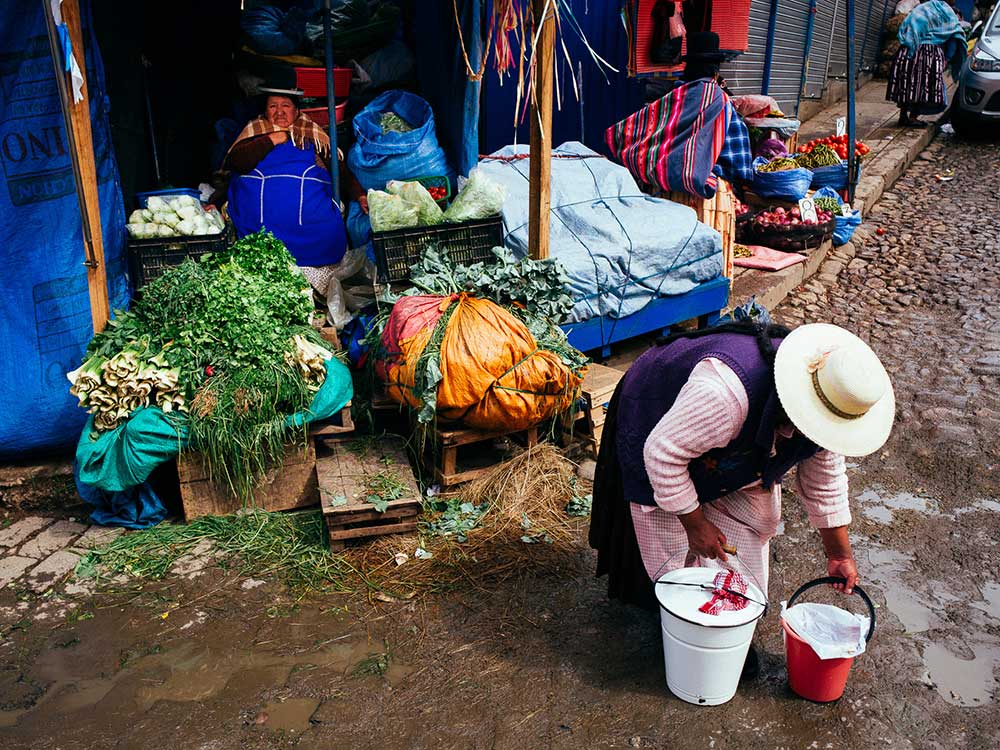 Travel
Where to Shop for Potatoes and Alpaca 13,000 Feet Above Sea Level
Scenes from Mercado Rodriguez in La Paz, Bolovia, the largest sky-high market in the world
Crushed by rocketing from sea level to 13,000 feet in the air, I woozily hand my passport to the customs agent. Visa stamped, I jump in a cab and head into a bewilderingly quiet city silenced by democracy—a vote on a constitutional referendum left the city absent of cars and people—no work, no protests, no markets, little food. Silence.
This is not the La Paz I had read about. It did, however, provide a relaxing introduction to a city known for it's crushing elevation, intense traffic and bustling street markets. The next morning the city erupted with the energy of a well-rested giant: horns, dogs, people, traffic, diesel and—finally—food.
Andean cuisine, like much of the rest of Bolivia, is a combination of the native ingredients and traditions of the Aymara and Quechua mixed with what the Spanish brought to the table hundreds of years before. It's big on spice and heat, and for every meat or starch there seems to be a salsa to match.
Set high in the Andes, La Paz and its sister city El Alto combine to form a sprawling metropolis of 2.4 million people. Straddling the altiplano and spilling down a giant canyon formed by the Choqueyapu River, neighborhoods and their respective markets seemingly hang from the canyon walls. Connected by a maze of extraordinarily steep and winding streets bisected further by an endless amount of staircases, La Paz is as breathtaking for its beauty as it is for its elevation—as high as 14,000 feet above sea level—and to understand the city, you have to climb it. Start doing so at the market.
Mercado Rodriguez is the largest food market in La Paz, home to impressive mountain produce, meat, and fish from nearby Lake Titicaca. The potatoes alone are quite the sight to see—Bolivia is home to over 200 varieties—and they're as colorful and varied as the outfits of the local woman who sell them.
The market is predominantly outdoors, sprawling up, down and around the maze of neighborhood streets. There is a smaller indoor section that sits beneath a canopy of tarps, corrugated metal and other fabrics. Inside you'll find a staggering array of fresh produce and, depending on the time of day, sleeping vendors.
The market is surrounded by a number of small stalls or kioskos selling everything from bull penis soup to saltenas to—my favorite—the spicy fried chicken over hominy at Chicharroneria Arminda. There aren't many options at Chicharroneria Arminda. Choose from pork or chicken. Both come deep fried. And both options get served over hominy and are accompanied by a steamed potato. But then there are the excellent charred salsas, made with local peppers and each tailored to match a particular meat.
Mercado Rodriguez is open daily from around 5 a.m. all the way until 9 p.m.; it's busiest on the weekends and mostly outdoors. Once you've had your fill, take a 15 minute walk toward the small neighborhood square of Parque Riosinho. There, while snacking on some excellent salsa-slathered grilled alpaca, you can start exploring everything else La Paz has to offer.
Dave Snyder is a Brooklyn-based Designer and the Executive Creative Director at Firstborn in NYC. He moonlights as a Documentary Photographer. He likes food.