Recipes
Fried Egg with Hazelnuts, Chanterelles, Green Garlic, and Blackberries
Serves

serves 4

Cook

30 minutes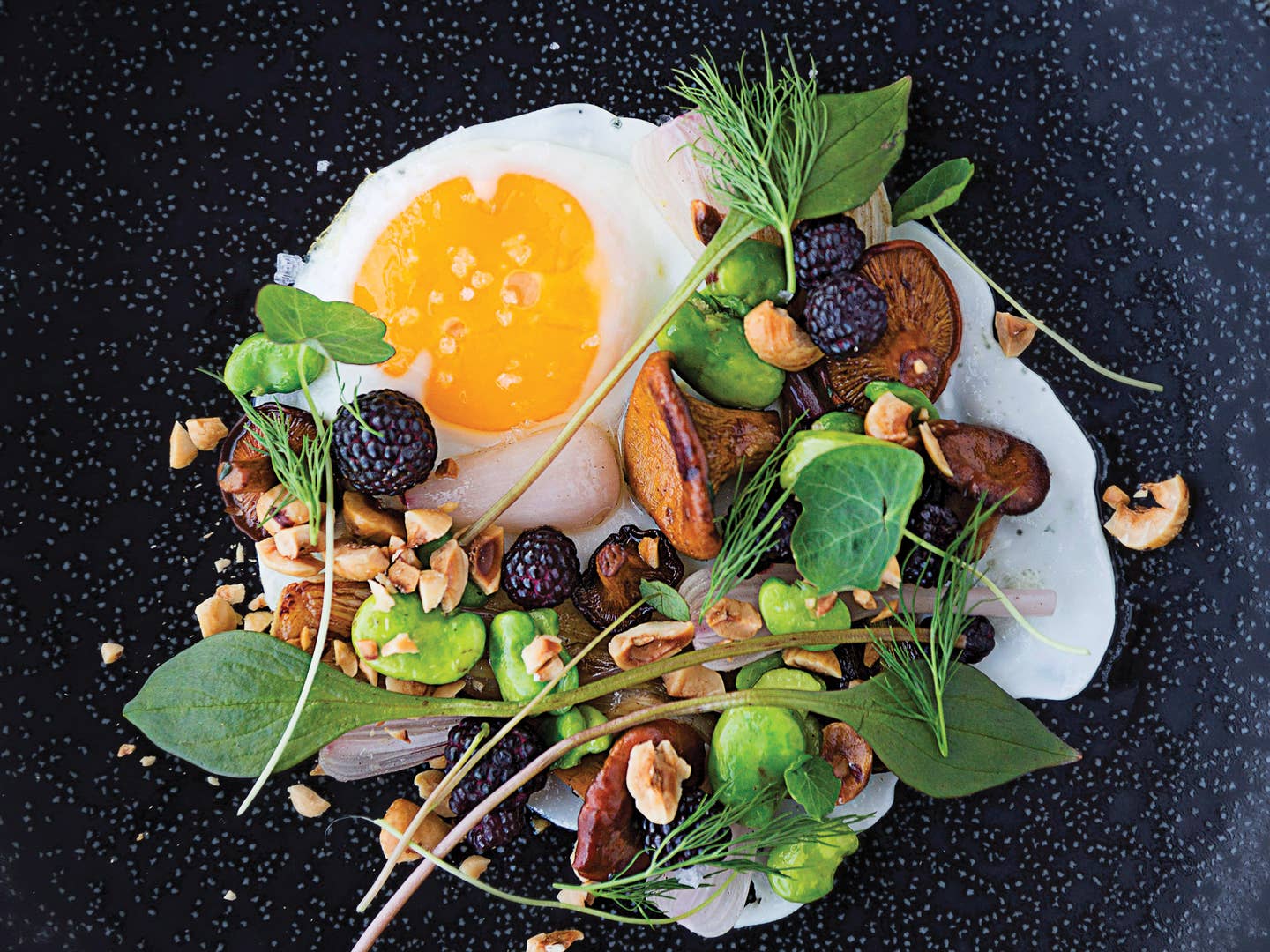 Chef Jim Christiansen, of Heyday restaurant in Minneapolis, fries his eggs with a splash of water to prevent the whites from burning.
Ingredients
1⁄4 cup hazelnuts
1 tbsp. vegetable oil
1 tsp. kosher salt, plus more to taste
1 cup blackberries
2 tsp. fresh lemon juice
1 tsp. sugar
4 tbsp. unsalted butter
8 oz. chanterelle mushrooms
2 oz. fresh or frozen fava beans, shelled
4 bulbs green garlic, trimmed, outer leaves removed
2 cloves garlic, unpeeled
2 sprigs thyme
Freshly ground black pepper, to taste
4 eggs
Micro-herbs, such as dill and watercress, for garnish
Instructions
Step 1
Heat oven to 350°. Toss hazelnuts with oil and a pinch of salt on a parchment paper-lined baking sheet; bake until dark and fragrant, 10–12 minutes. Cool, then lightly crush; set hazelnuts aside. Mix blackberries, 1 tsp. each lemon juice, salt, and sugar and set aside. Heat 2 tbsp. butter in a 12-inch cast-iron skillet over medium-high and cook until dark and nutty, 3 minutes. Add chanterelles, beans, green garlic, garlic cloves, thyme, salt, and pepper and cook until green garlic is caramelized, 7 minutes. Toss with remaining lemon juice and keep warm. Meanwhile, heat remaining butter in a 12-inch nonstick skillet over medium. Add eggs and 1 tsp. water and season with salt and pepper; cook, covered, until whites are set but yolks are still runny, about 3 minutes; divide between 4 plates. Arrange vegetables around eggs and finish with reserved blackberries and hazelnuts, and the herbs.