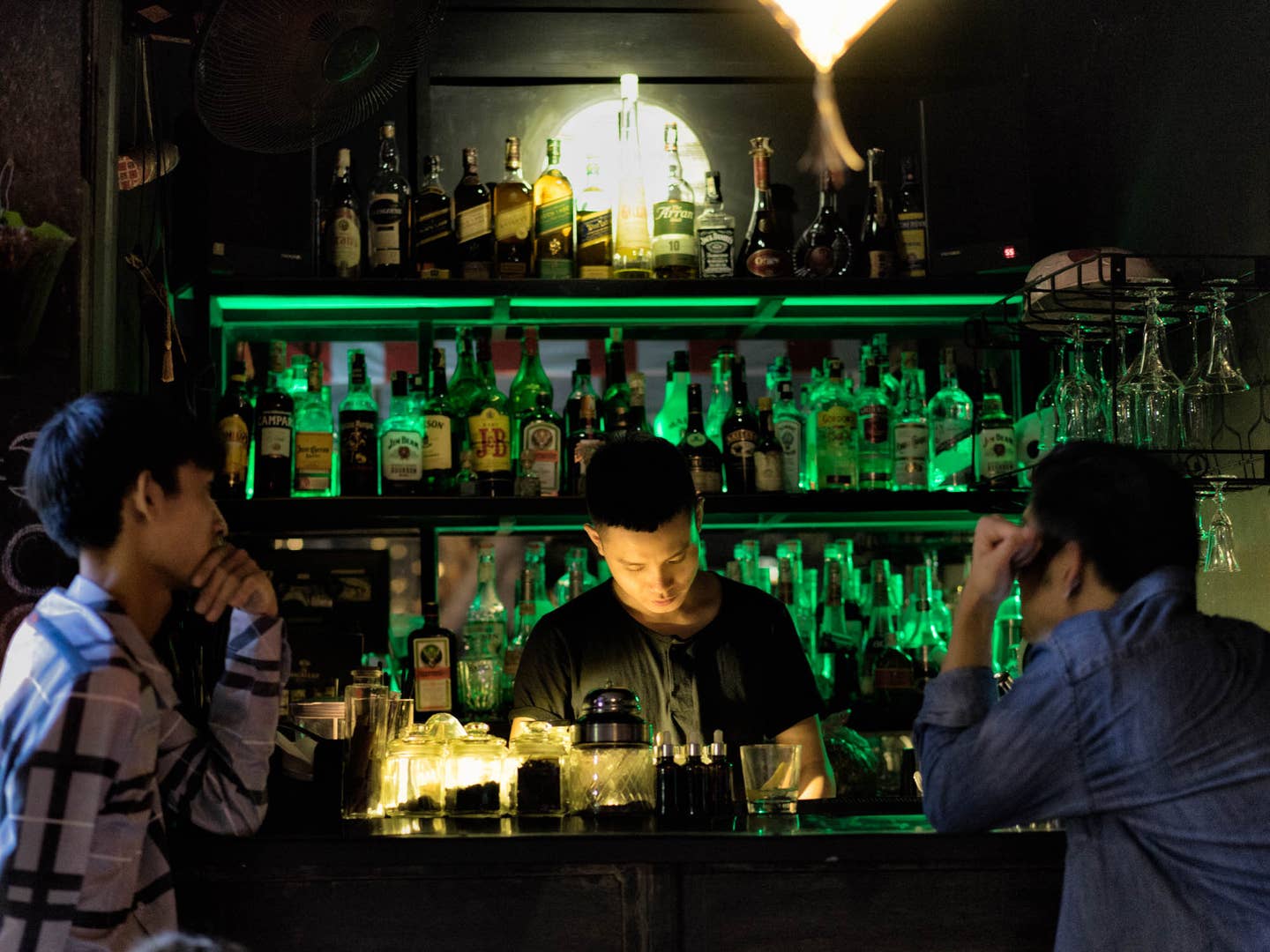 Travel
One Night Out in Hanoi, Vietnam
An insomniac's guide to eating and drinking in the 1000-year-old capital of Vietnam
Hanoi may have celebrated a millennium last year, but the political and cultural capital of Vietnam is now becoming one of Asia's most popular travel destinations. The one-time rickety dirt road from Noi Bai International Airport has been replaced with a paved highway that takes half the time to traverse; rows of skyscrapers light up the sky after sunset; and not to be outdone by the sprawling nightlife scene to the south in Saigon, Hanoian officials finally lifted the city's longtime midnight curfew last summer.
Despite those developments, which are both reflections of and catalysts for what happens in the rest of the country, Hanoi has managed to maintain much of its ancient charm and distinct air of refinement. Throughout the city, preserved Chinese imperial remnants join the French colonial edifices as reminders of the Vietnam's dark past—for all its 1,000 years, little of the city's history was free from subjugation—starkly contrasting the shopping malls, cocktail bars, and luxury gated communities that represent its future.
Map created by Pauliina Siniauer
From northern-style pho to bun cha, the food of Hanoi has long been praised by foreigners—celebrity chef Anthony Bourdain has famously called Vietnam his favorite food destination—, but some of the best new tastes in town now come from swanky rooftop cocktail bars and international chef-helmed restaurants as much as they do from plastic stools and roving street vendors.
Ready for a night out on the town? Here are our favorite spots, both on and off the beaten path, for an evening eating and drinking in the Paris of the East.
A decent Vietnamese milk coffee, or ca phe sua, can be found on every street corner, at every airport and train station, and at your hotel. You will be drinking it your entire trip. For a taste of caffeinated Hanoi, try the egg coffee, a specialty of the city, at Cafe Pho Co, a favorite of visitors and locals offering a rooftop view of the Hoan Kiem lake.
To reach your destination, you'll have to pass through a clothing store on Hang Gai (Silk Street), into a courtyard filled with antiques and birdcages, and up a few sets of stairs. The drink tops Vietnam's traditional dark-roast brew with a vigorously whipped mix of egg yolk and condensed milk for a sip reminiscent of liquid coffee cake.
Cafe Phố Cổ
11 Hàng Gai
Hoàn Kiếm
Hà Nội
The Old Quarter is all about street-style bun, or rice vermicelli noodle, dishes. Two standouts here are Bun Cha 34, hawking the Hanoi-born fatty pork and pork belly broth noodles, and Bun Bo Nam Bo, dishing up the namesake southern beef noodle salad that northerners have come to love.
Bún Bò Nam Bộ
67 Hàng Điếu
Cửa Đông
Hoàn Kiếm
Hà Nội
Bún Chả 34 Hàng Than
34 Hàng Than
Ba Đình
Hà Nội
Hanoi is home to the world's most essential happy hour: the bia hoi. Come 5 p.m., folks, mostly men, flock to their nearby plastic-table joint for dirt-cheap barrel-tapped brews and equally affordable bites. Sitting on the southeast corner of Ho Tay, or the West Lake, this outdoor pub caters to crowd of almost exclusively locals. (Visitors tend to frequent Bia Hoi Junction.)
Here, you won't be soaking up your beer with Vietnam's famous noodle soups or sandwiches, but rather classic street snacks like boiled or roasted pork belly with pickled vegetables, carp stewed with melon, or fried chicken.
Bia Hơi Ụ Pháo
18 Trấn Vũ
Quán Thánh
Ba Đình
Hà Nội
On the other side of West Lake sits the sprawling, luxurious Intercontinental Hanoi. Guests can catch views of sunrise and sunset on the storied body of water, where locals can be spotted doing tai chi or yoga as well as fishing at all hours. The hotel has seven restaurant and bars—including the lauded French brasserie Cafe Du Lac—but one of the main draws here is relaxing, cocktail-in-hand, by the pool, an essential for withstanding Hanoi's windless 100-degree days.
Intercontinental Hanoi West Lake
5 Từ Hoa Công Chúa
Quảng An
Tây Hồ
Hà Nội
Tucked in an alleyway next to the hotel is this expat-beloved wine and craft beer pub offering some of Vietnam's newest and most exciting bottles. Standouts include Saigon-based Lac Brewing Company's IPA, and American staples like High West whiskey.
Red River Tea Room
Ngo So 1 Au Co, No.19
Quảng An
Tây Hồ
Hà Nội
Many of Hanoi's best meals are found on the sidewalk, but full-service indoor restaurants are increasingly common. Among the pioneers of Hanoi's upmarket dining scene is French chef Didier Corlou, whose restaurants are as much architectural attractions as they are culinary destinations.
Housed in a colonial-era villa near the famed St. Joseph's Cathedral, Porte D'Annam serves Corlou's known brand of Franco-Vietnamese fare—think a quartet of spring rolls themed after the four seasons of the year, a sesame-laced seabass carpaccio, and sweet and saucy pork ribs—that's also earned him acclaim at his nearby Madame Hien and La Verticale.
Porte D'Annam 22 Nhà Thờ
Hàng Trống
Hoàn Kiếm
Hà Nội
Hanoi has no shortage of cocktail bars, from the time-honored journalist hangout Press Club to the juniper-obsessed speakeasy the Mad Botanist. DOT takes craft cocktails to the street, with a tiny booth window doling out excellent drinks to a few lakeside sidewalk tables. On the menu are classics like negronis and sours, and even originals if you stay and chat with the bartender.
DOT
66 Trấn Vũ
Quán Thánh
Ba Đình
Hà Nội