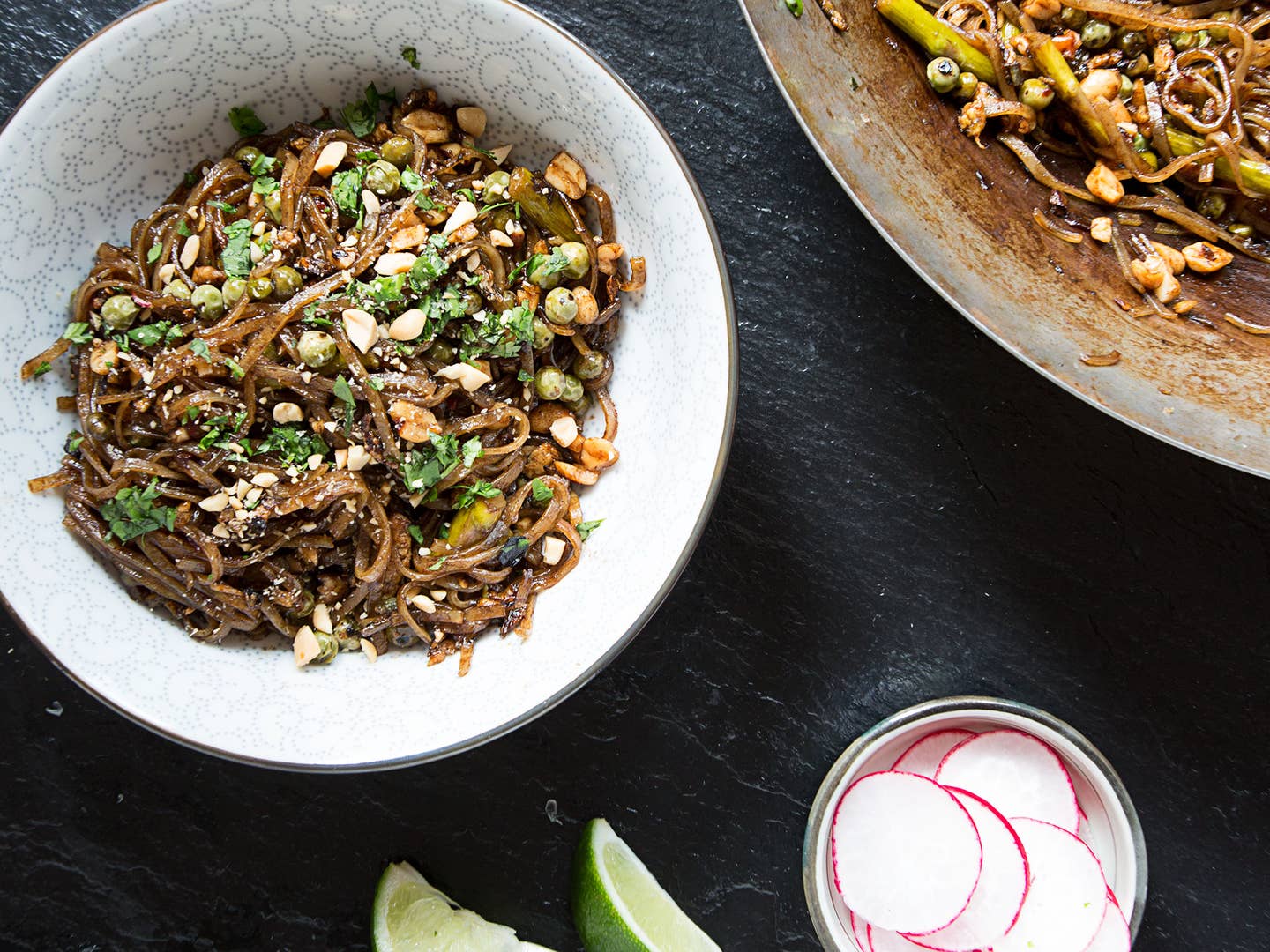 Culture
NYC to CSA: Pad Thai, Out of the Box
A takeout-obsessive leaves the city for the country—and discovers a love for cooking along the way
My mother believed in takeout like some people believe in getting dressed in the morning: there has to be a really good reason not to. And for most of my childhood, there wasn't: We had a teensy kitchen. She didn't love to cook. We lived in New York City, where you can get any cuisine and any time and it's good. After college, I was on a budget, and ordering in often made financial sense.
It's fair to say that my first three decades were fueled by takeout.
And then one March day two years ago, my now-husband and I moved to the country. Well, we moved to Amagansett, a little town on the eastern end of Long Island in the Hamptons. We can go head to head on whether or not this region qualifies as the country, but here we have fields, farms, tractors. There's no place to buy toothpaste after 9 p.m. Post-Labor Day, something like 70% of the population jumps ship. The tumbleweeds actually roll. Many businesses shutter, restaurants included. And even in the summer, takeout options are incredibly limited.
For the first couple of weeks after the move, I didn't sleep. It was too quiet and dark, but more importantly: no matter how much I wanted to order pad thai, I couldn't. There was no begging the delivery guy to come twenty blocks north. There was no delivery guy. There was just the deep dark night and the light from my iPhone as I obsessively Googled noodle recipes. It was the only activity that lulled me back to sleep.
I spent much of that first spring trying to make our favorite pad thai. But no matter what I did, it was never gummy enough, never salty enough. Maybe it needed city air, I thought, and to be on a bike in rush hour stop-and-go. I gave up. We ate a lot of cereal and fried eggs.
Then summer came. My husband grew up fishing and he got back to it. We joined a CSA and took full advantage of the all-you-can-pick eggplant, zucchini, tomatoes. I learned how to pickle. I learned how to clean the clams that I learned how to rake for. I learned what to do with kale coming out of your ears (kale pancakes! kale pesto! kale ice cubes for smoothies!). I learned because I had to: because a pile of pea shoots and my husband's stripers were on our kitchen counter and because good takeout was a hundred miles away.
Two years later, I have developed my own rhythms. I know the best places to buy corn, raw milk cheese, duck eggs. I'm no longer paralyzed by radish greens or by the 5 p.m. witching hour when there's nothing obviously complementary in the fridge. Some things are still shaky: For the life of me, I can't master wheatberries (our CSA farm mills its own wheat). But there are good days. And what a joy, I think, to spend the seasons trying to do the produce proud. What a joy, I think, to live like this.
Here, in this column, I'll be sharing the process. It'll be one part CSA abundance, one part learning curve, one part ingrained takeout sensibility. It'll be about my kitchen and also about the places I get to see, living here: the microgreenery, the docks, the chive patch I discovered while walking my dog the other day.
It seems appropriate then to start with a recipe for pad thai, which is a staple once again, but now changes with the seasons: sometimes I add lemongrass or basil or bay scallops. There's a lot of trial and error, and just when I think I've got it down, there are no more squash blossoms on the vine. So we wait. I just picked up my first CSA box last week, flush with cilantro flowers, green garlic, and radishes and so, in they go! Spring on a plate. Or at least pad thai on a plate, which never happened when I had it delivered. Somehow I was always eating standing up, out of the container. Now I sit. I slow. I stop and smell the pad thai, and then I dig in.
Jessica Soffer is a novelist whose work has appeared in Granta, The New York Times, Martha Stewart Living, Real Simple, The Wall Street Journal, Vogue and on NPR's Selected Shorts. She teaches fiction and food writing, and doesn't eat red meat or French onion soup.