Recipes
Spring Pad Thai with Green Garlic, Asparagus, and Peas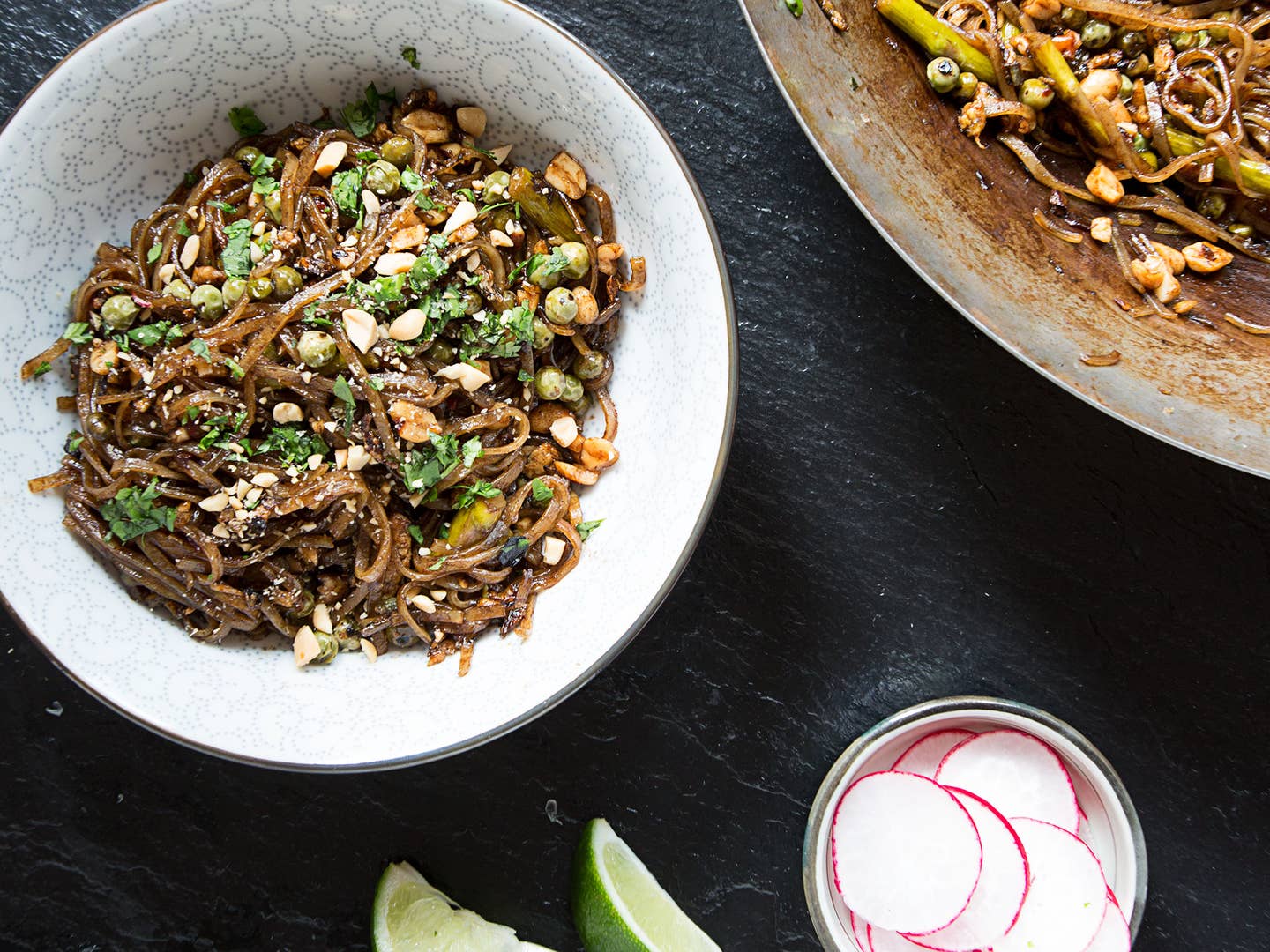 Green garlic, asparagus, and peas brighten this classic Thai street dish with springtime flavors. Out of season, you can substitute scallions for the green garlic.
Ingredients
8 oz. thin flat rice noodles
1⁄3 cup packed light brown sugar
1⁄4 cup fish sauce
2 tbsp. rice vinegar
2 tbsp. tamarind paste
1 tsp. crushed red chili flakes
2 tbsp. peanut oil
1⁄2 cup finely chopped green garlic
2 garlic cloves, minced
2 large eggs, lightly beaten
4 oz. asparagus, trimmed and cut into 1-inch pieces
1 cup fresh or frozen peas
3⁄4 cup roasted peanuts, roughly chopped
1⁄4 cup minced cilantro
2 radishes, trimmed and thinly sliced
Lime wedges, for serving
Instructions
Step 1
In a large bowl, cover the noodles with warm tap water and let stand until soft, about 20 minutes. Pour the noodles into a colander and let drain while you prepare the rest of the dish.
Step 2
Meanwhile, in a small saucepan, combine the brown sugar with the fish sauce, vinegar, and tamarind paste. Bring to a simmer over medium-low, and cook, stirring, until the sugar dissolves, 2 to 3 minutes. Remove the sauce from the heat, and stir in chile flakes.
Step 3
In a large wok or skillet, heat the oil over medium-high. Add both garlics, and cook until fragrant, 1 to 2 minutes. Pour in the eggs, and then stir to scramble them until nearly cooked, 2 minutes. Stir in the asparagus and peas, and cook, stirring, for 1 minute. Add the drained noodles and reserved sauce, and cook, tossing, until the liquid has been absorbed, 2 to 3 minutes.
Step 4
Transfer to a large platter and sprinkle the peanuts, cilantro, and radishes over the top. Serve immediately with lime wedges.