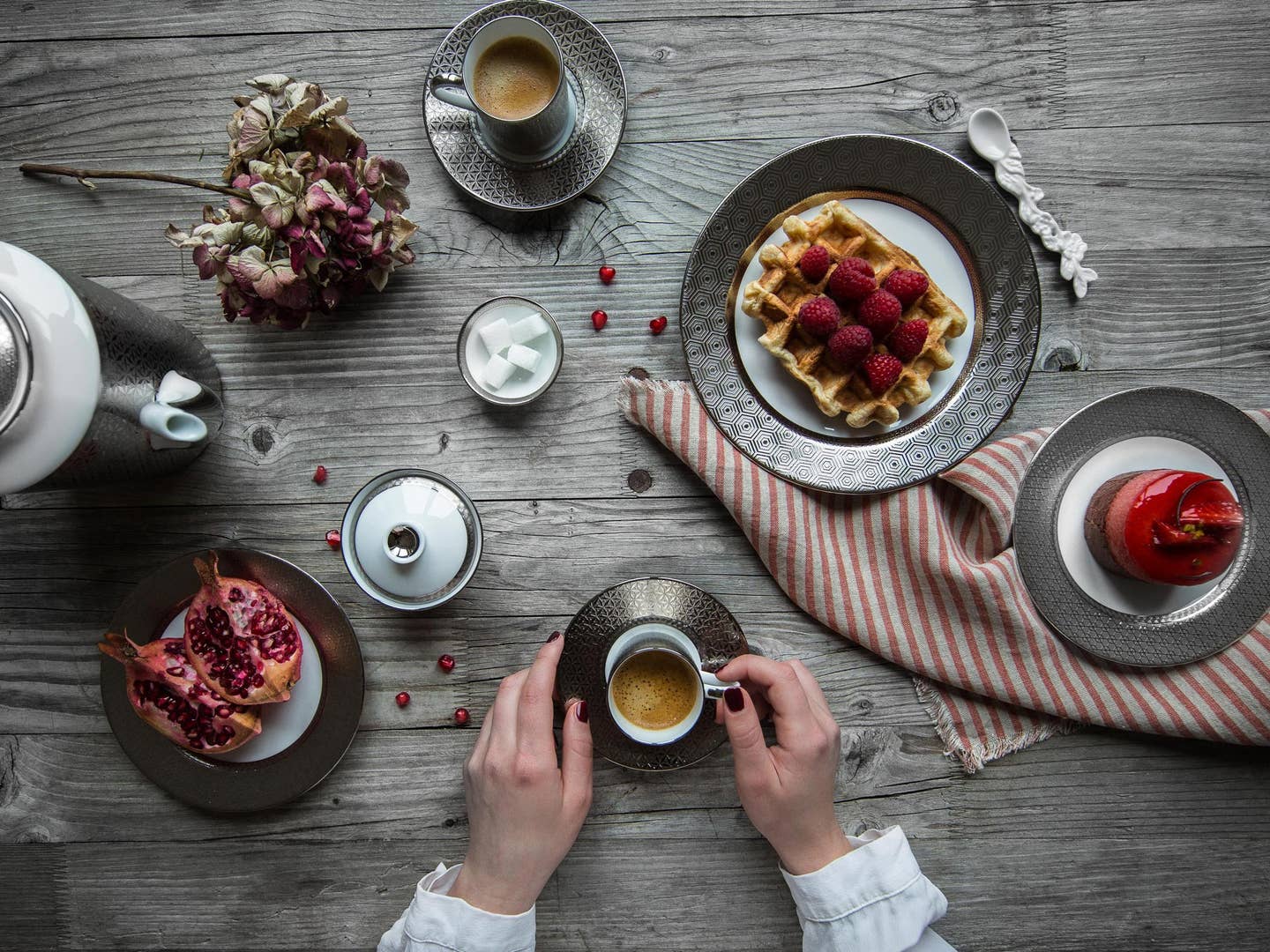 Travel
The Ultimate Guide to Paris Design Destinations
Parisian style icon Sarah Lavoine invites us to rediscover Paris—and some of her favorite places—through her love of contemporary design
It's a late winter morning when Parisian designer Sarah Lavoine breezes into her office on the ritzy Rue Gaillon, having just wrapped her first product meeting of the day.
She takes a deep breath and closes the door on a young, hip staff, who is hustling to keep up with a high volume of shipments, while her CEO Edouard Renevier cuts deals in the next room. High on their agenda is the May opening of Maison Sarah Lavoine's first New York showroom.
Since she launched her brand in 2009, she's become a modern style icon in Paris, winning the admiration of her peers and coveted commissions such as the design of Le Roch Hotel & Spa in the 1st arrondissement, where Lavoine has lived and worked for more than 20 years. She exudes a devil-may-care attitude—which is reflected in her own casually bold homeware design. The French word for this carefree nonchalance is insouciance, which Lavoine has fashioned into an entire luxury brand, complete with five boutiques, 46 staffers, and more on the way.
"I'm not a very technical designer," she says. "Instead, I look to create a lifestyle which is chic but relaxed. I love to mix and match colors and textures, but I think the most important thing is that objects are handcrafted, well made, and represent savoir-faire," says Lavoine, reciting the French designers' common refrain.
Constantly seeking inspiration outside her own enterprise, Lavoine canvasses Paris for homeware and objets d'arts of her own. Here, she shares her favorite places to shop and observe the best design in the city of light:
A visit to the boutique hotel where Lavoine lives and works is akin to a master class in Lavoine luxury, but when you're ready to shop, take two steps to her adjacent boutique on Rue Saint-Roch, where you can purchase the tableware and décor you fancied in the hotel.
Visiting Lavoine's original, flagship concept store at Place des Victoires is a must. Boasting two floors, a cozy café, and shoppable rooms, the space resembles a stylish rive droite apartment. Patrons are invited to lounge and linger over a light lunch, and spend time deciding whether to go for colorful Moroccan pottery, Italian flatware, or hand-woven tablecloths from Burkina Faso. "My designs are always inspired by travel," says Lavoine. "I just came back from Delhi, and I want to develop anything—textiles, curtains, tables—with the beautiful colors of India."
Selling everything from pressed glass sugar bowls to mojito mortars, this cookware-slash-home décor store beautifully merges the beauty of French cuisine with all the practical tools one needs to practice complex cooking. "Merci is really a must-shop. The space is massive, and in it, they've created a beautiful experience. They're especially good for linens, cookware, ceramics, and the colors are beautiful," says Lavoine.
Another Lavoine favorite, this store treats kitchenware as everyday treasures, reminding us of the value in beautifully designed household objects. Though the store is located in a very upscale address, the products here are generally affordable and accessible.
"I buy Bernardaud for my own home," says Lavoine. "They are famous for Limoges porcelain, and I love it so much I created a collection for them. It's very high-end, but it's the best."
"Philippe Starck is a good friend, we often spend summer vacations together, eating oysters, talking, laughing—and he's a genius," says Lavoine. "He can take anything and transform it, and it will be Starck. He doesn't have a store in Paris, but he designs for other brands [such as Cristallerie Paradis in the 10th arrondissement, where you can buy his objets]."
"Maison de Vacances is a another beautiful, travel-inspired shop in the 2nd arrondissement. It's a very nice atmosphere, with no hard lines between kitchen, living, and bedroom. It's very fluid and relaxed, and the people are very welcoming," says Lavoine.
Famed for his silver plated domes and and fine porcelain, Patrick Jouin's tablescapes are stunning and instantly recognizable. Jouin's designs are commissioned by brands throughout Paris, and can be found at Cassina (236, Boulevard Sain Germain, 75007). "We are very opposite as designers. He's more technical, and I am more about an art de vivre. But he's incredibly talented, and I greatly admire him," says Lavoine.