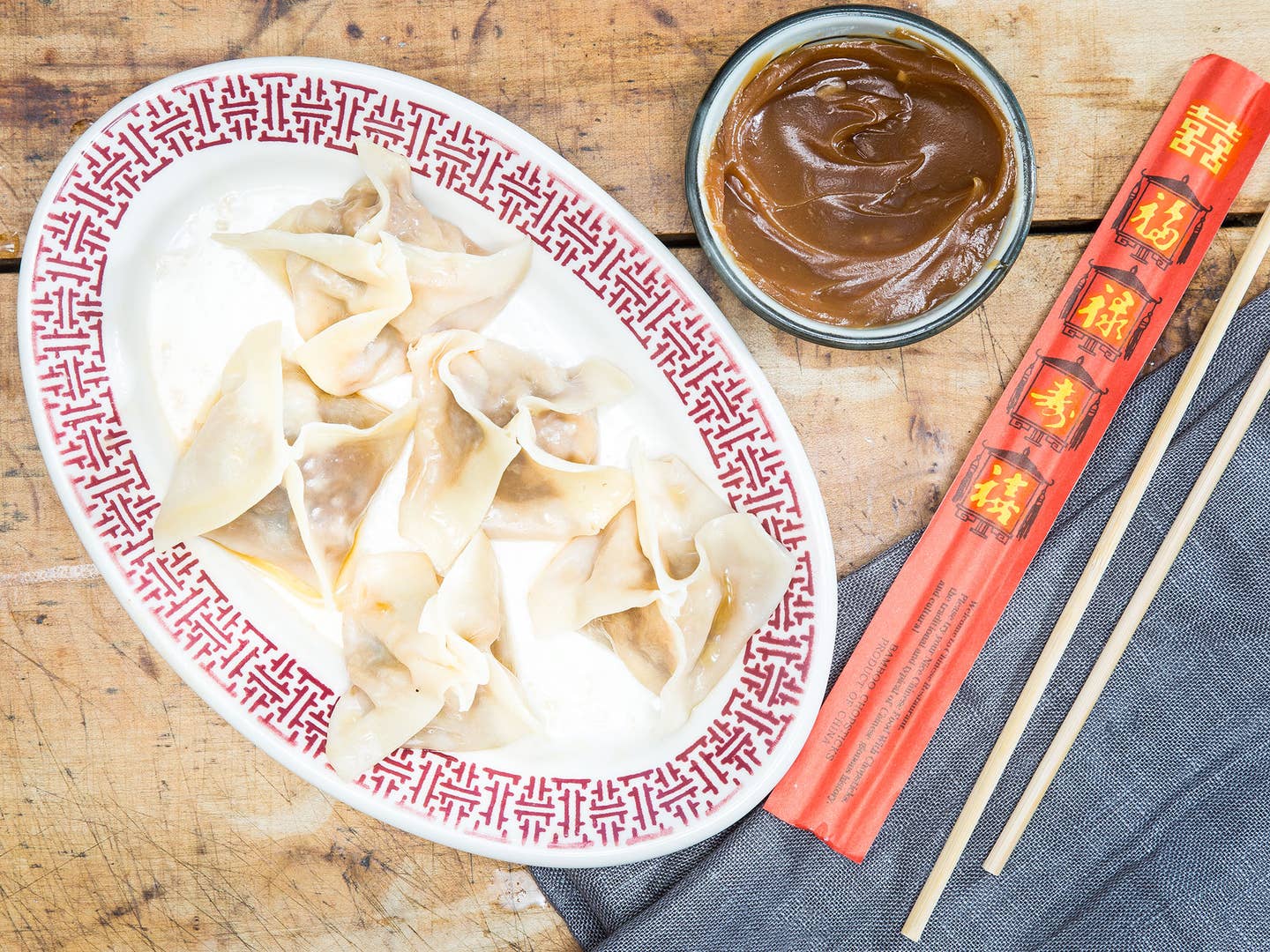 Travel
Only in Montreal: Peanut Butter Dumplings
You know poutine, but have you heard of Canada's Hunan dumplings?
When we walked into Papillon Bleu, a Chinese banquet hall restaurant around the corner from Basilique Notre Dame in Montreal's Old Port, the sole waiter on duty looked surprised to see us. At 7:45 on a Saturday night, at the height of tourist season, just one young white family sat in the palatial dining room over a plate of General Tao chicken. We walked past them to a table in the back, Chopin drifting quietly from the speakers into the certain shade of dim light that only Chinese restaurants seem to have. At our seats, bright yellow napkins, impeccably folded into fans, rested on a blue tablecloth next to cutlery. Sometime in the last 18 years of operation, Papillon Bleu stopped bothering with chopsticks.
"How did you find out about us?," our waiter inquired. I told him that my family used to own a Chinese restaurant that served peanut butter dumplings and I wanted to taste them again. Papillon Bleu has come up when I googled "Best Peanut Butter Dumplings in Montreal." He shook his head and told us that while it might have been the case a few years ago, they had switched peanut butter brands to cut costs. "We use Kraft now, not Skippy."
Perhaps more discerning palates might have been able to tell the difference between peanut butter dumplings made with Kraft and those made with Skippy, but the significance for me wasn't which brand they used, it was that they served peanut butter dumplings at all. Commonly known as Hunan dumplings, this specialty exists neither in China, nor anywhere else in North America. Instead, Hunan dumplings are a uniquely Quebecois tradition, and a slowly dying one, found in basementy second-generation Chinese family restaurants and take-out places that service hungover or still-drunk college students.
Peanut butter dumplings taste exactly how they sound, but also unlike anything else. The premise is simple: pork wontons, swimming in a rich sauce made from full-fat Kraft-or-something-like-it peanut butter, sesame oil, soy sauce, and Szechuan peppercorns. The result is a dumpling that coats your mouth with a distinct store-brand quality, a little too sweet, a little too doughy, but buttery, and luxuriously warm, perfectly suited to combat the bone-chilling effects of a Montreal winter.
The dumplings are a reincarnation of a dish found in Szechuan, in southwest China, a region known for its fiery, fragrant cooking style. The original dumplings contained a pork mixture topped with a ground mix of chopped, roasted peanuts, chili oil, and Szechuan peppercorns. But like most plates from this region in southwest China, it was considered too spicy to serve when it made its way to Canada. Peanut butter dumplings, as Montreal knows them, debuted in the '80s at le Piment Rouge, a restaurant in the opulent Windsor building, when Szechuan-style cuisine, no matter how adjusted it was to Western tastes, was considered exotic and decadent to Canadians who still identified Chinese with take-out chop suey.
Lesley Chesterman, the highly esteemed and longtime fine dining critic for the Montreal Gazette wrote this of the now shuttered Piment Rouge: "Tuxedoed waiters dished up plates of glistening food, and displayed proudly at the entranceway were various awards: Wine Spectator, DiRona, a CAA Four-Diamond, Mobil Four-Star. It all looked so promising."
As a child I made frequent trips to Montreal in the golden years of this Szechuan-style cuisine. In the '90s, my parents joined in with some relatives and friends to take over two Chinese restaurants, one called the Crystal Palace. The Crystal was a two-story banquet hall in the suburbs, with sumptuous purple decor and tablecloths. Every month or two, my family would load up in the car, drive six hours from Toronto to Montreal and arrive just in time for dinner. They would seat us in the table at the back and plop a heaping plate of peanut butter dumplings in front of my face, followed by a Shirley Temple and a glass full of maraschino cherries. I never had these dumplings anywhere else, so I assumed they were my uncle and aunt's secret recipe. It was even published in the Gazette in 1994, photocopied and disseminated among my family members. At five years old, even I knew that Kraft wasn't part of Chinese cooking, but they perfectly suited my Western-Chinese sensibilities. The adults would chatter on about the restaurant business while my cousin taught me how to fold napkins into fans.
Growing up, we made fewer visits to see my relatives and the taste of peanut butter dumplings faded into memory. The Crystal Palace closed down in the early 2000s, following the decline of the rest of the Szechuan-style family restaurants. There were too many owners; not enough customers. So it goes in the restaurant world. Restaurants changed, too: more authentic Chinese ingredients became available, and rudimentary North-Americanized Chinese dishes evolved into more complex, diverse, and authentic offerings.
Our waiter has worked at the Papillon Bleu since day one, eighteen years ago. Before that, he was at Papillon de Szechuan. He remembers the Crystal Palace, le Piment Rouge, and the others. We chatted about the old recipes, traded half-remembered details of my family's restaurant, and about new, more authentic mainland Chinese places that have sprouted up downtown, run by people who would not know what to make of wontons slathered in Kraft (or Skippy, for that matter).
After he left us with two fortune cookies, we exited the Papillon Bleu into the cool night with our bellies warmed, and I could not help but think, like Lesley Chesterman, that it must have all seemed so promising. Thanks to the efforts of today's Chinese restaurateurs, I can now enjoy Xiaolongbao from Shanghai, Xinjian lamb skewers, and Langzhou soup noodles in Montreal. But, to me, Kraft peanut butter still tastes like home.