Recipes
Crystal Palace's Hunan Dumplings with Peanut Sauce
Serves

serves 4-6

Cook

1 hour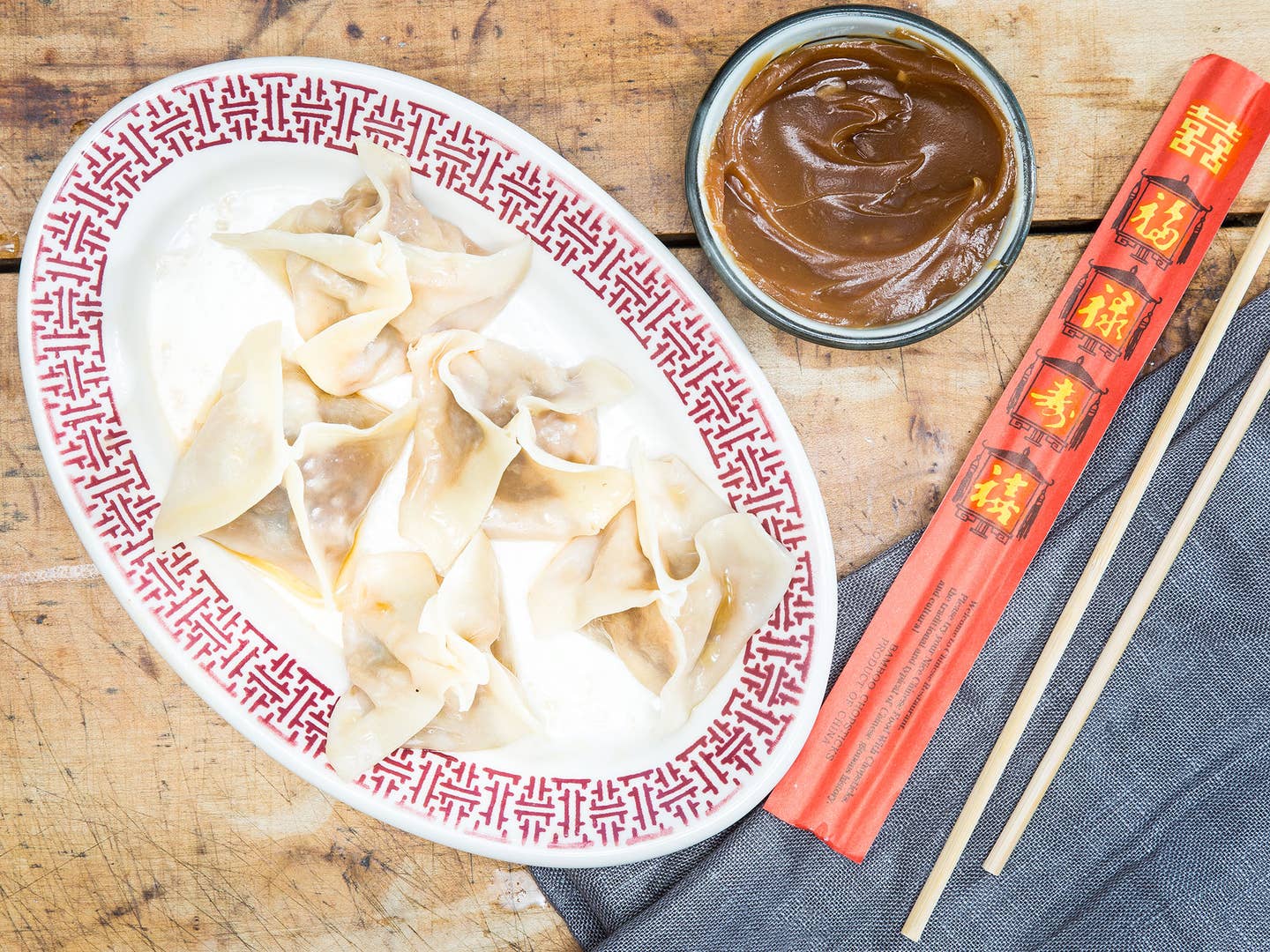 The now-shuttered Crystal Palace of Montreal used to serve these beef dumplings as an homage to the Quebecois favorite, peanut butter dumplings.
Ingredients
For the Peanut Sauce
1⁄4 cup boiling water
2 tbsp. sugar
1 small clove garlic, minced
1⁄2 cup creamy peanut butter
1⁄4 cup vegetable oil
1⁄4 tsp. toasted sesame oil
For the Dumplings
12 oz. ground beef
1 1⁄2 tbsp. sugar
1 1⁄2 tbsp. soy sauce
1 tbsp. vegetable oil
Kosher salt and freshly ground black pepper
1 egg white, lightly beaten
24 square wonton wrapers
Instructions
Step 1
Make the peanut sauce: In a small bowl, combine the water with the sugar and garlic and stir until sugar has dissolved. Stir in the peanut butter and both oils until smooth and let the peanut sauce stand at room temperature.
Step 2
Make the dumplings: In a medium bowl, combine the beef with the sugar, soy sauce, and oil, season with salt and pepper, and refrigerate for 30 minutes.
Step 3
Working with one wrapper at a time, place a tablespoon of beef filling onto a wrapper and brush the edge with egg white. Draw opposite corners of wrapper together and press to seal; bring remaining corners together and press to seal to form four pleats. Transfer each dumpling to a parchment paper-lined baking sheet and cover with a kitchen towel.
Step 4
Bring a large saucepan of water to a boil. Working in batches, boil dumplings until filling is cooked through, 2 to 3 minutes. Using a slotted spoon, transfer the dumplings to a platter and serve hot with the peanut dipping sauce.