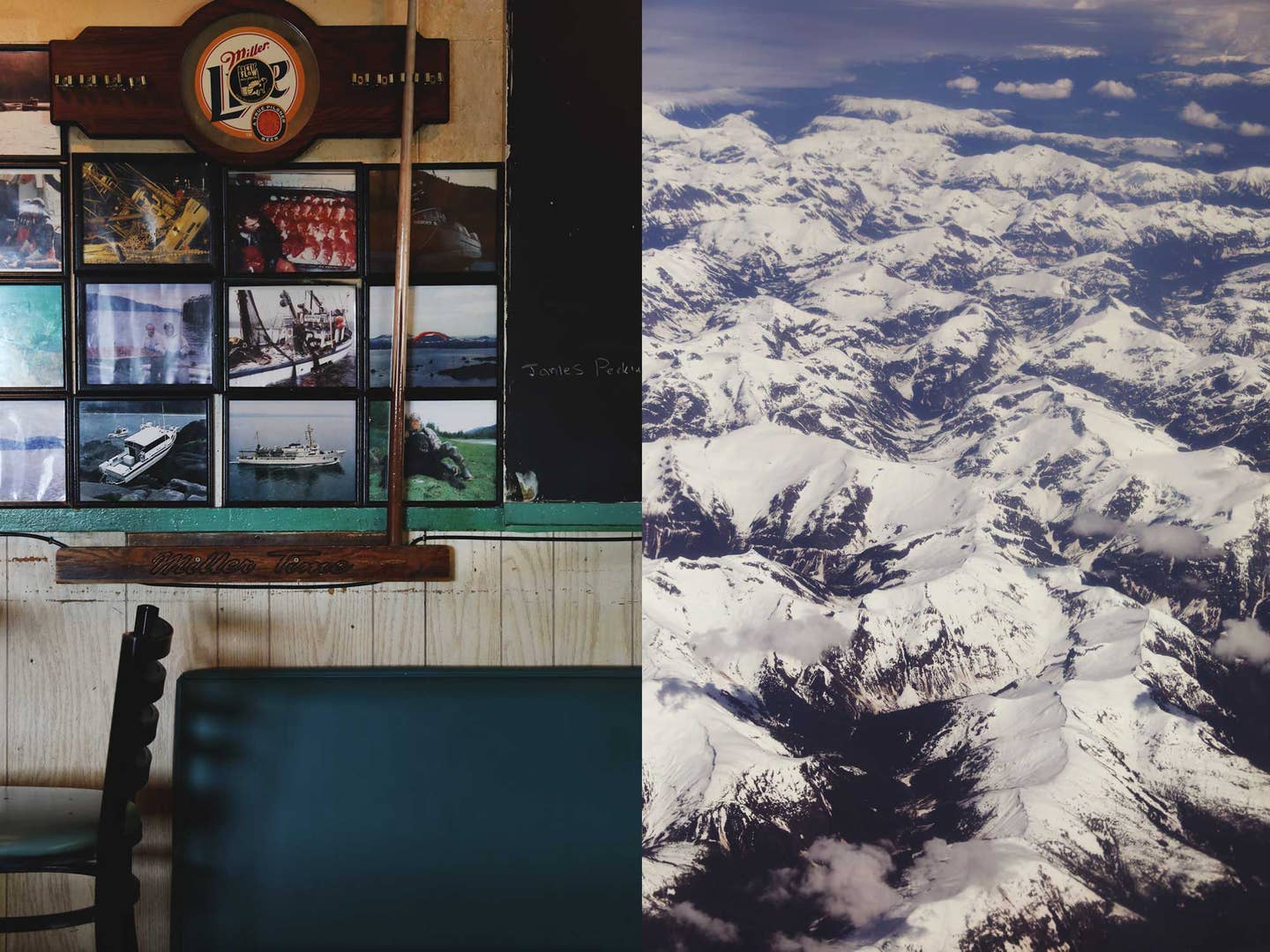 Travel
The Dive Bar at the End of the World
In small northern fishing towns like Sitka, Alaska, the local saloon becomes a community anchor
700 miles north of Seattle, buildings become scarce and the water gets choppy. For king salmon, halibut, and black cod, this is prime real estate, but few people dare to live this far north.
This is where you find Sitka, Alaska.
Every Alaskan fishing town has a local fisherman's bar that's so much more than a bar. In Sitka, it's the Pioneer.
It's 1983, and the night that began with a few innocent arm wrestling matches evolves into tables turned over, rowdy fights, and a decent amount of bloodshed at Pioneer Bar, or P Bar as it's commonly called. Fishermen crush six-packs at the pace one typically finishes a single beer. Then someone rings the great big bell above the bar, and the crowd roars. This is the code for a round of drinks for everyone, courtesy of the proud ringer, who typically is a fisherman that's just had a seriously successful catch and is ready to cover the three- or four-figure bill.
Except Charlie Bower III, a Florida native who took the Greyhound north in search of a better life as a fisherman, has just rung the bell without knowing what it means. When he sees the tab, he's forced to hand his gold chain over as collateral until he can pay off the debt.
Now it's 2017 and Charlie is puffing on a cigarette while gazing out the P Bar's window on a sunny afternoon. I sit across from him in a retro tan-and-turquoise diner booth patched with duct tape to cover decades of scars.
"Oh it's nothing like what it was in the 80's, but I still come here, just about every day," Charlie explains. Not much has changed in the decor since that fateful night. Dollar bills pinned to the ceiling were recently taken down for a new paint job, but the framed archival photos of ships that have made their way into the harbor are still on display, acting as a maritime historical collection. The bell still hangs proudly, waiting to be rung.
Charlie props his cigarette carefully in the ashtray and takes a long sip of his bright pink non-alcoholic beverage. He isn't drinking this afternoon, but still appreciates the social refuge P Bar offers in a town as remote and lonesome at Sitka. When you're this far from most people, and your neighbors are loners by nature, common spaces like P Bar keep community alive.
In the booth behind me, a mother and son from the local Tlingit tribe sip on some coffee. "I gave up drinking 40 years ago and have never felt better," she tells me proudly. Her son doesn't drink either. Most people who come to P Bar certainly do, but the place has softened over the decades. Weekend nights still draw a crowd, but there are fewer rowdy brawls, and for every rough-around-the-edges Icelandic fisherman stumbling in, you'll find a young twenty-something dressed up looking for a fun night out with her girlfriends.
"It's a struggle here. But there's no place like it," Charlie goes on. "You go and you leave this town because it's shitty and rainy, but all of a sudden you realize how much you miss it, and think, 'man, I wish I was back in Sitka.' I don't know how to explain it. It's magic."