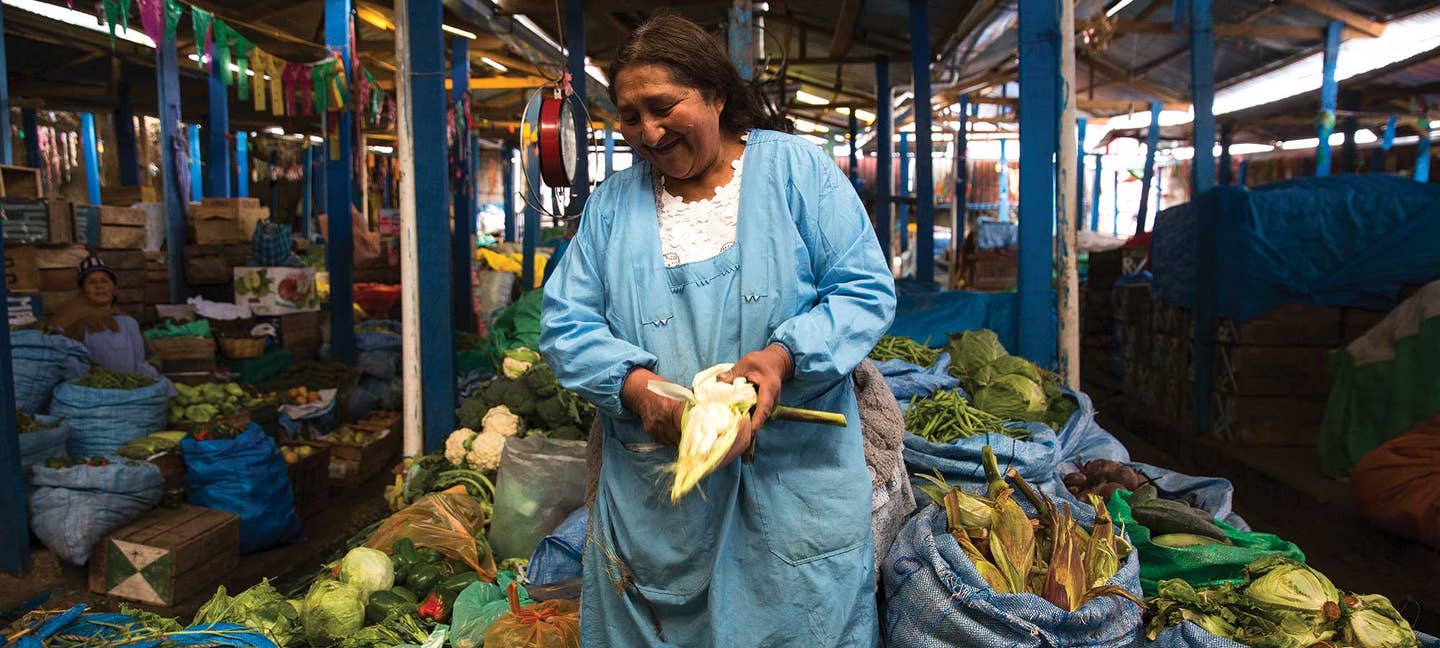 Travel
These Powerful Women Run Bolivia's Food System
At twelve thousand feet above sea level, a legion of Bolivian women power an industry around the country's most valuable resource: food
Along the winding streets of La Paz, through a hidden alleyway and down a dim market corridor, a butcher wields a cleaver, bringing it swiftly down upon a glistening slab of scarlet beef. Another butcher lifts a swollen aubergine heart, nestling it carefully atop a heap of other hearts. Yet another lays medallions of blushing pink pork along a stall window as if arranging gemstones at a jeweler's counter. A fourth smiles warmly through a curtain of mottled sausages, her teeth enrobed in gold, a bowler hat tilted back upon the crown of her head. These carnicerías are part of the patchwork of vendors who run the stalls at Mercado Rodriguez, La Paz's central food market. A city of dizzying altitude (12,000 feet, more than twice as high as Denver) carved into the base of Bolivia's Altiplano, La Paz and its neighboring city El Alto were settled by the Spanish but remain densely populated with indigenous people of Aymara, Quechua, and other Amerindian descent. As of 2018, 60 percent of Bolivia's population identifies as indigenous. The Mercado Rodriguez's vendors, including the carnicerías, consist mainly of cholitas, an affectionate name for Bolivia's indigenous women, who dress in swishing layered skirts, Technicolor shawls, and jaunty hats. From pre-dawn sometimes until early evening, these produce purveyors, food-cart doñas, and cheesemakers sit awaiting their regular clients or curious passersby. Potatoes and tubers in a spectrum of colors and sizes, bouquets of herbs, and cabbages as plump as toddlers' cheeks overflow from each stand. On Sundays, the stalls spill into the hilly streets surrounding the indoor market, and even more cholitas sell their wares in the brisk, wintry-feeling air.
Perhaps, at first, this Sunday-morning tableau does not seem distinct from any other market scene in the world: vendors arranging lettuces, frying chicken parts, stacking wheels of dense white criollo cheese, passing the time with a cup of maté. But the key detail is that all of the vendors are women. They are cooking. They are selling. They are setting and negotiating prices for items they may have also farmed. They are keeping the city's kitchens and restaurants stocked and running.
Lorenza Chuquimia, a ruddy woman in a blue beanie, sits on a pallet among her vegetables as if upon an altar. She's been working at the market for 15 years. "I have a lot of relationships here," she says. Her customers know her by name and seek her out each week. "Men don't know how to sell," she says candidly. "Here, the women are humble. Everyone is a friend." Nearby, another woman with a heart-shaped face and a cloudy left eye, Juliana Mamani, explains the minutiae of lettuce transport; it must be packed in grass to keep from bruising. "We can feed the grass to the animals afterward," she says, pulling away a limp leaf to reveal a pale green head, handling it as gently as if it were a newborn.
Through the maze of carnicerías and up along a mezzanine, an imposing woman with voluminous braids calls out orders to an aproned girl who dishes up bowls of sopa de mani (peanut soup) and tin plates full of potatoes, fried cheese, fava beans, tender ingots of beef, and corn—all together called plato paceño—for a crowd of men in work clothes. A lone male employee, a boy of perhaps 7 or 8 years, stands over a tub of soapy water, attending to a growing stack of dishes.
In Bolivia, traditional gender conditioning has long intertwined sustenance together with the domestic and the feminine. But while women's roles as farmers, sellers, and cooks award them a remarkable level of visibility and economic power, throughout the country they are still struggling for social equality and basic personal safety, especially among indigenous populations. As recently as a decade or two ago, cholitas were barred from public transport and could be refused entry to private businesses, such as hotels and restaurants. For many years, Bolivia has struggled with Latin America's highest rates of femicide and violence, with more than half of women experiencing domestic abuse. And yet women of all socioeconomic backgrounds, from farmers to restaurant owners, continue to hold the keys to the country's food system—increasingly wielding this knowledge and power for greater independence and equality. Among groups like Eco Tambo (the country's first independently run organic farmers market) and MIGA (a food sustainability organization that holds women's symposiums), and individual women forging businesses, the engine of Bolivia's food economy is fueled by females.
Dina Mamani watches her students from a corner of Manq'a's steamy kitchen. About two dozen people in chef whites survey bowls of chopped onions, mote (Andean corn), a smattering of green herbs, and a list of instructions. This branch of Manq'a (which means "food" in the Aymara language) is in a quiet neighborhood of El Alto. Lording atop the Altiplano at 13,600 feet, El Alto is a 20-minute vertiginous cable-car ride up the mountain from La Paz.
Manq'a is a culinary-education program with 12 schools (10 in Bolivia, two in Colombia), and Mamani is one of its lead instructors. She's teaching a five-month certificate program to low-income and underprivileged students seeking the skills to work in restaurants or the food industry. She's been involved in the project for four years, since its introduction by Melting Pot—a nonprofit founded by Claus Meyer, the Danish chef who also opened Gustu, an upscale restaurant, to make elevated use of the region's bountiful and unique produce. Manq'a is free to those who are accepted, and provides courses in culinary and leadership training, business and entrepreneurship skills, and gender issues. Part of Mamani's job is to empower her students with a knowledge and awareness of Bolivia's incredible agricultural diversity (it's one of the most biodiverse countries in the world), and help them create new and inspiring jobs within agriculture and the culinary arts.
Formerly a chef at a reputable Indian restaurant in La Paz, Mamani has taught hundreds of men and women who sometimes travel upwards of two hours each way to attend. Thus far, 3,500 students have graduated from Manq'a, 70 percent of whom have been women. About 150 students have gone on to start their own businesses, 60 percent of these opened by women. Soon, Mamani will be opening Manq'a's first school in Sucre, Bolivia's second capital city. "This place always feels like family," Mamani says. "I'm grateful that Manq'a has trusted me from the beginning."
Remedios Ramirez—out of breath after a lunch rush—wears a newsboy hat over her dark hair and a red sweater, nearly the same color as the freshly painted cinder-block walls in her bustling restaurant, Sabrosito. After graduating from the Manq'a culinary school, Ramirez returned to her mother's lunch stall to help invigorate the business. Seven years before, her mother, Fortunata, a cholita with long braids and a flowered apron, had begun cooking for the public when her husband abandoned her, Ramirez, and her two brothers. Now, she shuffles out to serve customers in the sunlight.
Ramirez, who is now 30, discovered at Manq'a that she has a knack for business, which she used to brand her mother's previously unnamed space, making it a more permanent establishment. She developed a new breakfast clientele from passengers traveling through the nearby bus station. "At school I learned how to re-evaluate Bolivian food, to have a new vision," she says. "I felt I could be creative." Creativity is not a given in a place where food and culture are as deeply codified as they are in the Altiplano, and where ingredients—corn, potatoes, meat—have been farmed and cooked mostly for subsistence. Dishes are protected from outside influence thanks to Bolivia's impenetrable terrain and lack of coastline. But Ramirez's sense of empowerment is a feeling several students of Manq'a mention experiencing.
Before retiring for the day, she delivers to a customer a bowl, sloshing full of sopa de arroz (rice soup), and a plate of falso conejo ("false rabbit," actually a pile of sautéed beef over rice) with chuño (a freeze-dried Andean potato), ají chile sauce, and salsa. "This is my mother's recipe," Ramirez explains. "It's cooked all over Bolivia. But what changes is the hands." She gestures toward the door, referencing the hundreds of unnamed lunch stalls and street carts run by women that dapple the streets of El Alto and La Paz—but also her budding legacy within it.
In the middle of a park in the Sopocachi neighborhood of La Paz, Norah Ramos Santavita Villalobos presides over a vegetable stand. Her offerings—carrots, potatoes, greens—are arranged in neat rows, and she takes a break on a nearby bench to chat. Villalobos is one of the founders of Eco Tambo, the first self-managed organic farmers market in Bolivia.
"We started Eco Tambo three years ago in a house nearby," Villalobos says. She explains that she and some other women from El Alto wanted to bring their vegetables to a market that might appreciate responsibly grown produce. At first, because the vendors had little visibility—they were sequestered indoors, rather than selling in a public space—the market struggled. Eventually, organizers who had previous experience in agricultural systems came on board, as did the neighborhood's president, securing a nearby square for a weekly market. Today, Eco Tambo is a vibrant community center.
"I can depend on myself," Villalobos says before rising from her break. She recounts how her husband told her to leave her farm, but she resisted. Traditionally, farming is a responsibility shared by the entire family. It's an art that was taught to Villalobos by her grandfather, and one she has passed on to her six children. A quiet girl sitting next to her listens closely, swinging her legs along the bench. "She's my best helper," Villalobos says, and the little girl glances up proudly but is also a bit shy of the attention. "Women need to feel empowered," Villalobos says. "They need to stop pretending that their husbands or men have all the say."
Tall and lithe, her face glowing beneath industrial lights, Marsia Taha strides to the pass with anticuchos—in this case, thinly sliced beef heart skewered to tiny potatoes—that have been seared atop a sizzling pink salt rock. A native Bolivian, Taha is the head chef at Gustu, the unlikely World's 50 Best–nominated restaurant that opened in 2013. In many ways, Gustu put Bolivia on the map as a rising food destination, illuminating the country's untapped culinary potential and biodiversity. Taha has been there from its beginning. After working at both Studio and Geist, two lauded restaurants in Copenhagen, she returned home to La Paz to work as a sous chef.
"I come here to forage a lot," she says the next afternoon while navigating the dirt roads east of La Paz that overlook a valley of potato fields. The Valle de las Animas (Valley of Souls) is a bowl-shaped pasture surrounded by needlelike crags. Winter has faded the otherwise vibrant chaparral, but Taha finds several varieties of koa, a shrubby aromatic herb, and muña, another herb used to aid digestion. From a distance, Illimani—a massive Andean peak—is shrouded, a hint of snow trickling below the cloud line. "You know Pachamama, right?" Taha asks. "Mother Earth. She's not just nature, though. She's the trees and the rocks. Everything you see here." Even the land—in particular, the agricultural aspect—is considered to be in the feminine domain.
Taha is one woman among a growing crop for whom running an elevated kitchen or owning a high-end food business is entirely possible. Moreover, that these women now have the ability to circulate among and be recognized by chefs' circles globally is a major step not only for women in the country, but for Bolivian food. As its women flourish, so does La Paz. It's easy to overlook, but La Paz's full name is Nuestra Señora de La Paz: Our Lady of Peace. And she has always been here, feeding her city.
A name for indigenous Bolivian women (altered from the Spanish chola, which carries a derogatory connotation), cholitas are today highly visible on the streets of El Alto and La Paz. Many wear bowler hats (whose style, brand, and adornment with jewelry or brooches often indicate economic status), tiered skirts, long braids, and many-colored shawls, which they use to carry children or packages. Some women opt to have their teeth enrobed in or replaced with gold, a trend that denotes wealth. Cholitas, who were once considered lower-class citizens and not even allowed to occupy some squares and gathering places, now hold public office, own businesses, perform in their own wrestling league, and host radio and television shows. Though his clench on power has drawn criticism and concern, President Evo Morales—the first indigenous person elected to office—is often credited with renewing pride in Bolivia's indigenous people and traditions.