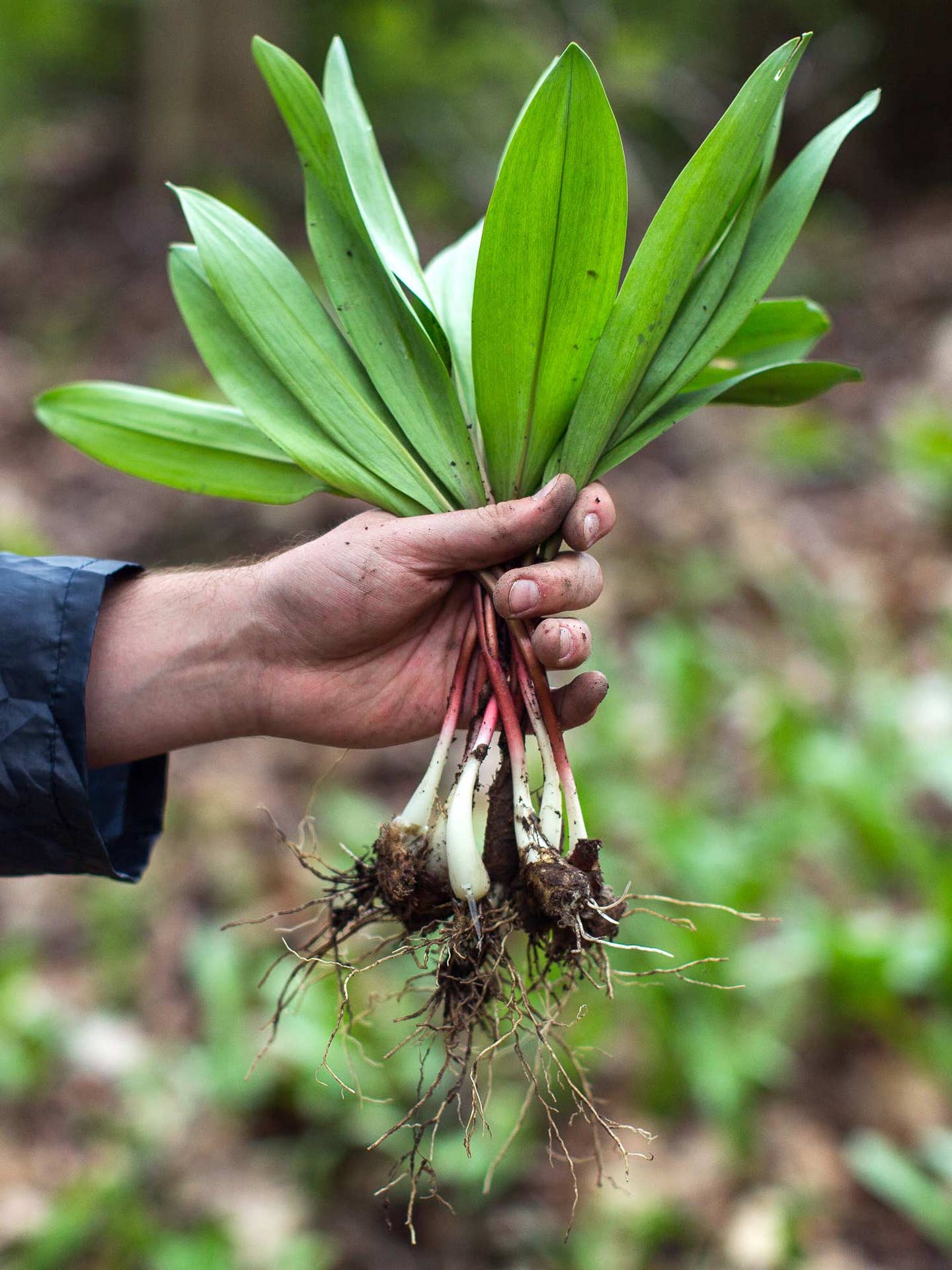 Culture
A Ramp-Hunting Lesson in an Upstate New York Cemetery
Lifelong forager Sarah Owens leads an expedition in Cochecton, New York to find the season's first and only crop of ramps
Kneeling among the crumbled gravestones, Sarah Owens plucked a tiny, sword-shaped leaf from the ground and, examining it quickly for debris, placed it between her teeth. "They call these cemetery weeds," she said, gesturing to the damp greenery that surrounded her. I wasn't sure who exactly "they" were, but I was desperate to possess what "they" possessed: an earthly knowledge powerful enough to pluck a meal from the land of the dead.
Upon further inspection, I saw what she meant; among the rosettes of blade-like sheep sorrel—tart and fruity on the tongue like underripe peaches—there were tufts of yarrow, feathery and reminiscent of tarragon with a bitter finish. There were wild violets, which, if she had more time, Owens might have collected for a batch of violet petal jam. They all thrive in the untended, loamy, slightly acidic soils that might naturally accompany a pre–Revolutionary War gravesite like this. I built a miniscule salad in my hand as we continued on, scanning the ground for recognizable shapes and textures.
At Riverbend House in Cochecton, NY this past weekend, Owens, the sourdough bread baker, lifelong forager, and James Beard Award–winning cookbook author, led a foraging and baking workshop on the banks of the Delaware River. Between intermittent rain showers, she walked us to the riverside, where we spotted freshly unfurling fiddlehead ferns, careful to harvest only the bright green species and not the furry white ones. We spied young shoots of Japanese knotweed, a stalky invasive species that cooks sweet and tart like rhubarb. As we passed through the cemetery, munched on our petite raw greens, we saw what we'd come for. Carpeting the forest floor in little patches, the floppy, green, bunny-ear-shaped leaves were instantly recognizable.
Ramps have quite the reputation. Many people have never heard of them, and yet in some circles they're the epitome of locavore snobbery, impossible to find at supermarkets and featuring on hip, farm-to-table restaurant menus in as many iterations as possible. But the hype around them is well-founded; their optimal season is incredibly short—the first few weeks of spring—and they're extremely laborious to cultivate because they take so long to mature. They're most commonly foraged, but the ramp obsession each spring has led to over-harvesting in many areas, and Owens urges us to remember that while we have recipes for a turmeric and ramp sourdough levain waiting for us back at the house, we should harvest thoughtfully and sparingly.
Owens directs us to isolate little clumps of large bulbs—which can take more than 7 years to fully mature—and as we dig them up, to leave behind any young ones we encounter. The soil is different here than it is even an hour north, Owens explained, and as such, the ramps are part of a unique ecosystem, and we need to be sure not to tamper with it. By digging up clumps instead of plucking out one ramp at a time, we're turning the soil and allowing any seeds to redistribute that have fallen from the flowers, ensuring that the population lives on after we leave.
As we returned to the house, you could hardly tell where we'd harvested from, and that was the way it should be. The few buckets we procured were still more than enough to spend the rest of the day in the kitchen cooking. We pickled some of the bulbs in vinegar and spices, we baked the whole chopped ramps into those sourdough levains, we chopped the greens with salt and dehydrated the paste to make ramp salt, and we processed the leaves with walnuts and olive oil to make a zippy ramp pesto that will last for months in the freezer, long after the delicate ramps have flowered and disappeared. Come winter, I'll be grateful to have a spoonful, transporting me right back to the Delaware river in spring.
Sarah Owens' latest book, Toast & Jam: Modern Recipes for Rustic Baked Goods and Sweet and Savory Spreads, will be published by Roost Books this August. It is currently available for preorder.