The New Tastes of Old Siem Reap
A return to Cambodia to explore Southeast Asia's oldest cuisine—and how the next generation is changing it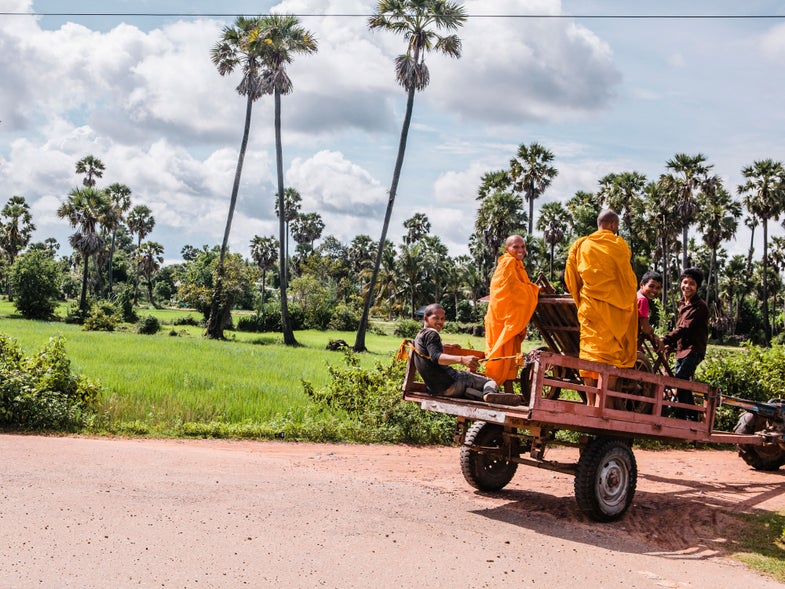 At the edge of the Angkor Wat temples, on the roadsides of a little village called Preah De, a morning ritual comes to life: the pilgrimage for a breakfast soup called num banh chok. It attracts Cambodians living in Siem Reap as much as the Angkorian ruins attract thousands of barang, or foreigners, every morning. So much so that at 6 a.m. the two crowds diverge on the roads according to their intentions, darkened temples or roadside restaurants. Preah De is considered the unofficial temple of Cambodia's national dish, and under its awnings are humid stalls with cauldrons of broth—usually made with fish, turmeric, kaffir lime leaves, and lemongrass—from which customers create their soup. Into a bowl go noodles, cucumbers, chiles, limes, hard-boiled eggs, various meats, herbs, wild leaves (often presented in a large plastic bag, for diners to add themselves), and a few steaming ladles of the stock. Crisp and fresh, it's like eating a salad and a soup combined. I love sitting under the awnings in the rain sweating with a num. I once lived in Cambodia—my most recent novel, Hunters in the Dark, is set in the country—and though I've since relocated to Bangkok, from time to time, when the mood moves me, I book a plane ticket and head back. I still miss qualities of Khmer life that are hard to quantify: the slow, sensual pace, the hovering presence of the past, the vast skies filled with terrifying and beautiful butts. And, of course, the food. Situated between Thailand and Vietnam, the country combines elements from both in the kitchen: the liberal use of wildflowers and herbs, galangal and ginger, lemongrass and mint, tropical fruits and palm sugar, nuts, coconut cream, noodles, chiles, fresh green pepper, and lime. It's less spicy than Thai, as subtly herbal as Vietnamese—and there is a trace of the departed French in its pastries and breads. Modern Cambodian dishes are descended (or so it's claimed) from those eaten in the early days of the Khmer Empire, the great Angkorian kingdom of the 9th to 15th centuries, making them probably the oldest in all of Southeast Asia. It's fitting, then, to take your morning soup in the shadow of Prasat Sour Prat towers that have been abandoned for 600 years. The num banh chok might be as old.
But in the 1970s the country was destroyed by the Khmer Rouge, and all links to the past, culinary and otherwise, were severed. The recovery has been slow. Only now have generations with little firsthand experience of those events—and older people who remember them all too well but want to reach back into an even more distant past—taken over the nation's gradual cultural rebirth. This quiet revival can be seen and felt in Khmer restaurants, and Siem Reap has emerged as the center of contemporary Khmer cuisine. Many of the Khmer young go to Phnom Penh to make their careers, and once there, often want to eat Western food. In Siem Reap, young Khmer chefs have more leeway to experiment—to revisit and reinterpret the classic, powerful Khmer dishes that have been around for centuries, some from the royal family's tables; to use the vibrant local ingredients as inspiration; to explore their own heritage.
New Zealander Bruce Dunnet and his Khmer wife, Kethana, opened The Sugar Palm in 2006 in Siem Reap. Kethana grew up in the capital in the '60s. Her father was a high-ranking official in the Forestry Department, which marked him for death when the Khmer Rouge swept into the city in 1975. Her six brothers and two sisters also disappeared without a trace. It's a common trauma among Khmers of her age. She herself went to school in New Zealand in 1968 and didn't come back until 1995. It saved her life.
Old World Meets New: Scenes from Siem Reap
I met her at the restaurant's first-floor bar to eat while she reminisced about the prewar era.
"We had the best music in Asia," she told me. "The best urban lifestyle. You can't imagine it."
On the table was a version of prahok, the pungent condiment made from fermented fish, similar to ancient Roman garum. I was shown how to ladle it onto rounds of green tomato and cucumber and then a mound of rice, the pungency of the fermented fish—it has a wild whiff of ripe Camembert—toned down by palm sugar, chiles, and fresh coconut. A little while later, a tangy fish salad, pleah tray, arrived, the mint, peanuts, palm sugar, and acidic lime making each bite fresh and crunchy.
"Do you know Ros Sereysothea?" she continued. "A great singer of the prewar. When I opened this place I wanted to go back to that time in some way—my mother's kitchen fifty years ago. It was all forgotten. Those flavors even, gone."
I did know Ros Sereysothea (her version of "Venus" is a '60s Southeast Asian pop classic), but those flavors were indeed lost on me. I told her I didn't know how a proper amok should be made—a quintessential Cambodian dish of fish steamed with coconut and egg inside a banana leaf. One was duly brought. How often this staple dish is botched in tourist restaurants, its steaming technique slightly off, rendering it too dry. Amok as it used to be and ought to be? You have to know how to tap the leaf and judge how the custard-like insides wobble. Kethana's, reputed to be the best in Siem Reap, was as delicate as a Robuchon pudding, with the perfect balance of galangal and turmeric.
"Thai food is balanced too," Kethana allowed, "but our balances are of a different kind. Gentler, less heat."
Siem Reap is still recognizably French, with its long, wide boulevards, flowering trees, open parks, and peeling villas rising above their defensive walls. It feels leisured and proud of its provincialism because at its edge is one of the greatest archaeological sites in the world. Laid out by engineers to feel vaguely rational and spacious, the city has a sluggish, half-hearted but charming river running through it, with a few desultory bridges flung across. In the surrounding countryside, you'll encounter extreme poverty—in the city, flush with tourism money, it's more grand.
One night, I found myself at Raffles, Siem Reap's loftiest colonial hotel, for the "Royal Dynasty" set menu. I usually expect the worst from hotel food, and wasn't the word "royal" supposed to set off alarm bells? But here it was surprise after surprise. The chien sach chien, grilled lamb chops, were marinated in a ginger sauce, slightly tart and sweet at the same time. I had never had Cambodian lamb before—it's hard to source in a region with no sheep—and yet these chops felt right at home in their sauce.
But it was across the city's eponymous river at Embassy that I ate a dish that exemplified perhaps more than any other the new Khmer cooking that had attracted me to the city this time around: a bowl of green curry soup, made with crunchy, bamboo-like taro stems known as kdat.
Embassy was opened last year by Pol and Sok Kimsan, two young female chefs who carry the same last name (though the so-called "Kimsan twins" are not even sisters). Their restaurant is located in a white English-farmhouse-inspired building completely at odds with the typical aesthetic of Siem Reap eateries. No bamboo, no antiques, no view of Angkor Wat at dawn. I was alone there with two Japanese businessmen at a neighboring table who seemed extremely surprised at what they were eating.
"Oishii," they kept crying, leaning back and staring at each other.
Sok Kimsan came by to explain this soup, a bright green concoction with a no doubt untraditional ingredient sprinkled on top: bacon.
"It's Khmer, as you can taste, but just given a slightly different twist," she said. The crisp cubes of kdat itself were nimble and delicate, with a citric tang and sour edge, one of the best things I had eaten in Cambodia to date. As I scraped the bowl, I thought back to the lone Cambodian restaurant I used to eat at in Fort Greene in Brooklyn and shuddered. What was that stewed dish packed with canned pineapples and coconut cream?
"I was inspired by Noma and the idea of foraging, because that's what we did when I was young," said Pola Siv, the young owner of tiny Mie Café, which is set in a renovated house on a small backstreet far from the tourist hordes of Pub Street.
"In rural Cambodia, foraging is normal. We use a lot of wild herbs and plants, but only old people know how to forage properly. During the war that was how they survived." In lieu of foraging, Siv has a garden in front of the restaurant.
Siv was too poor to go to cooking school, so he left Cambodia to work as a barman, waiter, and beachboy in Bahrain and then the Cayman Islands to save up the money to send himself to the Culinary Arts Academy of Switzerland. Returning to Siem Reap after eight years, he finally set up his own restaurant.
He gave me a tuna tartare with mango, then a fresh carpaccio of snakehead fish bundled up with grapefruit and hazelnut oil and served with a poached egg fried in tempura batter. The latter dish was deliciously astringent, the herbs crunchy against the tender river fish. After that, ravioli stuffed with Khmer herbs.
I had heard that he cooked with red-ant eggs, popular in the Khmer countryside but a rarity in the city. I opted instead for the mango sombai, the fruit spread over a fried rice cake with a coconut sorbet. Just six or seven years ago, this kind of inventive, experimental food—traditionally, rice cakes are steamed and tacky, not crisp—was unimaginable in Siem Reap, or really anywhere in Cambodia.
Cuisine Wat Damnak, one of my final stops, is perhaps the most famous of the new Khmer restaurants. It's in a neighborhood dominated by Wat Damnak itself, an ancient temple compound, quieter than the more touristy parts of town, with streets of ragged palms and family-run shops. The restaurant is owned, surprisingly, by a Frenchman, Joannès Rivière, a transplant from the town of Roanne in the Loire who cooked for years in the United States but grew up with Asian-inflected food at home—his grandfather was a diplomat in Japan, and Joannès' father enjoyed the cuisine. His dishes are celebrated today in Cambodia for their intelligent attention to Khmer tradition (remarkable in a foreigner) and seasonality. He serves pork, snakehead fish, herbs, flowers, and crudités all together with a generous helping of prahok, and beef shank curry and holy basil with eggplant and morning glory, each of which could have been lifted out of a royal cookbook from many centuries ago.
His fish comes from nearby Tonle Sap Lake—70 percent of the protein consumed in Cambodia comes from the lake, making it the nutritional and ecological heart of the country—and in my favorite presentation, it's paired with soy milk skin, sesame, and aged salted lime.
"My father was a vegetable supplier for three-star Michelin restaurants in France," Rivière told me. "So I know how good the produce in Cambodia is. The fish from the Tonle Sap Lake is among the greatest freshwater fish in the entire world."
Rivière's inspiration, though, has never been just the ingredients. A few years ago, he met the Australian chef David Thompson, who revived a certain kind of "royal" Thai cuisine at his revered Bangkok and London restaurants, Nahm. Thompson searched the cookbooks of the Thai royal family for inspiration, since the royal kitchens had become veritable archives of old recipes that the wider commercial restaurant culture could not always afford to maintain. In those venerable cookbooks you can easily find the most elaborate and complex versions of dishes that ordinary people make in very different, more simple ways now. Thompson encouraged Rivière to try the same with Khmer cuisine.
"It seemed to me then that one could use the traditional cuisine as a jumping-off point to create something fresh and modern without diluting it or making it into the dreaded fusion," he told me. "It could be authentic and contemporary at the same time."
A Taste of Cambodia
Travel Guide: Siem Reap
Where to Eat
Chanrey Tree
Book ahead, as this restaurant has gained a following in recent years and is often packed. Specialties include seafood with Kampot pepper, a native plant, and braised frog legs.
Pokombor Avenue by Wat Preah Prom Rath
Cuisine Wat Damnak
Owned by French-born Joannès Rivière, this elegant, intimate restaurant serves light, sophisticated French-inflected Khmer cuisine. Don't miss the excellent fish from nearby Tonle Sap Lake.
Wat Damnak Market Street
Embassy
Two female chefs run the innovative kitchen of this restaurant set in a mall. Make sure to order a bowl of the kdat soup, served with crispy bacon.
Street 27
Mie Café
In a renovated Khmer house, Mie Café, with its own herb garden in front, has an endearing simplicity in both decor and cuisine. For $24, enjoy its four-course set menu, which changes depending on available produce and seasonality.
0085, Phum Treng Khu Slorgram
The Sugar Palm
Traditionally home-cooked Khmer dishes, like fish amok and coconut soup, shine at this restaurant. Dine outside if you can.
Taphul Road
Where to Stay
Raffles Grand Hotel d'Angkor
This is the grande dame of Cambodian colonial-era hotels, with a sweeping pool set with frangipani, a bar with dry martini flights, and an upscale restaurant.
1 Vithei Charles de Gaulle, Khum Svay Dang Kum
The Angkor Village Resort
A lovely garden oasis with a snaking pool that weaves through standalone cottages, this resort is located right next to the temples. The restaurant serves exquisite handmade pains au chocolat and will pack food for temple-goers.
Phum Traeng