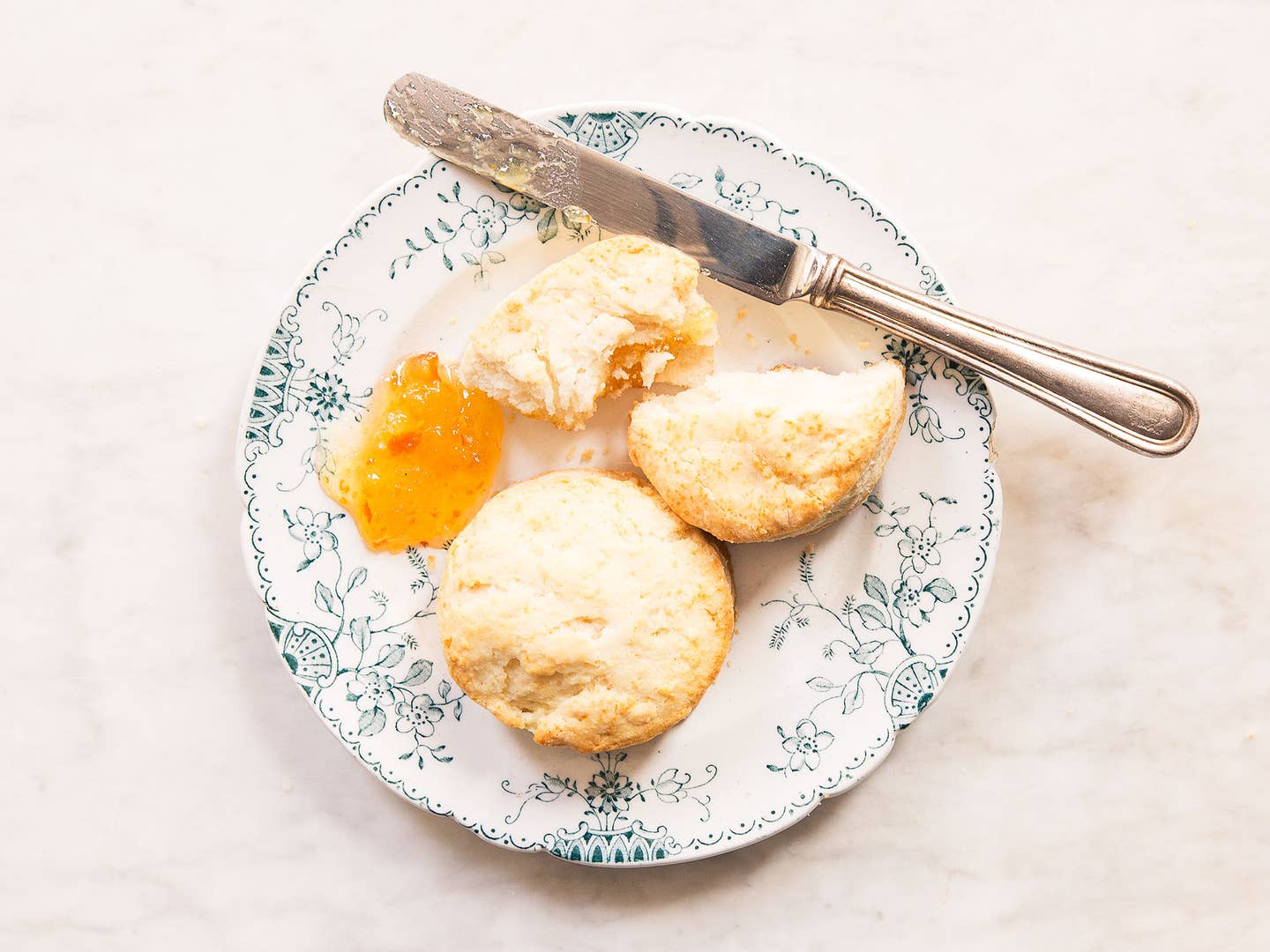 Culture
Ruth Reichl's Search for the Best Biscuit Recipe
A biscuit obsessive explores both ends of the butter spectrum to find the best biscuit recipe
A few months ago my friend Nancy Silverton asked if I would test her biscuit recipe.
"Sure," I said, failing to hear the warning bells that should have started clanging when she asked the next question. "Do you have a yardstick?"
"I'll lend you mine," she said. Still oblivious to the fate awaiting me, I gathered the ingredients that Nancy—the James Beard Award-winning founder of Los Angeles' La Brea Bakery—considers as essentials for the best biscuit recipe. The buttermilk and Maldon salt were no problem, and while a pound and a quarter of sweet butter seemed excessive, it wasn't until I started baking that I began to understand what I'd gotten myself into when I said yes to a chef.
Have you ever grated five sticks of frozen butter? It takes forever. Your fingers get so cold you soon find yourself standing in the kitchen screaming in pain. And you are just getting started.
Before you're done you will have to freeze your fingers again. You will have to tame an undisciplined mound of dough and attempt to take its measure with a ruler. You will have to roll it out and then struggle to turn and fold the recalcitrant mass, like you do with puff pastry.
More trials lie ahead. You will find yourself climbing on chairs, vainly attempting to silence the smoke alarm that erupts when those five sticks of butter hit the hot oven, engulfing you in smoke. You will be apologizing to the neighbors who come to find out what is going on. And finally, after what seems like hours of agony, you will have exactly 12 biscuits to show for your trouble.
Don't get me wrong: I revere a good biscuit. There's no better way to add a spark of romance to an ordinary meal. "Would you like a biscuit?" sounds so much more appealing than "please pass the bread." With a single word you've conjured up warm kitchens, loving cooks, and the scent of melting butter.
I fell in love the first time I met a biscuit, and like any self-respecting home cook, immediately began looking for the easiest way to produce a decent version. This sent me on an odyssey of experimentation.
I began with the fat. That was easy; it instantly became clear that for the time-pressed cook, cream is the only way to go. Simply stirring some cream into flour is a lot less cumbersome than cutting in cold shortening.
Next I grappled with the vexing issue of flour. Southerners insist that White Lily is essential, but we Northern cooks can only order it by mail. I soon found that "00" pasta flour, which is far easier to find, works wonderfully well. Cake flour will do, too, and in a pinch I simply use all-purpose.
The recipe I ended up with is simplicity itself. Four ingredients. A couple minutes of mixing. A hot oven. In my house that's a recipe for happiness: Hot biscuits are never more than half an hour away.
For years I was perfectly content with my biscuits. Then Nancy came along. And her biscuits weren't just food—they were an experience. Flaky layers of dough crumbling into crisp shards that left the haunting taste of butter and salt in their wake.
"Are you aware," I asked her, "That each of these biscuits contains half a stick of butter?"
"Yup," she replied, with a shrug. "All I want to know is if you've ever eaten a better biscuit."
I had to admit that I had not.
But I have no helpers and no professional equipment, and if the only biscuits I ever made were Nancy's, we would suffer biscuit deprivation. Fortunately, I'm not a chef, and I feel no compulsion to knock people's socks off every time I cook.
Sure, there are recipes I won't cut corners on. Some people scramble eggs in a minute, but The Alice B. Toklas Cook Book showed me a better way. Her scrambled eggs take half an hour of constant stirring over a very low flame, and the result is so soft, smooth, and custard-like that ordinary scrambled eggs went straight out of my life. If I don't have time to scramble slowly, I'll take my eggs fried, thank you very much, and sometimes fried eggs are all you want anyway. My little biscuits might not stop people in their tracks—but week in and week out they make my family very happy.
I think about this every year when Thanksgiving rolls around. Faced with this major meal, I want at least one unforgettable dish, a showstopper. But it would be foolish—and probably impossible—to make every dish a knockout. So I figure out which dish matters most to me, and relax about the rest.
Should biscuits be your passion, I highly suggest you try Nancy's. Mine, on the other hand, will leave you plenty of time to concentrate on stuffing, gravy, or pie, and keep the smoke alarm quiet.