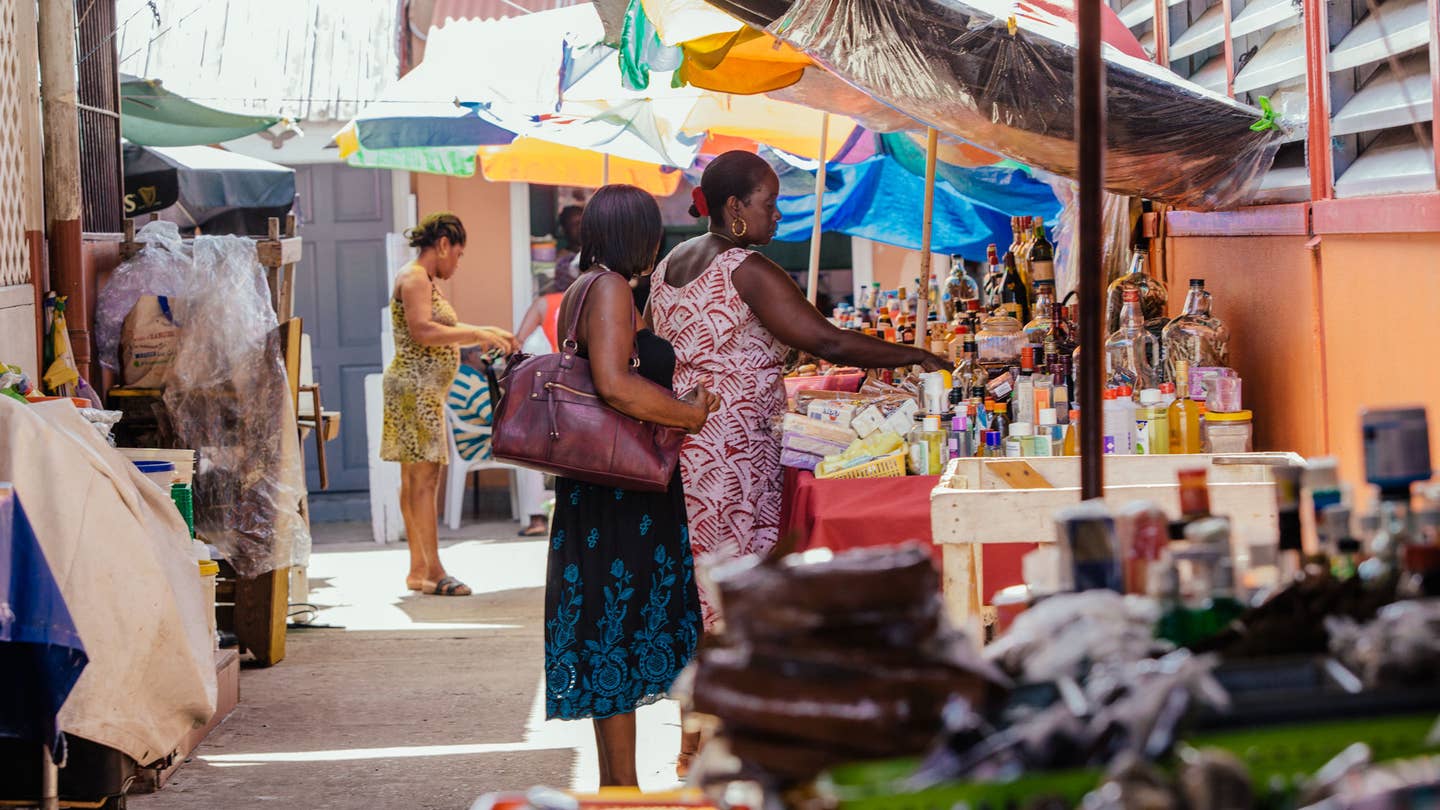 Travel
Why You Should Skip St. Lucia's Tourist Spots to Wander Through its Central Market
Meet the people and fresh flavors that make up one of the busiest food destinations in the Caribbean
It's Saturday evening nearing midnight, and while tourists are swinging back their last splash of rum before calling it a night at one of the many beachside resorts dotting the Caribbean island of Saint Lucia, Sylvia Baptiste's day is just getting started.
Six days a week she makes her way into the capital city of Castries to the enormous open-air market, down a narrow alleyway that by midday is bustling with merchants selling the day's catch of seafood, local spices, and fresh fruit. In her small kitchen stall, Sylvia's Place, she'll prep noodles with salt fish and vegetables, beef bouillon, cocoa tea, and other local favorites before sunrise to sell throughout breakfast and lunch.
The market, which opened back in 1894, is home to several family-run businesses that have lasted multiple generations, all proud and passionate to share their taste of the Caribbean with those looking to try. Here's a taste of daily life there.
I'm taking a break from the tropical sun at the counter of my new friend Nick's colorfully painted vegetarian food shack, Mokocho's. His Rastafarian father (the Mochoko in Mochoko's) opened shop 20 years ago, and Nick joined in 2002. Mochoko's day starts at midnight; Nick's at 2 a.m. They cook most of their menu in their home kitchen, transporting roti, fried plantain stews, and pizza to the shack for lunch It hasn't always been easy, but the dedicated duo now enjoy having a family business that allows them to do what they love.
With her warm laugh and generous servings, Sylvia is the Caribbean mother you always wanted. She's spent the last 19 years of her life feeding those who find their way to Sylvia's Place, but her love for cooking started much earlier. She recalls preparing her first dish of chicken and rice around the age of 11; it quickly became a family favorite.
Jacinta Williams, who St. Lucia's Small Business Awards recently named vendor of the year for her commitment to selling quality produce to visitors and locals, has been at the market for 21 years (since she was 7). She first started helping her mother, who now runs a textile booth next door, and eventually branched off with her own stall. On Sundays, the family often cooks together for the church, preparing pulled pork with soursop fish, avocado salad, and fish with split peas.
Across the way from Sylvia's, this stall's daily menu includes beef bouillon, stewed turkey, rice, potato salad, and macaroni and cheese.
Turn the corner to the fish market you're immediately approached by several vendors eager to capture your attention. Hanging out by the waterfront with their handpainted barrels and Instagrammable displays of the latest catch, they split their days negotiating with fisherman and cutting fish for customers. Peter Butche has an intense gaze that instantly catches my eye; I snap photos in between a casual conversation with his cousin, who comes to visit the market often. Peter, born and raised in Saint Lucia, has been involved with fishing and the market since he was eight years old.
It doesn't take long to feel like a local around here. By my second visit to the market, several vendors recognized my face and opened up to talk for hours; we still keep in touch through What's App. It's hard to ignore the pride they take in their work; it's even harder to ignore how good all the food tastes.