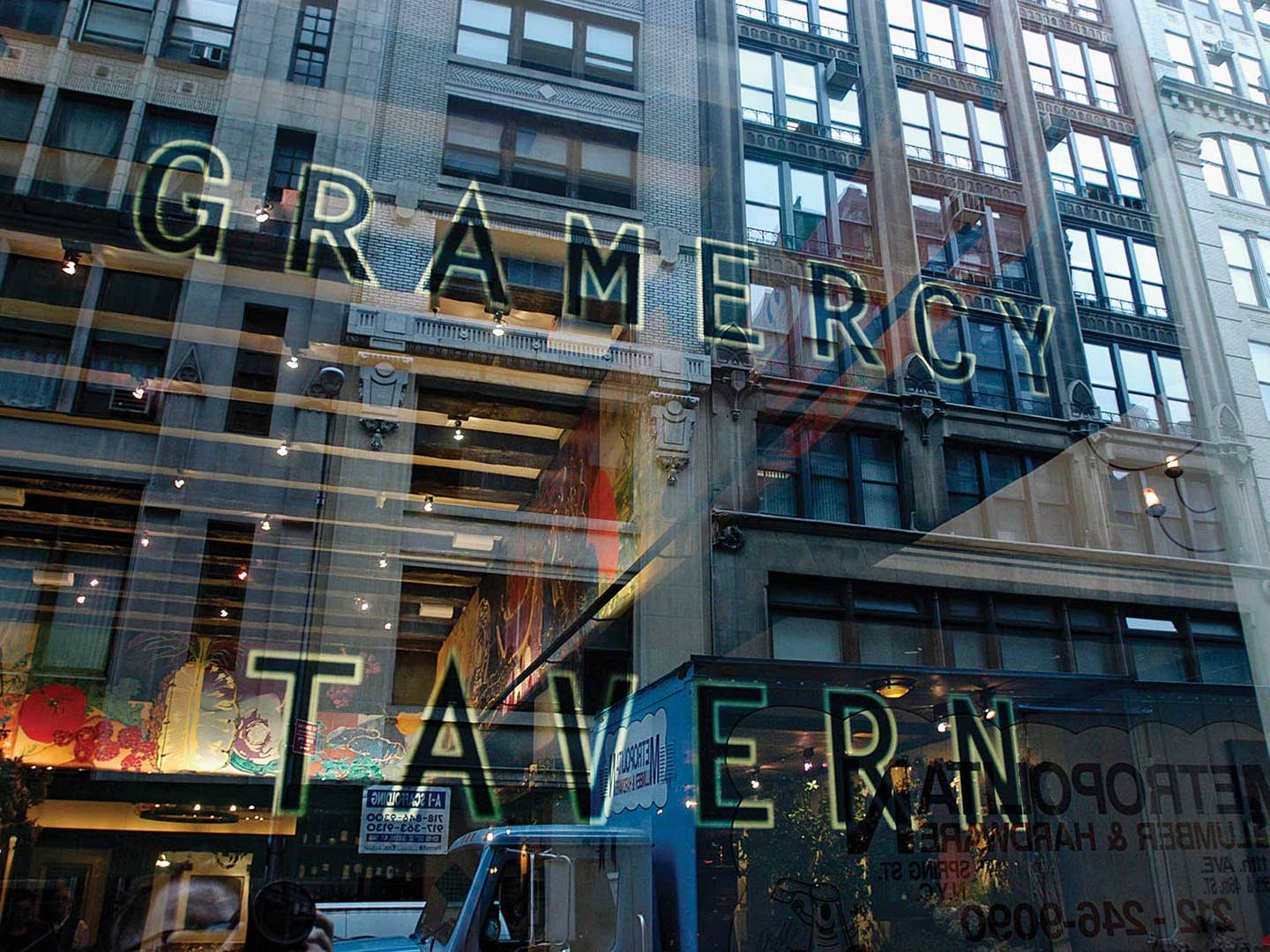 Culture
The Time Of Our Lives
Notable moments in food from the past 25 years.
• Saveur is born! The magazine launches with an editorial staff of 11, a cover story on Oaxaca, and an editorial advisory board that includes Marion Cunningham, Sheila Lukins, and Alice Waters.
• The Food Network celebrates its one-year anniversary. After lackluster reviews of How to Boil Water and Emeril & Friends, Chef Emeril Lagasse kicks it up a notch with the successful The Essence of Emeril.
• Jeff Bezos founds online bookseller Amazon. Quickly ­expanding into new markets, the site will eventually offer everything and, in 2017, will acquire Whole Foods Market. By 2019, Amazon will report more revenue than any other internet retailer in the world.
• The Flavr Savr tomato, the first genetically modified food product on the market, is approved by the FDA. Due to high costs, it will be discontinued three years later.
• The high-speed Eurostar train launches, taking passengers from London to Paris in a little over two hours.
Saveur has never worshipped restaurants. Forget about the hottest young chef in town; we've always been more interested in what his or her grandmother cooks at home. The exceptions: those places that carry substantial cultural weight, in that they speak to how we were eating in a certain place at a certain time. The following restaurants, all born 25 years ago, qualify.
*at least the Thomas Keller version
*under Eric Ripert, who took over in 1994, following the untimely death of founder Gilbert LeCoze at age 48
• Joe's Shanghai in Flushing, Queens, introduces the soup dumpling (xiao long bao) to Americans. A New York Times review by Ruth Reichl the following year, declaring them "the best things in the whole world," transforms Joe's, and the dumplings, into dim sum legend.
• Epicurious, the first online recipe library, goes live. By 2019, it will catalog 35,000 recipes.
• The Soup Nazi makes his ­debut on Seinfeld, insisting that customers order to his exact specifications or be chastened with his famous pronouncement: "No soup for you!"
• Magnolia Bakery opens in New York City's West Village. The tiny shop will go on to ignite a cupcake craze following a ­season-three cameo on Sex and the City. The scene features Miranda and Carrie eating the treats outside the bakery as they discuss—what else?—­Carrie's most recent love interest.
• The movie Big Night premieres, featuring Stanley Tucci and Tony Shalhoub as immigrants running an Italian restaurant in 1950s New Jersey. The authentic dishes, especially one labor-intensive pasta masterpiece, timpano, turn out to be the film's biggest stars.
• A voluntary ban on hard-liquor ads on television, in effect since 1948, is lifted by the Distilled Spirits Council of the United States.
• The FDA approves the sale of Olestra, a fat substitute. Snack- food brands jump on the bandwagon—then jump off again when the substance is shown to cause intense gastrointestinal distress.
• The Food Network mistakenly broadcasts a full minute of hardcore porn, the work of a mischievous employee who is never caught, during an early-​morning broadcast of the show Too Hot Tamales. Too hot, indeed.
• The seventh edition of The Joy of Cooking, by Irma S. Rombauer, Marion Rombauer Becker, Ethan Becker, et al., is published. Some recent trends make an appearance in the book, refreshed for the first time since 1975; among them, the molten chocolate cake that showed up on menus everywhere at the beginning of the 1990s.
• Scottish-born chef ­Gordon Ramsay leaves Aubergine in ­London (where he garnered two Michelin stars as head chef) to open his gastropub, Restaurant Gordon Ramsay (today a three-star establishment), in the city's Chelsea neighborhood. England's Channel 4 follows along, capturing his ­tirades against staff, clashes with critics, and fiery rants in the documentary Boiling Point—i­ntroducing the now-infamous short-tempered Ramsay to television audiences.
• Google is launched by Stanford Ph.D. students Larry Page and Sergey Brin. By 2019, the site will become the web's most popular search engine—and our portal to an endless supply of recipes, ingredient information, cooking tools, and more.
• Australian chef Bill Granger includes what might be the first published recipe for avocado toast in his cookbook Bills Sydney Food, though it has been on the menu at his eponymous restaurant in the Sydney suburb of Darlinghurst since 1993. The dish will eventually suffer a backlash, derided as $10 toast and the reason millennials can't pay their rent.
• Seamless, an online platform for ordering from restaurants and caterers, debuts, initially serving companies only. Individuals get access in 2005; in 2013, Seamless will merge with GrubHub.
• OpenTable launches in the San Francisco area, allowing diners to make real-time reservations online. In 2019, users will be able to book a table at about 47,000 restaurants through the OpenTable app.
• Chef Grant Achatz opens his restaurant Alinea in Chicago, creating a modern culinary extravaganza intended to blow patrons' minds. He employs the likes of green apple helium balloons and french fry cream foam for the full sensory experience.
• Michelin brings its famed French rating system to America for the first time, bestowing three stars on the New York City restaurants Alain Ducasse at the Essex House, Le Bernardin, Jean-Georges, and Per Se.
• Chicago becomes the first American city to outlaw the sale of foie gras, only to lift the ban two years later. California's ban, established in 2012, remains in effect come 2019; New York City will enact a ban in October 2019.
• Michael Pollan's The Omnivore's ­Dilemma: A Natural History of Four Meals, an indictment of industrial food production, is published.
• New York Times food writer Melissa Clark tries a kale salad—an anomaly at the time—at Franny's restaurant in Brooklyn, and declares it "a raw foods epiphany." The salad's creator, chef Joshua McFadden, is credited with putting the item on the culinary map.
• LA Weekly's Jonathan Gold wins a Pulitzer Prize for criticism, becoming the first restaurant critic to do so. The board salutes his "zestful, wide ranging…reviews." In 2018, Gold, by then writing for the Los Angeles Times, will die at 57 of pancreatic cancer.
• Korean-born and California-bred chef Roy Choi establishes his Korean-Mexican taco truck, Kogi, in Los Angeles, elevating the food-truck concept and inspiring thousands of other "rolling restaurants," as ­Anthony Bourdain called them.
• Uber is founded as UberCab by tech entrepreneurs Garrett Camp and Travis Kalanick, changing the meaning of "designated driver" for restaurant-goers everywhere. Three years later, Lyft, a second app-based car service, joins the ride.
• In November, Gourmet magazine publishes its final issue after 68 years in print.
• Instagram CEO and co-founder Kevin Systrom posts the first food photo on his new app, a shot of tortilla soup taken at Tacos Chilakos taco stand in Todos Santos, Mexico. Comments range from "First Food Porn" to fire emojis.
• José Andrés, a Spanish chef with restaurants from L.A. to D.C. (and a few Michelin stars), founds World Central Kitchen, a nonprofit association of chefs brought together after providing aid to Haiti earthquake victims earlier in the year. The goal: Set up kitchens wherever disaster has struck and feed as many people as possible. By late 2019, the organization will have served more than 10 million meals.
• Lucky Peach magazine is started by writers Peter Meehan and Chris Ying and chef David Chang. Known for its irreverent tone and deep dives into chef-y subjects, the magazine will shut down six years later due to conflict among its founders over the publication's future.
• The diet book Wheat Belly is published by cardiologist ­William Davis, further boosting an anti-gluten frenzy that gained traction with low-carb dieting. Despite being widely debunked by health experts, the gluten-free diet will remain popular, even among those without celiac disease. By 2020, the gluten-free-foods industry is ­expected to reach $2 billion in the United States.
• Taco Bell introduces the Doritos Locos Taco just in time for the fast-food chain's 50th anniversary, exceeding $1 billion in sales of Dorito-shelled tacos in the first year.
• Saveur bursts onto the Instagram scene with its first post of…wait for it…"Tofu-bacon fritters: before and after the hot oil." ­
• Chef Dominique Ansel ­introduces the Cronut on the Mother's Day menu at his bakery in SoHo. A hybrid of a doughnut and a croissant, the cream-filled indulgence is quickly discovered and long lines form. Ansel will later trademark the name and restrict production to 350 ­Cronuts a day.
• Marcella Hazan—author of the seminal 1973 guide to authentic Italian cooking The Classic Italian Cook Book—dies at age 89 at her home in Longboat Key, Florida.
• Created from bovine stem cells, the so-called test-tube hamburger makes its debut. Initial tastings declare it "not juicy," with "some intense taste." Back to the drawing board for the cultured-beef burger's creator, scientist Mark Post, and Google co-founder Sergey Brin, who bankrolled the project to the tune of $330,000.
• Guinness World Records identifies the Carolina Reaper as the hottest chile in the world, supplanting the Trinidad Moruga Scorpion. The Reaper measures 2,200,000 Scoville Heat Units; by comparison, jalapeños range from 2,500 to 8,000.
• Resy, the restaurant-booking app, is introduced to the dining public, listing tables at more than 4,000 restaurants.
• Chef Dan Barber organizes the three-week "WastED" pop-up at his Blue Hill restaurant in Manhattan, featuring a menu consisting entirely of food scraps, to show how much delicious fare we carelessly throw away. One of the most popular items: a burger made from juice pulp and served on a bun of repurposed stale rye scraps.
• A YouTube video of a sea turtle with a straw stuck in its nose goes viral, propelling a once-fledgling effort to banish single-use plastic straws into the mainstream. In 2019, anti-straw sentiment will remain strong, with many businesses implementing more-creative solutions. Bucatini with that soda? #stopsucking
• Following the 2015 release of their high-calorie kale salad (featuring buttermilk-battered chicken, two kinds of cheese, tortilla strips, and ranch dressing—oh, my!), McDonald's continues to push the leafy-green envelope, testing a sandwich topped with baby kale and spinach, as well as Sriracha Mac Sauce, cheddar, and crispy fried onions, in select markets. #kaleyeah
• Coca-Cola ceases production of its soft drinks in Venezuela, as the troubled economy there causes sugarcane shortages.
• On December 11, Eater reporters Irene Plagianos and Kitty Greenwald break the story of four women's accusations of sexual misconduct against celebrity chef Mario Batali. Decades of inappropriate behavior are exposed, and Batali becomes one of several high-profile chefs who will be brought down by the #MeToo movement. He takes a leave of absence from his restaurants, as well as from his position as co-host on the ABC daytime talk show The Chew.
• Dominique Crenn becomes the first female chef in the US to receive three Michelin stars, awarded to her San Francisco restaurant Atelier Crenn.
A poster intended to resemble the familiar "What to Do in a Choking Emergency" placard, entitled "In Case of Sexual Harassment," is created by San Francisco restaurateur and writer Karen Leibowitz and designer Kelli Anderson, in collaboration with feminist food magazine Cherry Bombe.
• Chef, author, and television personality Anthony ­Bourdain—known for his bestselling account of behind-the-scenes restaurant life, Kitchen Confidential, and for his groundbreaking politically tinged food and travel shows, No Reservations and Parts Unknown—dies by suicide while on location in France to film an episode of the latter show.
• Popeyes introduces a spicy breaded chicken breast on toasted brioche. Chick-fil-A tweets smack about it. Wendy's weighs in. The ­#ChickenSandwichWars have been waged, and the result will be shortages at Popeyes nationwide.
• Following a rollout of the plant-based Impossible Whopper at Burger King earlier in the year, Impossible Foods secures FDA approval to sell a key ingredient, heme (extracted from the roots of soybeans), in raw form. Its uncooked products can now be sold alongside its major competitor, Beyond Meat, for a piece of the approximately $100 million a year plant-based-protein market.
• Saveur magazine, with six National Magazine Awards and 23 James Beard Awards to its credit, celebrates 25 years of publication!