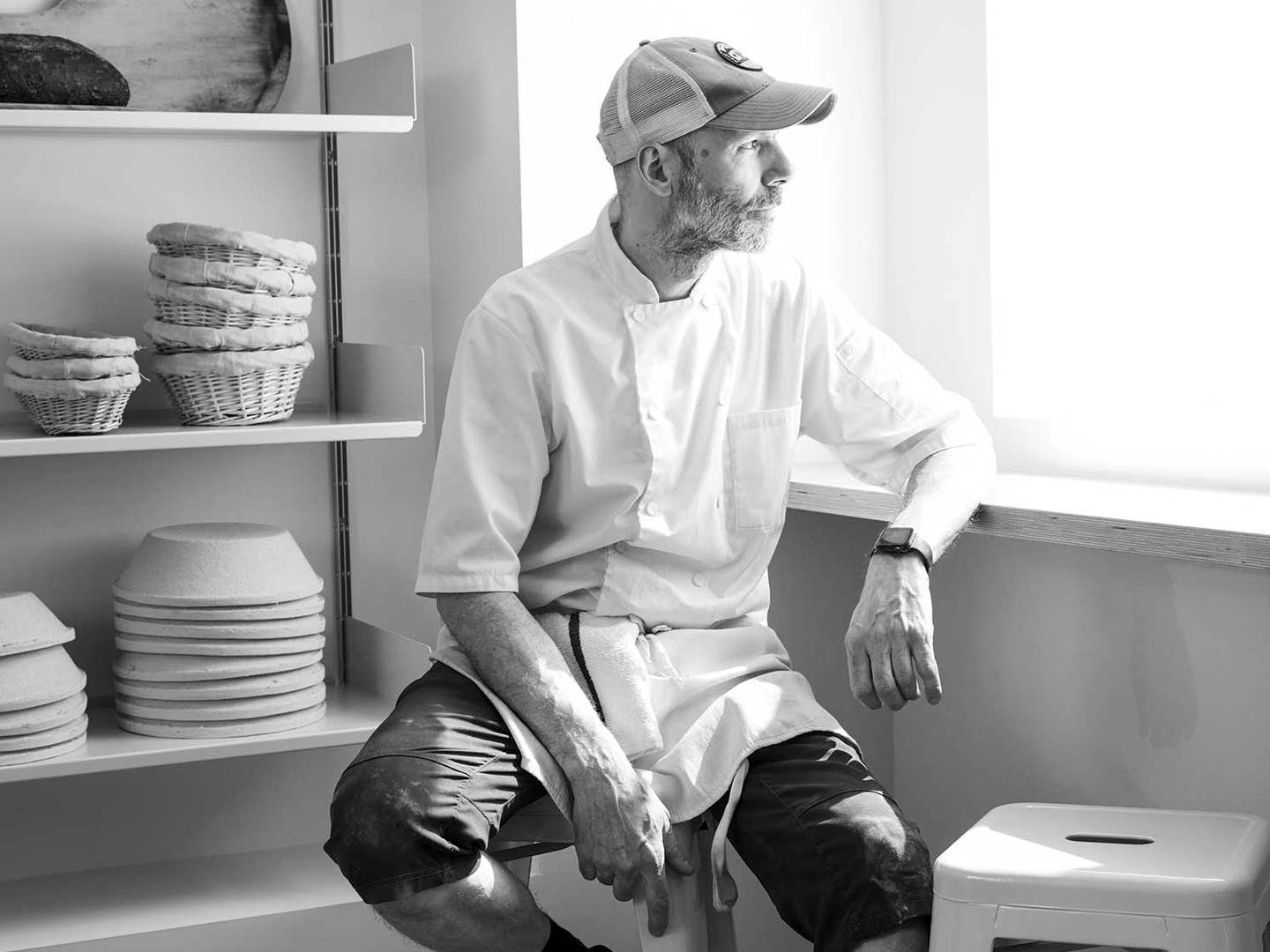 Culture
The Celebrity Photographer Who Put Down His Camera To Bake For His Community
Perhaps the most famed photographer of his generation, Norman Jean Roy now spends his days behind the mixer at Breadfolks, his new bakery in Hudson, New York.
Norman Jean Roy fears nothing, not even death. But he is a little worried that his rye berries may overcook.
It's July 29, 2020—day 140 of the pandemic—and Roy tells me as much while stirring the berries into submission for a few loaves of Danish rugbrød. He's spent the time in lockdown furiously preparing to open Breadfolks, a new bakery in Hudson, New York.
"Smell these," he says, brandishing a wooden spoon. The rye berries smell earthy and the tiniest bit sour.
Roy is either a world-famous photographer moonlighting as a small-town baker, or a small-town baker moonlighting as a world-famous ­photographer, depending on whether you consider "energy expelled" or "income generated" the more compelling indicator. With the exception of an odd job here or there (say, a recent Allure cover showing soccer stars Ali Krieger and Ashlyn Harris moments away from a kiss), the 51-year-old has retired from shooting celebrities and fashion models for the likes of Vanity Fair and Vogue. He'd rather master dough lamination and nail the ideal ratio of seeds to wheat—profit margins be damned.
"I chose bread because I have a love affair with grains, and because it's the most humble thing I could do," he says. "There's no money in bread. That humility in the process is at the core of what this is about for me. I want to feed as many people as I can, at the level of quality I have experienced, in a way everyone can afford."
Roy is intense, bald, trim, and ready to tip into a conversation about British Romanticism or the very point of human existence (to learn, to experience, to evolve) as casually as he offers me a spoonful of apple filling. The filling, suffused with lavender and anise, reminds him of the orchard town in Quebec where he was born. He describes it as if it were a person he knows, not a pot of jam: "soft and feminine, delicate and gentle."
His gaze is fierce and present, but not aggressive. His eyes follow mine when I glance away, toward one of the nine-odd employees passing through the room, built around an oven the size of a shed. With it, Roy and another baker will produce several types of sourdough, pastries ranging from traditional pain au chocolat to a "baklava cruffin," a few different cookies, and einkorn madeleines.
"We're not reinventing any wheels—just making food we love and introducing a lot of alternative grains. We try to use an heirloom grain or whole grain in everything we do," Roy says. Breadfolks buys what it can from area farms, then sources the rest from Utah's Central Milling Co.
Roy's wife and Breadfolks' co-owner, Joanna, explains that supplying their neighbors with an honest, nutritious, top-notch product at an accessible price is the culmination of a lifelong search for a meaningful career for her husband, who had become disillusioned with the creator-consumer relationship inherent in his work for high-end glossies.
As he puts it: "In this world, where you still have a billion human beings living without access to clean water, where you have systemic racism and so many other injustices, I couldn't continue to coerce people into consuming things they don't need. Nobody needs a $10,000 purse. I thought: 'You know what? I'm going to bake bread. I'm going to feed my community. I'm going to do one-on-one transactions. I make a loaf; you buy a loaf.'"
The bakery sits on Warren Street—the busiest thoroughfare in otherwise sleepy Hudson—alongside venerable local joints displaying "Black Lives Matter" signs, and swanky new businesses aimed at New York City weekenders (among them, a hotel with rooms named "the Writer" and "the Gardener," priced more than a touch above the average writer or gardener's reach).
Breadfolks' front door is permanently etched with the phrase "All Are Welcome Here." An optimistically temporary paper sign reminds customers to don masks. Country loaves, at a generous 1,000 grams, go for $8 each.
"The actions you take in a small town have greater effect," says Hannah Black, a James Beard semifinalist and co-owner of the much-beloved Hudson hotspot, Lil' Deb's Oasis. "In this little community, some people are really active and dedicated."
The Roys came to the Hudson Valley as many urbanites do, in search of intermittent Friday-through-Sunday respite, purchasing a 6,000-square-foot rustic-modern retreat on 50 bucolic acres in nearby Craryville in 2013. Within six months, Roy had shuttered his Manhattan photo studio and moved upstate full time with Joanna and their two young daughters.
"I never lived in New York City," he says. "I worked there, I slept there, I did a lot of things there. But that's not what I've come to understand as living—it's merely doing. I spent the entire first year here watching the light change. I felt like a plant that had been living in a pot, and someone finally planted me into the ground."
As he inspects a bit of experimentally braided croissant dough with the focus and exactitude you'd expect from a person who once fully submerged himself in a shark tank to get the right shot of Rihanna, Roy divulges that he's been a baker since age 8, when his Acadian grandmother first showed him how to shape a boule. Traveling the world on assignment only deepened his interest. Then, in 2015, while photographing Serena Williams in San Francisco, Roy first tasted a slice of country bread from the city's famed Tartine Bakery.
"It was nothing short of a religious experience," he says. "I'd eaten great bread all over the world, but there was something different about this that captured my attention." He began researching sourdough obsessively, eventually studying at the San Francisco Baking Institute.
"Two Decembers ago," Joanna remembers, "he said, 'Jojo, I want to be a baker.' And I said, 'Do it. Go find some real estate.'" By January 2019, the couple had signed a lease on the space that became Breadfolks, as well as a studio for Joanna's forthcoming line of ceramics, Clayfolks.
The way Roy talks about sourdough after a single revelatory bite is not unlike how he talks about the genesis of his photography career. In 1991, a few years into an underwhelming architecture job, he bought a Minolta X-370 because his then-girlfriend needed padding for her modeling portfolio. The two drove to Florida, where Roy took Sports Illustrated-style shots of the woman bikini-clad on the beach. "I discovered photography by accident and fell in love immediately. The next day, I woke up, quit my job, and that was it.
"I give myself full permission to change the course of my life at any given point, so long as I stay at 100 percent," he says. "I go 100 percent, 100 percent of the time." I comment that it must be a real bummer when he gets a cold. "I don't get sick," he says immediately, then, acquiescing after a pause, adds, "rarely."
Roy has long been an advocate of all things analogue, and it was in his own darkroom in 2000 that he met Joanna, a painter who took the graveyard shift printing photos for his exhibitions. The next decades beckoned a roster of big-name subjects: Usher, George Clooney, Denzel Washington, Hillary Clinton, and Ed Sheeran, whom Roy photographed in the rain with a guitar slung behind his back. In another shot, the guitar has been lit on fire.
"The things that hold my attention are things that move, that you can't repeat. Predictability to me is uninteresting," he says. "Portraiture afforded me a little bit of control over the situation, but was never the same thing twice. Baking bread, because you're dealing with a living organism, you can never bake the same bread twice."
Once he has finished adding the rye berries to the rugbrød, Roy introduces me to a few other fixtures around the bakery. "This is Mia, and this is Sergio," he says, pointing toward stand mixers with the giddiness of a child hosting an imaginary tea party. "And we've also got Bruce and Dolly."
For a man so enamored with esoteric symbology that he named all of Breadfolks' coffee blends after calculations that reduce down to three, six, or nine, the mixers' monikers seem to be the comedic relief of the kitchen. Together, we watch dough swirl around in Bruce's enormous belly, mesmerized for a few minutes, before Roy has to run. It's nearly 6:30 p.m., and he's got a Zoom meeting, then several more hours of baking to do before he calls it quits for the night. As I leave, he offers me a little bit of Betsy, his sourdough starter, for the road—a parting gift.
A few days later, despite a healthy downpour, there's already a line stretching down Warren Street when I arrive to sample Betsy's offspring. It's only two hours after opening, but Breadfolks has sold out of ham-and-cheese croissants. I manage to get my hands on a pain au chocolat so assertively flaky, it shatters like shrapnel at the first sign of teeth. The baklava ­cruffin—an ode to the Middle Eastern sweet made of phyllo, honey, and chopped nuts—turns out to be laminated dough ­layered with pistachio and twisted into a shape that resembles a double-height cupcake, with a honey-glazed core. It tastes like a cross between a kouign amann and an ethereally light doughnut. This thing is so soft inside, I'd like to lie down on the sidewalk and use it as a pillow.
I bite into Roy's magnum opus, the country loaf, and finally understand what he meant about going 100 percent, 100 percent of the time, or at least I think I do, because it's 100 percent perfect. It's pert, tangy, and chewy, and it forces me to tear off hunks and cram them into my mouth as though I've just been bit by a viper and the loaf is a time-sensitive antidote. The purpose of Roy's existence may very well be to learn, to experience, and to evolve. The purpose of mine is to take this bread home and ­dragoon it into a tomato sandwich, with haste.
The Roys' next hope is to expand their operation across the country, into what they call "micromarkets." He explains: "The idea is to bring this sort of quality to an area that doesn't yet have it, but has the desire for it."
For now, the couple remains agile, having sold all of their ­possessions two years back in a bout of self-actualization. At the very beginning of the pandemic, they unloaded their house and its contents, too, before moving into a furnished rental 10 miles east of Breadfolks.
"I don't have any permanent anything," Roy says. "I don't think too far in the future."
And that lucrative photography career? He's not sure if further celebrity cover shoots are in the cards.
"But ask me next year," he adds, with a smile.