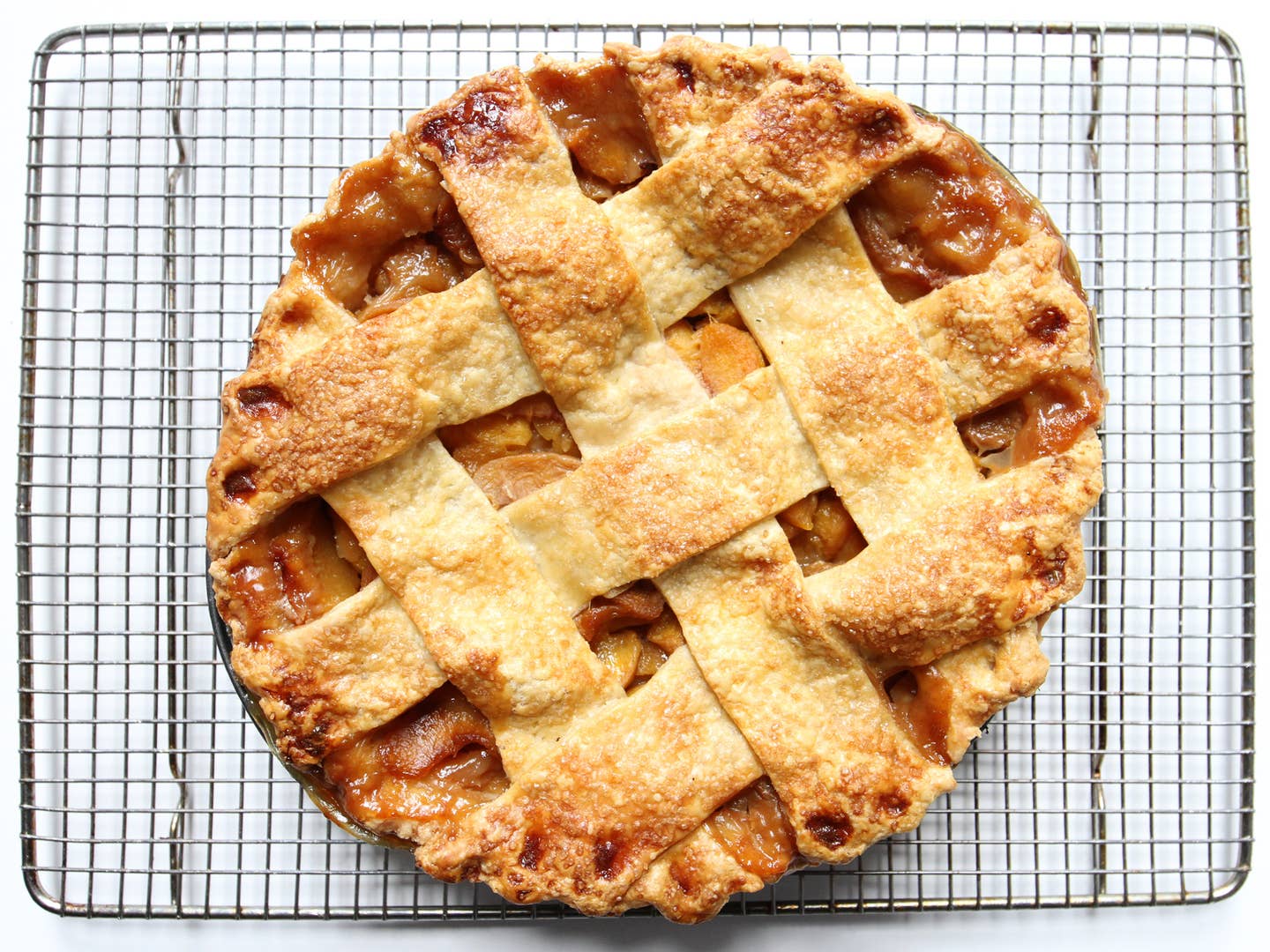 Culture
Pie Amidst the Pomp: The Dessert That Could've, Should've Been at Biden's Inaugural Luncheon
U.S. Presidents have a history of ending the monumental meal with pie. This year will be different, so our columnist decided to fill in the dots.
It's their party, and they'll pie if they want to.
American Presidents, that is. And they've done so for some time. Against the inaugural backdrop of patriotic bunting, William McKinley was sworn in as President of the United States in 1897. It was the first time motion pictures captured an inauguration, and, perhaps more importantly, it was the first time Congress hosted a luncheon for the incoming President and Vice President. Four years later, McKinley's second inauguration was orchestrated by the newly formed Joint Congressional Committee on Inaugural Ceremonies. Over the years, many of the traditions and festivities associated with the Presidential inauguration have remained steadfast, but to quote America's ninth president, William Henry Harrison: "Times change, and we change with them."
In a year of unprecedented challenges and political division, the 2021 inaugural luncheon has been canceled due to health and safety concerns associated with COVID-19. Let us use this pause in tradition as a prompt to revisit inaugural luncheons from the past: Serving as a symbol of bipartisanship during the transfer of power, congressional leaders traditionally toast the new president over a three-course luncheon. With a nod toward the President-elect's heritage and culinary favorites, the inaugural menu often references significant events in the terms of former presidents, as well. Another pattern in inaugurations past involves presidents who share a keen fondness for fruit-centric desserts, particularly pie.
An affinity for fruit tucked into pastry can be traced back throughout American presidential history—and throughout American history itself. Making use of the fruits and nutmeats flourishing along the Atlantic Coast and throughout the South, pies have long reflected our nation's bounty and seasonality. Having traveled from the British Isles to the Americas, pies have become an integral part of inaugural festivities. Apples, first brought to the continent by the colonists, have been showcased in classic double-crust pies and in pie-adjacent desserts such as the streusel-y crisp and the breadcrumb-sprinkled (and potentially racially problematic) brown Betty.
Each configuration of the classic dessert does so much more than accompany the coffee service. It also serves as a reminder of the economics that shaped American kitchens and the mindset of thrifty bakers making do in times of plenty and of scarcity. Labor-intensive double-crusted pies called for expensive ingredients: butter or shortening, flour, sugar, fruit, and spices. Crisps and crumbles streamlined the process, replacing the delicate pastry crust with a quick streusely or cakey toppings. These homespun variations are easy to assemble and can be stretched to feed a large family—a fact contemporary caterers might have considered when planning their elaborate inaugural banquets. However, the dessert course wasn't merely about ease of preparation and taste; it was also deeply sentimental. Pie conjures patriotism, a love of the land, and a sense of home and of family.
In 1861, Abraham Lincoln's Inaugural Luncheon was held at the Willard Hotel in Washington, D.C. According to The American Heritage Cookbook by Helen McCully, the menu featured mock turtle soup, corned beef and cabbage, parsley potatoes, blackberry pie, and coffee. Often criticized for missing meals because his work ethic overshadowed his appetite, Lincoln actually knew his way around a kitchen. Rae Katherine Eighmey's book, Abraham Lincoln in the Kitchen, informs readers that the 16th President of the United States had quite a sweet tooth—and a particular fondness for apples.
Inaugural luncheons have always reflected the times, the good and the dire. Tiptoeing around wartime deprivation was evident at Franklin D. Roosevelt's austere 1945 luncheon, which featured chicken salad, goose-liver sandwiches, and potato chips. No coffee. There was no parade nor an inaugural ball to celebrate the start of FDR's fourth term either, and the day concluded with a Roosevelt family dinner. Four years later, the second inauguration of the 33rd president, Harry S. Truman, was the first to be televised and proved to be far less dire. The food served reflected the President's Missouri heritage: South Carolina turkey, Smithfield ham, potato salad, and pumpkin pie.
1989 marked the 200th anniversary of the presidency. George H. W. Bush took his oath of office on the same Bible that Washington used in 1789, and the 41st president's lunch concluded with a pear crisp and vanilla ice cream. Four years later, Bill Clinton's 1993 luncheon mirrored the country's strong economic growth, with median family income on the rise and unemployment on the decline. That table boasted a sumptuous banquet of grilled salmon, rosemary chicken, pecan rice, baby vegetables, and an apple-cranberry brown Betty.
Staffers connected to the Biden-Harris administration are understandably preoccupied with a seismic shift in inaugural festivities and were unable to answer my pressing pastry questions. However, a deep dive into the culinary preferences of the President-elect led me to the website for the Delaware Chamber of Commerce, where I learned that the official state dessert is the peach pie. How dedicated the former senator is to peach pie is unclear, but along the campaign trail last March, Biden paused for a slice of coconut cream pie at Oakland, California's Buttercup Diner. Additionally, a campaign food diary published by the Washington Examiner in 2012 suggests that the President-elect has a soft spot for pie, highlighting peach, custard, and coconut cream amongst his favorites.
Biden has been famously photographed double-fisting ice cream cones, which conjures an image of a hypothetical inaugural luncheon dessert course—perhaps that Delaware peach pie, served à la mode?
As we navigate the days ahead, we are encouraged to follow the best practices of public health officials, joining the inaugural festivities from home, while participating in new and innovative ways. In a nation as divided as an overbaked pumpkin pie with a crack down the middle, we know several things about pie that perhaps our forefathers knew all along, too: It brings us to the table and encourages us to listen between forkfuls, innately inviting us to share. So maybe the best we can do this week is to honor the transfer of power in a pie-ful way, by rolling up our sleeves and baking up a storm.