Recipes
My Father's French Onion Soup
Postwar France had a lifelong effect on my father—both as an artist and a cook.
Serves

serves 6

Cook

4 hours 50 minutes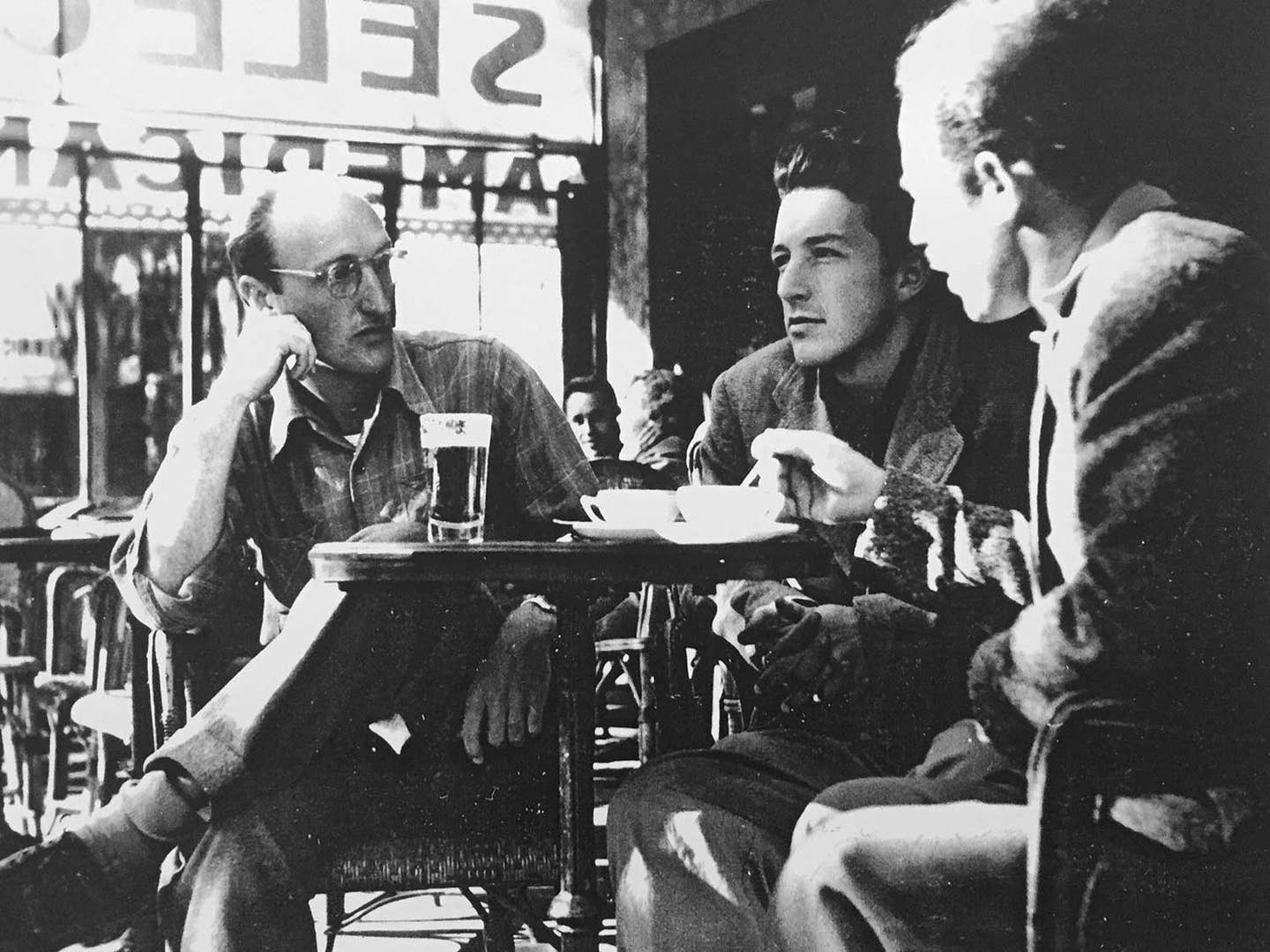 My father gave me his letters from Paris. Written with a fountain pen on onionskin stationery and folded in envelopes marked Par Avion, these formative accounts were addressed to my grandmother, and mailed during the year he studied art in Montparnasse. He was 25 then, and freshly disembarked from a World War II merchant marine ship. Dad asked Nana to ship pipe tobacco and instant coffee from the States, because the French stuff was "too expensive" and "undrinkable." He spent Sundays at museums. Bought a radio instead of paying his rent. Got engaged to someone else before meeting my mother. Ate a lot of soup when dead broke.
The school my father attended, Académie de la Grand Chaumière, was anything but grand. A modest townhouse with open studios, the academy would become known for its affiliation with modernists Amedeo Modigliani, Alberto Giacometti, and Louise Bourgeois. A few doors down on the same street, his poorly heated hotel also boasted an artistic pedigree. Samuel Beckett and F. Scott Fitzgerald both lived there for a time. In 1950, Dad paid $15 a month to rent a room with a hot plate so he could cook a can of beans or heat up water for ­cocoa. He purchased paints and brushes from the noted art supplier Sennelier, on Quai Voltaire, and met his closest friends, two other young American artists, at Le Select on Boulevard Montparnasse whenever one of them had enough money to treat the others. On March 11, he wrote: "My eating out at dinnertime in the evening costs about 160 to 200 francs each night. That amounts to about 60 cents at the most. To save money, I eat lunch in my room. Lunch consists of a half loaf of huge-sized French bread (delicious too!), ham, cheese, sardines once in a while, an orange, and tea or coffee."
I dislike starving-artist tropes. As the eldest daughter of a painter who struggled to pay his debts, I know exactly how hungry you can get when the pantry is almost bare and your parents are trying to stretch to the next paycheck. There's nothing nostalgic about that. Reading through Dad's letters again now, I recognize the financial anxiety he'd later fail to hide from his children, but also a skewed sense of austerity that strikes me as dated and darkly funny. "I don't know what gave you the idea that I was wining and dining on any exorbitant levels," my father wrote home on September 14, 1950. "I don't even order a cheese or dessert anymore when I go out to eat. A bowl of soup, meat, and a vegetable is about all."
A favorite was soupe à l'oignon.
Onion soups have been slurped since the Roman ­Empire but were disparaged as peasant fare until the 14th century, when sautéed onions in pease broth appeared in Le Viandier de Taillevent, one of the first haute cuisine recipe collections in Europe. Next, potage l'oignon was recorded in François Pierre La ­Varenne's Le ­Cuisinier Francois (1651). By 1873, the year Alexandre Dumas published his Grande Dictionnaire de Cuisine, onion soup had become fit for royalty. Dumas paired his recipe for soupe à l'oignon à la Stanislas with a backstory: Apparently, the deposed King of Poland, and father-­in-law of Louis XV, so enjoyed a version served at La Pomme d'Or in Châlons-en-Champagne that he descended to the kitchen in his bathrobe, where "neither the smoke nor the smell of the onion that drew copious tears could distract…until he was certain of the art of making a great onion soup."
These precursors do not include the rich broth or molten cheese we now associate with French onion soup, or gratinée des Halles. That style first gained popularity during the late 19th century in the brasseries and at soup stalls catering to the hungry workmen and hungover artists who rubbed shoulders before first light outside the markets that inspired Émile Zola's 1873 novel Le Ventre de Paris ("The Belly of Paris"). The broth was vegetable, chicken, or beef; the preferred cheese, Comté. A flourish of Cognac or wine might be added at the end. It remained de rigueur to visit these soup stalls at dawn at the time my father wrote about filling up on the deeply satisfying dish for a few pennies after attending artist balls in Montmartre.
Years later, Dad made his own version for us based on the bowls he relished in Paris. Marrowbones from a butcher darkened his broth. For that boozy nuance, he favored sherry over pricier Cognac. He was particular to Vidalia onions, however, and would knot them in my mother's old pantyhose to hang in our cold cellar until soup season. "A true Frenchman gets up in the morning and fries a pan of onions," he told us. "And only then decides what to cook for the day." My father could often be coldly distant, but never in the kitchen, and on the occasions when he cooked, conveyed a passion and rigor that was otherwise reserved for his brushes and canvases. Plunging a spoon through gooey layers of cheese and bread and beef stock to a bedrock of caramelized onions was more than an act of nourishment for this child. It was an early lesson in the alchemical powers of rudimentary ingredients, one I would carry with me and practice after leaving home to pursue my own creative work and needed to feed myself on the cheap.
Studying my father's letters helps me peel back the emotional layers of a man who was often undemonstrative to his children. (That doesn't mean he didn't love us. He only stank at expressing it.) And it makes me miss the parent whose paintings would eventually hang in museums and galleries on both sides of the Atlantic. When my dad bought passage and sailed for home, so long ago, he brought back a wool beret, a crate of sketches, a bottle of perfume for my grandmother, and a hungry man's appreciation for a hot meal. From my father, I inherited an abiding commitment to the arts and that artful recipe for a great onion soup.
Ingredients
For the stock
3 large beef marrowbones (4½ lb.)
2 large carrots (12 oz.)
2 medium celery stalks (3 oz.)
1 large yellow onion (14½ oz.), unpeeled, halved
2 garlic cloves, unpeeled, smashed
2 small dried hot chiles, such as bird, arbol, or Kashmiri (optional)
1 small bunch Italian parsley
1 small bunch fresh thyme
2 bay leaves
1 Tbsp. black peppercorns
1 Tbsp. kosher salt
For the soup
10 Tbsp. unsalted butter, divided
4 large yellow onions (33/4 lb.), peeled, halved lengthwise, and sliced ½-inch-thick (11 cups)
1 tsp. sugar (optional)
Kosher salt and freshly ground black pepper
1 fresh baguette, cut into twelve ½-inch slices
2 garlic cloves, peeled and halved
6 cups coarsely grated Gruyère cheese
2 cups coarsely grated Parmesan cheese
1 cup dry white wine
¼ cup dry sherry
Instructions
Step 1
Make the stock: Preheat an oven to 400° F. Line a large rimmed baking sheet with aluminum foil, place the bones on it, transfer to the oven, and roast until the bones are sizzling and browned and most of the fat has rendered, about 1 hour.
Step 2
In a large stockpot, add the bones (reserving the pan drippings) and the rest of the stock ingredients. Cover with 1 gallon cold water, then place over high heat and bring to a boil. Skim and discard any foam that forms on the surface, then lower the heat to maintain a strong simmer. Cook, uncovered, until the liquid has reduced by half, about 2½ hours.
Step 3
Remove the stock from heat and set aside to cool slightly. Line a large mesh strainer with cheesecloth and place it over a large heatproof bowl. Strain the stock, discarding the solids, and let it rest for 10 minutes. Skim and discard any grease that collects on the surface. Measure 8 cups of the stock; reserve any extra for another use.
Step 4
Make the soup: In a large pot or deep skillet over medium heat, add 8 tablespoons butter and 2 Tbsp. of the reserved beef drippings. When the foam begins to subside, add onions and sugar (if using), and season lightly with salt and black pepper. Cook, stirring frequently, until the onions have entirely wilted (8–10 minutes), then lower the heat to medium-low and cook, stirring frequently, until they turn soft and golden brown but have not yet completely broken down, 60–70 minutes. Turn off the heat, then cover to keep the onions warm as you finish the soup.
Step 5
Spread the remaining butter on both sides of the baguette slices. In a heavy skillet over medium-high heat, toast the bread on both sides until crispy and browned, 8–10 minutes. Rub each slice all over with the cut side of a garlic clove, then set the toast aside.
Step 6
In a large bowl, combine the cheeses and set aside.
Step 7
Preheat the broiler and place an oven rack directly below it. Meanwhile, wash out the stockpot and return it to medium-high heat. Add the reserved 8 cups beef stock, bring to a boil, then add the white wine and sherry. Lower the heat to maintain a simmer, and cook just until you can no longer smell the alcohol, 5–7 minutes. Season to taste with additional salt and black pepper.
Step 8
Line a large rimmed baking sheet with aluminum foil, and place 6 ovenproof soup bowls on it. Divide the onions between the bowls (about ⅓ cup in each), then ladle the hot broth into each bowl to cover the onions. Cover each bowl with two slices of toast, then pile them generously with the reserved cheese. Carefully transfer the bowls to the broiler and cook until the cheese is melted, bubbly, and browned in places, 5–10 minutes. Serve immediately.