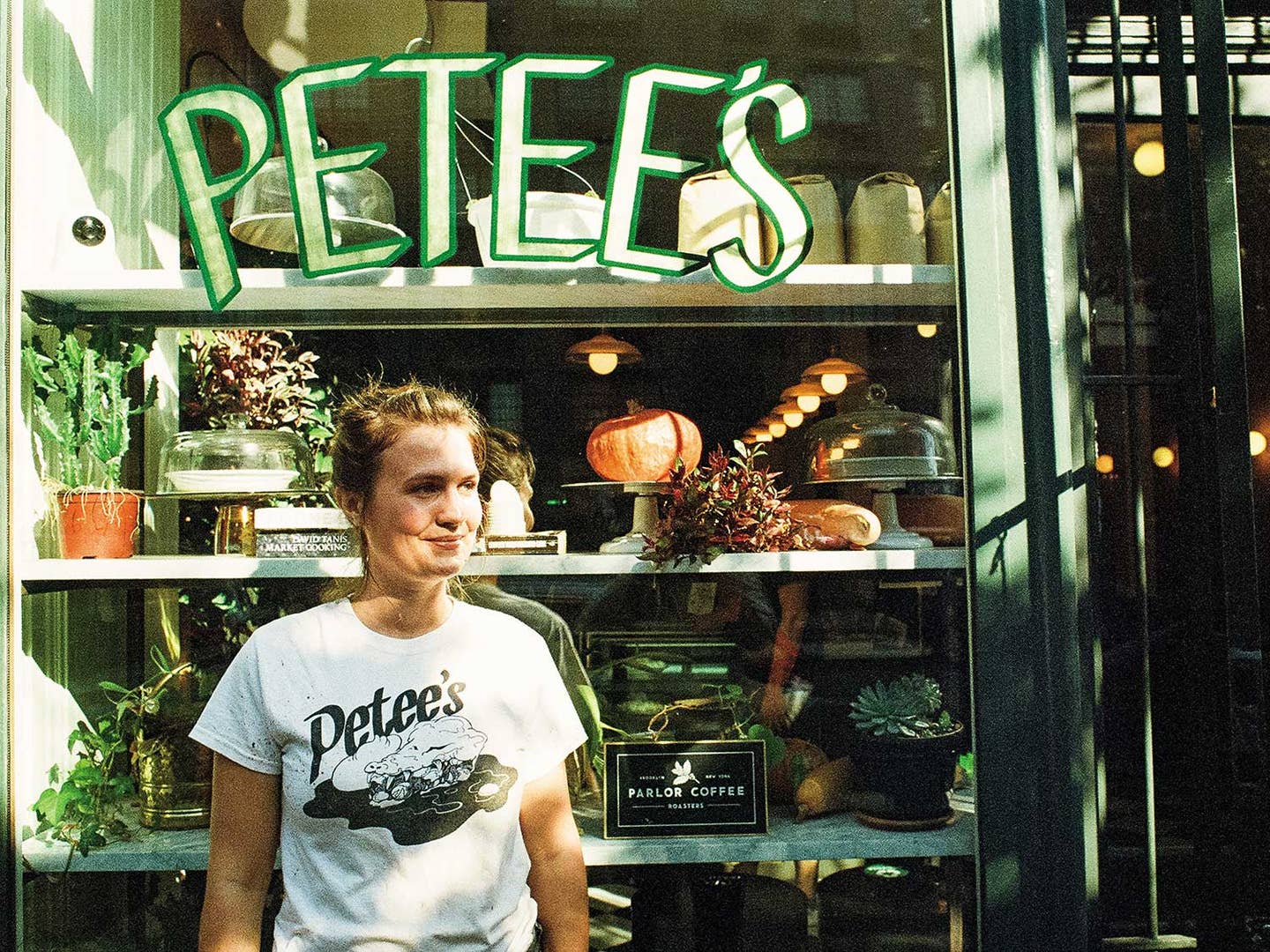 Culture
Pie for Everyone
A penchant for pies creates a slice of community in New York's Lower East Side
All for pie and pie for everyone! You can absolutely judge this book—Pie for Everyone: Recipes and Stories from Petee's Pie, New York's Best Pie Shop—by its cover. Gossamer meringues, silky custards, and buttery lattices vie for attention. Straight-up, dolloped with cream, or à la mode, these slices tempt. Petra Paredez has penned a book for enthusiasts of pies both sweet and savory, bakers both casual and comfortable, and anyone else who may be pie-curious. The book educates and inspires, providing detailed tutorials and twists on familiar classics. It also encourages its readers to think about pie's culinary history.
Pies are practically baked into Paredez's DNA. Growing up in her family's pie business, the Virginia-based Mom's Apple Pie Company, her parents instilled in her a passion for local, organic, and quality ingredients. It's this same sensibility that makes Paredez a gracious and generous storyteller who acknowledges the labor-intensive process of pie baking while expressing gratitude for all those who contribute to that process. As the co-owner and head baker of her eponymous New York pie shop, Petee's—considered by many to be one of the city's finest—she has developed a particular soft spot for New Yorkers who are more inclined to embrace taste and quality of ingredients over fads and gimmicks. With a nod to agriculture, farmers, her dedicated staff, and loyal customers, the pages reflect the author's devotion and work ethic.
Our recent conversation provided an opportunity to discuss the changing face of pie.
EG: You mention in the introduction, "Making pie is an inherently generous act, because pie is a dish meant to be shared." Why do you think we've gained an even deeper appreciation for pie?
PP: I think that in these times, the communal nature of being able to share something that was made for a group, when we can't be with all of our loved ones, feels extra special. The way we use our time is a bit different, and we're all a little more homebound. We want to use our time in ways that are meaningful to us. Making something to share with somebody is very meaningful.
EG: How were you able to step away from the day-to-day running of the bakery and write the book?
PP: We have some amazingly talented people that work with us. Our photographer [Victor Garzon] once worked for us as a barista. The reason the photography looks so natural and real is because it is natural and real. It was shot mostly in daylight. Most of it was not styled; I traveled to upstate New York to visit friends, tested [the pies] by baking in [their] home ovens, and then we shot up there. So it sort of happened in a very organic way over a year or so. I thought that my husband, [Robert] and I would be co-writing it [laughs]. But he stayed super busy with the day-to-day operations of the business. Maybe he just secretly knew that I could do it.
EG: Was there anything that surprised you when you saw the completed work?
PP: The beginning of the book, where it's more writing heavy, is what I'm most proud of. It's what sort of taught me that I had a reason to write a cookbook. When you spend so much of your life surrounded by this one thing, this one culinary object, you want to make meaning out of it; you want to connect your personal history to its vaster history. And that's what I did in the course of making the book.
EG: When I mention your shop, the usual response is, "I love Petee's! Have you had the Salty Chocolate Chess Pie?" It's legendary.
PP: A lot of people who are Petee's fans—our regulars—when they get this book, that pie is the one. My dad made a chocolate chess pie when I was little. I adapted his recipe to make it a little less sweet, and I added a little saltiness because salt and chocolate just go really nicely together. It was one of four or five flavors that we started with before we opened our shop. Robert and I were working overnight shifts and then selling pies at the Hester Street Fair the next day. It was something that made "real" the wonderful adventure of a New York palate because people would say, "Oh, I'll have the salty chocolate chess," and then they would buy it and then say, "Okay—what is it?" It just looked good, and they wanted to try it. And then they would want the education after.
EG: As a mother you're not supposed to have a favorite child, but as a baker, do you have a favorite pie?
PP: It might be the coconut custard because it's something that I can enjoy, really, at any time of year. It's such a comfort food, and it ties together these different parts of my life. When I was little, my step-grandmother took care of me a lot, and we enjoyed so many coconuts together. My dad made a coconut-chocolate chess pie, and I loved it. And [coconut custard] was one of the first pie flavors I offered at Hester Street Fair. It's just a flavor I come back to again and again.
EG: Are there any holiday traditions or flavors that you hold dear?
PP: There are two things that are special this time of year and that I keep around for sentimental reasons. One of them is mince pie. I use spiced brown butter instead of suet or vegetarian suet. When we had Christmas with my mom and her dad, that pie was always on the table. As a kid, the flavors of mince pie are too intense, but I acquired the taste for it, and now those flavors really hit the spot in wintertime. The other is julekake, a Norwegian Christmas bread. My maternal grandmother's side of the family is Norwegian, and my great aunt gave me a recipe when I was in the sixth grade. It's really delicious and sometimes I just slice and toast it; or sometimes I soak julekake cubes in our custard pie filling and turn it into a bread pudding. It's so, so good.
EG: In the book, you suggest that, despite living in a "highly visual age," we should concern ourselves most importantly with how a pie tastes. You go on to say, "flavor and texture will trump presentation and innovation every time." What do you mean by that?
PP: If you don't have a really excellent buttery crust and you don't have balanced fillings, it doesn't matter what sort of interesting flavor combinations or decorative aspects you're using. I am always going to value a pie that tastes and feels great, that has a great texture and great flavor. Those are the values that I hold higher than the others. Even if it doesn't look perfect, it can still look delicious.
This interview has been edited and condensed for clarity.