This Forgotten Cult Dessert is Still a New York Signature
Decadent and labor-intensive, the Nesselrode pie is worth the effort, says Petra Paredez of Petee's Pie Company.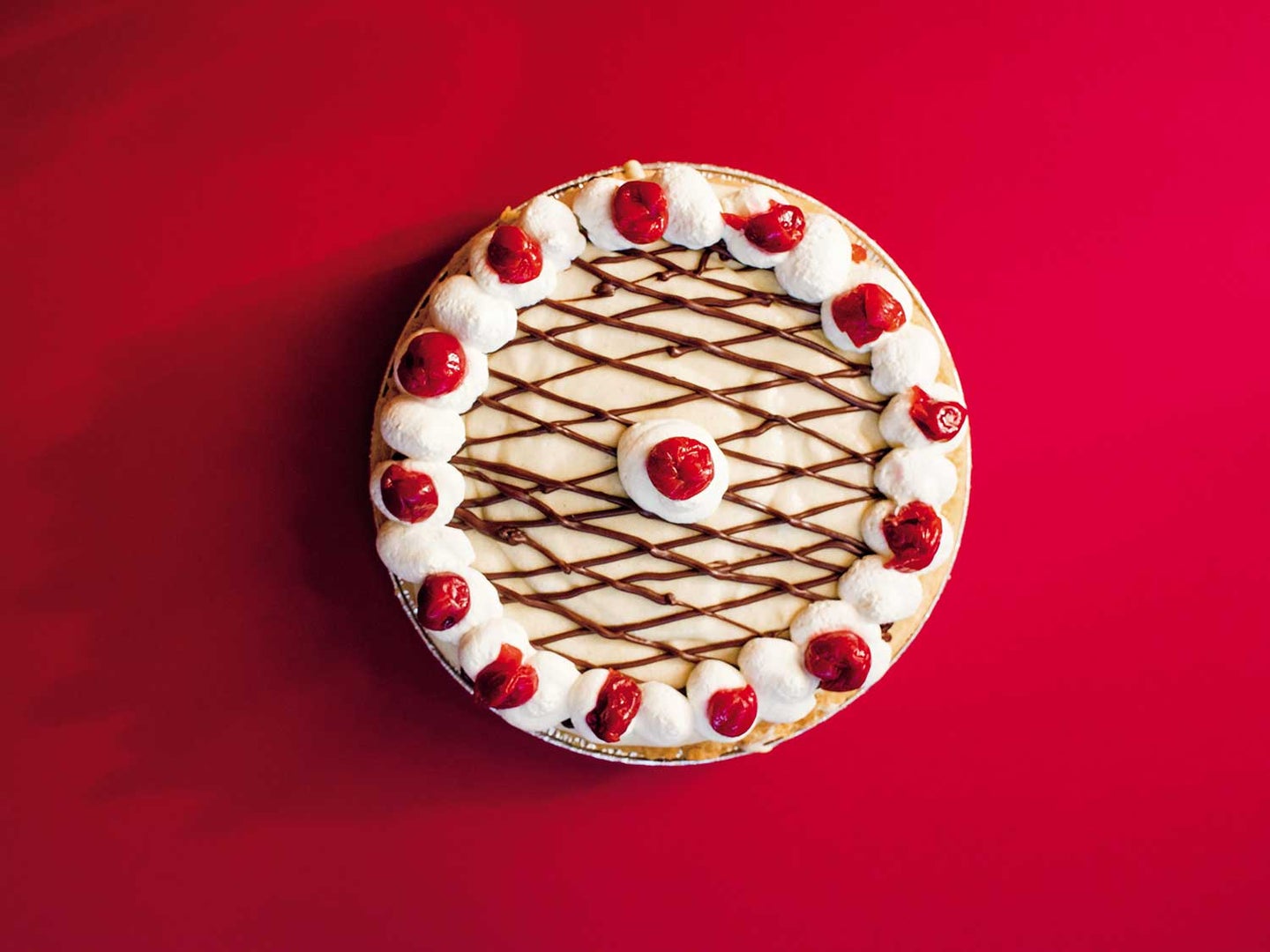 The annals of America's antique and nearly forgotten desserts runs deep. Sugar cream pie in Indiana. French cream pie in California. And in New York, Nesselrode pie—made with chestnuts, booze, and fruit.
Robert and Petra Paredez, the husband-wife duo behind Petee's Pie Company on the Lower East Side, are as much into history as they are dessert, and the couple's long hours of research through New York Times and New York Public Library archives sometimes leads to the uncovering of historical New York pies, for which the recipes have been long left underground. "The Nesselrode is (or was) a New York signature. It was a pie that you basically only found here in the 40′s through the 60′s," Petra Paredez tells SAVEUR. "It represents an old fashioned way of dessert-making that you don't see very much these days—decadent and labor-intensive."
Petra says other types of pies have long been prevalent in New York, like coconut custard and banana cream, both of which the shop also offers, but the Nesselrode has a more mysterious and nuanced history. The original creator of the pie was a woman named Hortense Spier, who owned a brownstone restaurant in New York's Upper West Side during the 30s and 40s. Her pie was a spin on a loosely-defined category of frozen puddings called Nesselrode desserts, after the Russian diplomat Count Karl Nesselrode, which were hugely popular during the Victorian era. Spier's version was made fluffier with gelatin, which appealed to the palate of the 1950s, but it retained the basic components of the historical Nesselrode treats: chestnuts (puréed or marron glacé), liquor (rum or brandy) and fruit (a candied mix or cherries).
In 1946, the New York Times published a recipe for Spier's Nesselrode pie, and it was around this time that Spiers began wholesaling her pies to restaurants all over the city. In a sort of game-of-telephone effect, the recipe was reinterpreted a few times over, until it mostly disappeared from the New York dessert consciousness when Spier's wholesale business closed. It re-emerged briefly again in 1975, long after Spier's death, as a response to a desire for the nostalgic, as these things have a tendency to do, and Craig Claiborne briefly came back to it in 1983. Since then, the pie has primarily existed in the mythology of the internet, a place where food history lives on and gains new life in the hands of those who choose to reanimate it.
The Petee's Pie duo can be counted among those people. After digging around and uncovering the mysterious pie recipe in an old menu from the Waldorf Astoria, Petra set about to reinvent it: her interpretation involves roasted and puréed chestnuts in addition to candied cherries soaked in rum, which amps up the holiday flavor of the pie. The body of the pie is "créme anglaise fortified by gelatin," combined with the chestnuts and folded with meringue. For the home baker looking to recreate it at home, Paredez says you can simplify the process by buying chestnut purée and using bright-red maraschino cherries for a classic take.
Today, Paredez's new Nesselrode is a fluffy-custard-based pie with complex flavors, which Petra believes works best with the modern New York palate. "[It's] a nostalgia-bomb for people who grew up in New York in the 1950's, and it's been a lot of fun to revive it for that reason alone," she says.
An unfamiliar pie for most, the Nesselrode once graced the pages of periodicals all over the big city; now, it has the potential to reach even further, across the tendrils of the far-reaching interwebs. It's a mission that Paredez is proud to undertake, despite the labor involved: "Given the pie's rich history and complex nature, it's a shame that it ever vanished, and we're thrilled to contribute to its revival."
This piece originally ran in November 2016.