10 Things We Learned from the Season's Best Books
There's more than one way to make a roux—and more.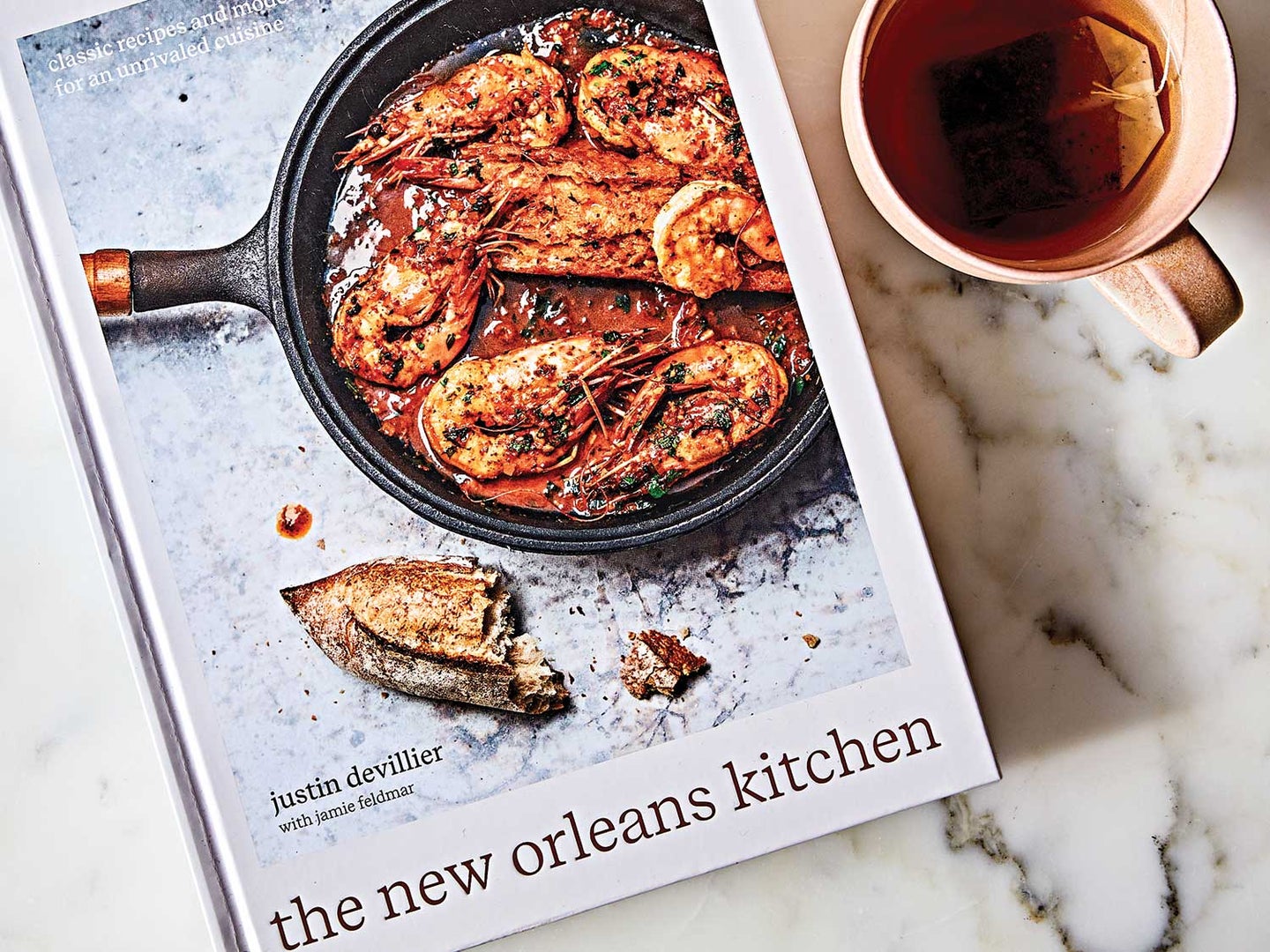 We may earn revenue from the products available on this page and participate in affiliate programs.
1. There's more than one way to make a roux
It may seem that fat, flour, and some patient stirring are all that go into this building block of Louisiana cooking. But Justin Devillier, chef-owner of Maga­zine Street's La Petit Grocery, gives no fewer than three methods in The New Orleans Kitchen. Devillier cooks clarified butter and flour for 10 to 12 minutes to create a blond roux for soups and chowders. His brown roux—the ideal étouffée base—relies on peanut oil instead of butter, and a cooking time of 15 to 20 minutes. He leaves that mixture on the heat about 10 minutes longer to yield the dark roux gumbo requires. "No one else in the world uses dark roux," Devillier says. "Mastering its technique is the mark of a true Louisiana cook."
2. Playing with your food can be an art form
A few years back, Esther Choi, who holds a Ph.D. in architecture from Princeton and writes for brainy publications like Artforum, began hosting a series of dinner parties themed around revered artists and designers. She shares the punny results in Le Corbuffet, "conceptual art in the form of a cookbook," a compendium of recipes so ­absurd, they're profound.
3. Kung Pao chicken is not an American Chinese-takeout invention…
…though it's more accurately Romanized as "Gong Bao." As Fuchsia Dunlop explains in The Food of Sichuan (a refresh of 2003's Land of Plenty), the dish was named for 19th-century Sichuan governor Ding Baozhen—an association toxic enough to require rebranding during the Cultural Revolution. Whatever you call it, Dunlop's recipe on page 182 of the book is a killer just-add-chicken weeknight move once you have a few regional staples on hand.
4. Where hush puppies come from
Toni Tipton-Martin studied hundreds of cookbooks by African-American ­authors to write 2015's The Jemima Code, which pushed back against the stereotype of the untrained black cook. For her follow-up, ­Jubilee, Tipton-­Martin has turned all that research into recipes, and her knowledge leaps off the page (read our recent interview with Tipton-Martin here.) Before telling readers how to make Nigerian fritters called akara, for example, she cites a group of 1970s-era authors who ­explored the connections between West African and African-­American cuisine—and their suggestion that the deep-fried black-eyed-pea balls gave rise to cornmeal-based hush puppies.
5. These are the elements of a superlative Japanese pantry
Among the foremost English-language experts on Japanese cuisine—and a Saveur contributor—­Nancy Singleton Hachisu has established deep, long-standing relationships with chefs, growers, and craftspeople throughout her adopted country. In Food Artisans of Japan, she profiles her culinary heroes and shares their exactingly authentic recipes. It won't take much reading for you to realize your mass-market soy sauce will no longer cut it. Good thing, then, that Hachisu's picks for miso, mirin, and more are now available stateside.
Read More: How To Stock a Japanese Pantry
6. Four ingredients add up to a fancy cocktail snack
The San Francisco bakery Tartine notoriously published a 38-page sourdough recipe in one cookbook. But while Tartine, a much-expanded reissue of the 2006 classic, has some tricky bits, there are also easier moves, like these maple-glazed pecans. Simply mix the top three ingredients above, coat the pecans, add a pinch of salt, and bake at 400° for 4 to 6 minutes.
7. How to butterfly a fish
In his authoritative Whole Fish Cookbook, Sydney chef Josh Niland, who opened Australia's first sustainable fish market in 2018, lets these pictures do the talking.
8. It's time to get to know Lebanese vino
Each edition of The World Atlas of Wine, by Hugh Johnson and Jancis Robinson, includes new maps—they're a leading indicator of which areas might become the next big thing. Added to the 8th edition are maps of the trendy, high-elevation Italian region of Alto Piemonte; Colorado's frigid riesling country; and the entire country of Lebanon. The Middle Eastern nation is best known for the culty, long-aged, Bordeaux-inspired reds from Chateau Musar, but there's more to explore, like white wines made using the obscure grapes obiedeh and merweh, and Ixsir, an impressive, eco-friendly winery in the Batroun district.
9. Rich people can afford to eat less
For Eat Joy, Natalie Eve Garrett assembled a murderer's row of 31 writers—including Claire Messud, Anthony Doerr, and Chimamanda Ngozi Adiche—who contributed short memoirs that explore the meaning of comfort food. Alexander Chee, author of 2018's How to Write an Autobiographical Novel, ruminated on a competitive cleanse with his brother—five days of eating only what most folks would consider "discomfort" food:
You should do that cleanse, my brother says. We're sitting in a raw foods store, in the alcove they provide for people to eat their extraordinarily priced delicious raw vegan snacks. It's hard for me not to see it all as vegetarianism for rich people, because, well, I am not a rich person, but my brother is now. I feel something like a class obligation lingering for me to pick up on, as I turn the mysterious packages over and read the ingredients: Irish sea moss, Himalayan sea salt, organic figs.
The world, shaken out or down, for a smoothie.
10. For this cake, tahini puts Pam to shame
To get a clean release for tricky toppings like sesame seeds, Great British Baking Show alumna Benjamina Ebuehi suggests greasing the pan with tahini when making her almost-savory golden turmeric cake. You'll find the recipe on page 58 of Ebuehi's The New Way to Cake or here on Saveur.