All Hail Cincinnati, The Queen City
Where to eat, drink, and hang, according to the Saveur team.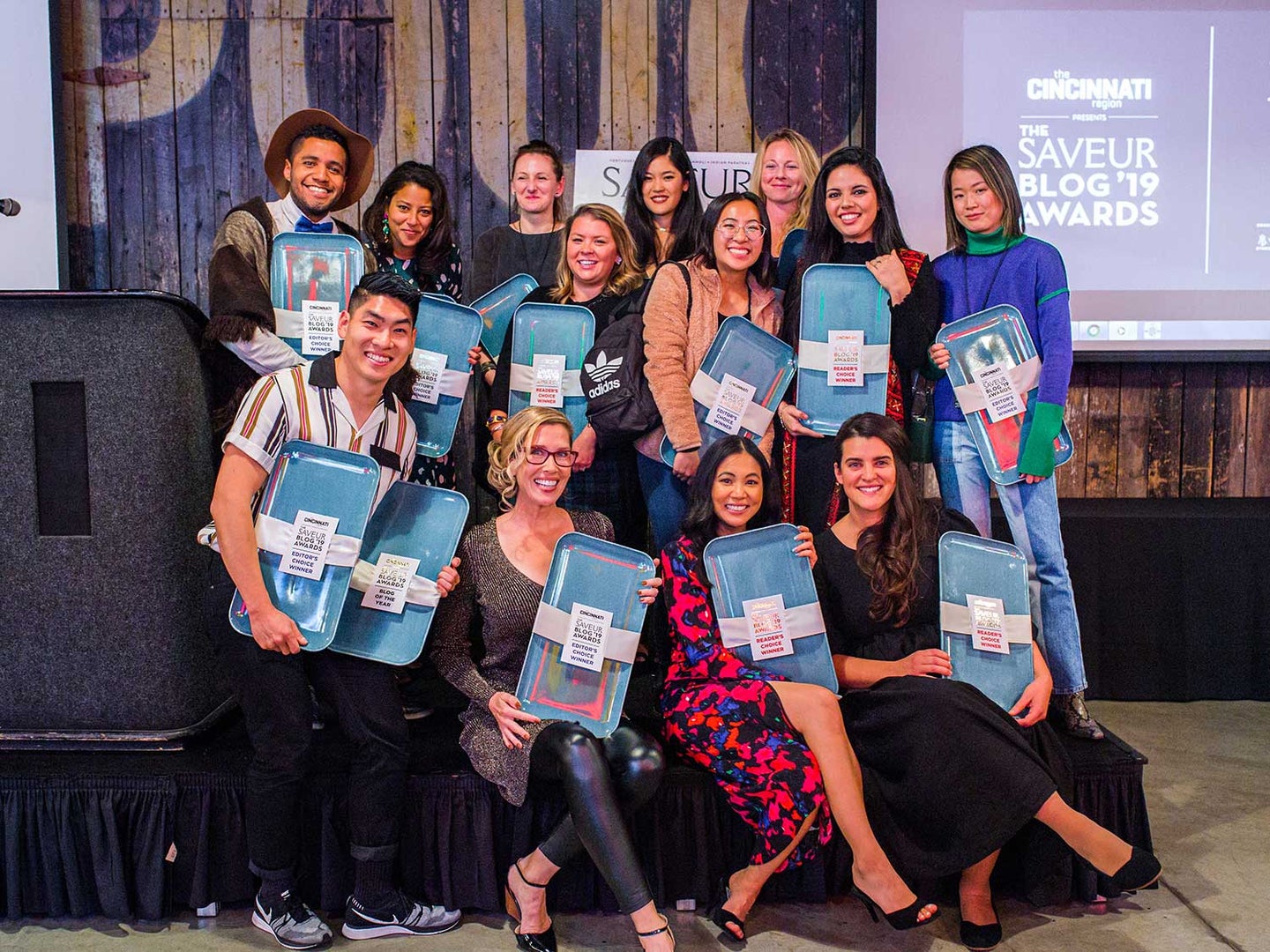 This past fall, the SAVEUR editorial team decamped to Cincinnati, Ohio, for our 10th annual SAVEUR Blog Awards, hosted in conjunction with Source Cincinnati, the region's national social and media relations initiative. We—and nominees from across the US, as well as Belgium and India—spent three jam-packed days eating, drinking, and finding reasons to return. Here are a few that top our list:
Renowned restaurateurs are setting up shop here. James Beard-nominated chef Jose Salazar, who got his start in the Manhattan kitchens of Jean-Georges Vongerichten and Thomas Keller, opened Salazar Restaurant & Bar in 2013. ( Order the Ōra king salmon with an "everything" crust and cream cheese dumplings.) He's since expanded his empire with the more casual Goose & Elder and the tapas joint Mita's. Cincinnati natives and brothers Tony and Austen Ferrari returned home from San Francisco Bay Area to launch Mom 'n 'em Coffee (which also offers wine and cheese) and Fausto, a restaurant in the Cincinnati Contemporary Arts Center that serves up locally-sourced meats, seasonal vegetable dishes, and handmade pastas. Husband-and-wife team Bridget and Jeremy Lieb logged time in Las Vegas restaurant kitchens before establishing the Sacred Beast Diner in 2018; in their hands, simple fare—burgers and omelettes—becomes sublime. Lastly, Christian Gill may hail from just across the river in Lexington, Kentucky, but the charismatic chef has gained a national following through multiple appearances on the Food Network. Let's just say Saveur's staff waddled out of Gill's Boomtown Biscuits and Whiskey.
You can also kick it old-school. We fell in love with the red-and white-checkered-tablecloth ambiance and killer red sauce at the century-old institution Scotti's Italian Restaurant. And it wouldn't be a visit to Cincy without a stop at Skyline Chili for the city's signature chili, served over spaghetti noodles and topped with heaps of shredded cheddar. Don't twirl the pasta; here, they cut it.
Or eat the world in a single stop. Findlay Market, founded in 1855, is home to more than 120 different food vendors. Hit Taste of Belgium for waffles; The Arepa Place for, well, the obvious; Pho Lang Thang for Vietnamese soups; and Eckerlin Meats for goetta ("get-uh"), a local breakfast sausage with German roots.
The city's libation game is strong. At JAPP'S, a quirky, cozy bar housed in a hundred-year-old venue (and named for the hair salon that once occupied the space), you'll find Cincinnati's resident cocktail connoisseur Molly Wellmann dispensing charm and stories alongside drinks crafted from historic recipes. The Revel OTR Urban Winery has a small selection of wines made in-house, while Taft's Ale House offers its own beer on tap in a swanky 19th-century church. Soaring ceilings, red leather couches, and a rustic warehouse vibe make The Skeleton Root winery a great spot to sample wines made on-site from local varieties such as the heritage Catawba and Isabella grapes. The 25,000 square foot Rhinegeist Brewery is just around the corner, with unique offerings—a Scotch ale aged in bourbon barrels, the Swizzle lemongrass and ginger cider—at the rooftop bar and in the taproom.
The sights are eclectic. Take the underground tour of hidden crypts in the Over-the-Rhine neighborhood, where some of the city's oldest residents are interred. At the American Sign Museum, you'll find everything from century-old goldleaf-adorned placards to a giant neon Holiday Inn marquis. With the arrival of the uber-cool 21c Museum Hotel in 2012, it seemed the city itself had arrived. See a constantly-changing display of original artworks at this chain founded by Brown-Forman heiress Laura Lee Brown and her husband, Steve Wilson.
At Maker's Mark Distillery in nearby Loretto, Kentucky, distillery diplomat Thomas Bolton explained the bourbon-making process to our group. The mash is fermented in 9,500-gallon antique cypress tanks, and moved to copper stills for distillation.
Kentucky's only a five-minute drive away. Cross the bridge over the Ohio River and you're in the bluegrass state. Adjacent Newport, Kentucky, is home to New Riff Distilling, a modern, multi-level space that offers an up-close look at the process from grain to barrel. Got more time? Start in Bardstown, Kentucky, a little over two hours from Cincinnati, for a historic look at Kentucky bourbon country and to tour nearby distilleries.