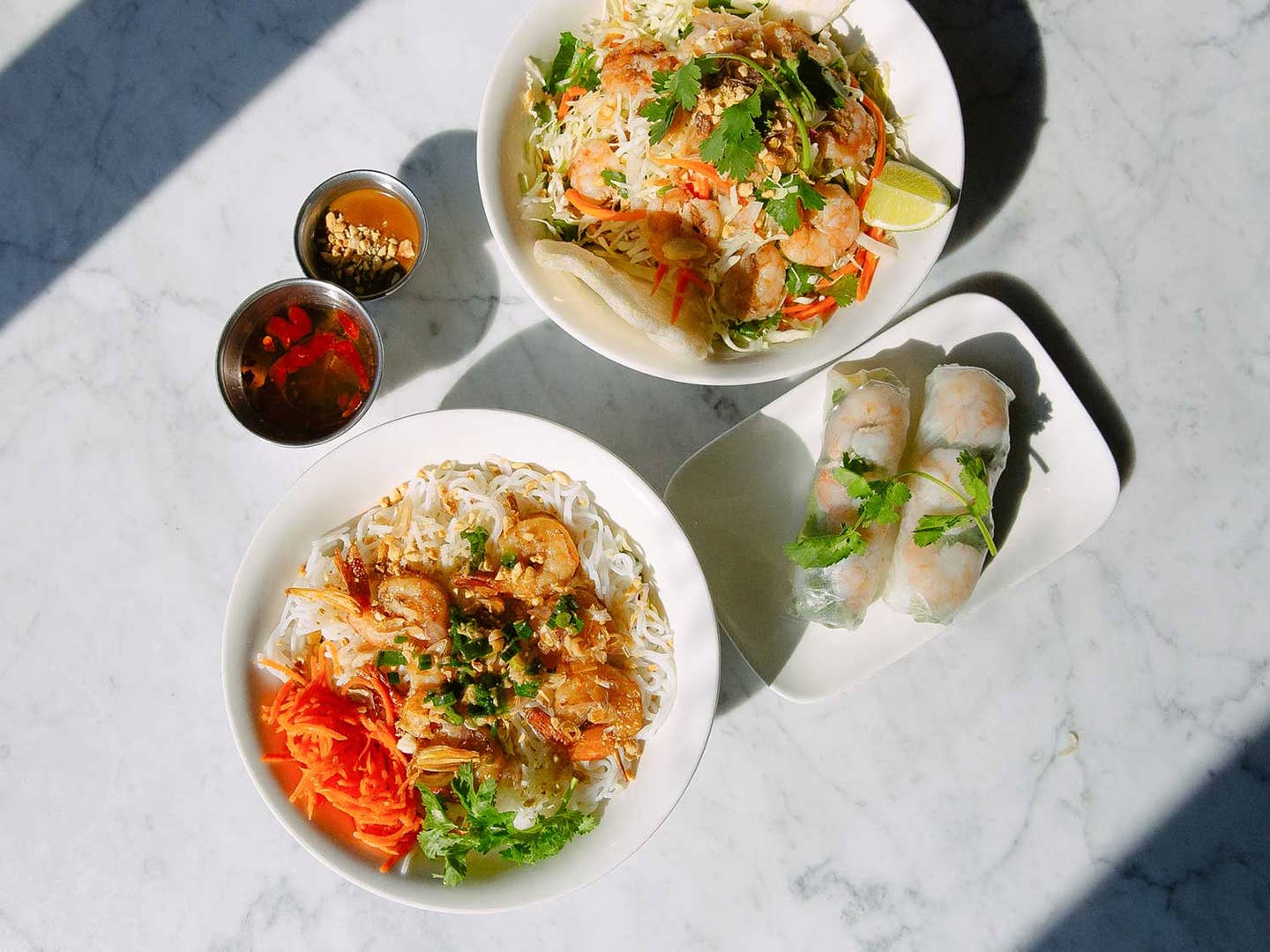 Travel
Where to Eat Vietnamese Food in New Orleans
Vietnamese cuisine is more embedded in the city's culinary DNA than ever before. Here are six restaurants worth seeking out
New Orleans plays host to an incredible spectrum of Vietnamese food, from staples like Dong Phuong, to the decades-old tradition of Vietnamese "po' boys," to the crispy pig knuckles with chile and lime at chef Marcus Jacobs's Marjie's Grill. All over the city, locals and visitors alike can trace how Vietnamese flavors have become an integral part of what is considered "New Orleans cuisine." "There's a serious appreciation of Vietnamese food among the people of New Orleans," says Liz Williams, the founder of the Southern Food and Beverage Museum. "And food is the gateway to culture." Not only has the proliferation of Vietnamese flavors become a powerful means of visibility for the vibrant Vietnamese community, but it has also turned New Orleans, a city that's already associated with so many iconic local foods, into a destination for Vietnamese cuisine. Here are six Vietnamese and Vietnamese-inspired restaurants that have woven themselves into the city's culinary fabric—and are worth the trip to New Orleans.
Dong Phuong is known for its bakery, which supplies banh mi shops all over the city with its excellent crusty loaves. It's also attached to a restaurant of the same name that serves minimal, traditional iterations of Vietnamese dishes. While the dining room boasts backlit aquariums and gilded wood paneling, the real draw is the banh mi counter.
For less than $5, you can get a perfectly balanced, made-to-order banh mi filled with French cold cuts, BBQ chicken, or even a shrimp patty. A longtime New Orleans institution, Dong Phuong was honored with a James Beard "America's Classic" Award last year.
The family-run Pho Tau Bay has been serving some of the best phở in New Orleans since the 1980s, when owner Tuyet Tacacs emigrated from Vietnam with her G.I. husband Karl. The restaurant was named after a chain of soup shops in Saigon that Tuyet's father Vu Van Y ran in the 1960s and '70s and lost during the Vietnam War. In addition to faithfully recreating Vu's phở recipe, Pho Tau Bay listed banh mi on its menus as "Vietnamese po' boys," to help familiarize New Orleanians with the concept. "[In Vietnam,] banh mi was always just a simple item that you could pick up at a food cart," explains Tuyet and Karl's son, Karl Takacs Jr. "When we made them, a lot of people didn't know what banh mi was, so we made a comparison. It's like a po' boy." The restaurant also serves traditional dishes including gỏi cuốn (summer rolls) and cabbage salad, but makes a point to use local ingredients like Gulf shrimp. "I think it's important to use the local products," says Karl. "I personally like the products better, and it's good to be in community with the local fishermen."
Located in the largely-Vietnamese neighborhood of Village de l'Est, Hoàng Gia is a karaoke joint that serves great Vietnamese food. The kitchen is helmed by Bac Sau, a Vietnamese refugee in her late seventies who came to the U.S. in 1989. While she and her son operate Hoàng Gia together, Sau is responsible for the restaurant's inventive Vietnamese and Louisiana mashups, including a ceviche-like dish she refers to as "sushi," in which local fish is cured in lemon juice, tossed with sesame seeds, and served alongside giant leaves of lemon verbena.
Peter Nguyen started Banh Mi Boys as a way to introduce New Orleanians to Vietnamese food beyond phở. His counter-service restaurant became a venue for experimentation with banh mi, which Nguyen wanted to meld with the New Orleans po' boys he also grew up eating. He uses hoisin like barbecue sauce in his pulled pork banh mi, dresses fried chicken with a lemongrass-infused caramel fish sauce, and even incorporates Korean bulgogi, Japanese katsu, and Chinese char siu into his sandwiches.
Chef Marcus Jacobs is well-known for his Vietnamese-inflected creations at Marjie's Grill. Salads typically showcase whole fresh herbs, a nod to how mint and basil are used in Vietnamese cuisine, and fried Southern classics are often served with Jacobs's take on nước chấm sauce. According to Jacobs, for folks who grew up in New Orleans, Vietnamese food has long been embedded into everyday eating. "The more that we continue to go down the road of cross-pollinating our cuisines, the more people can become aware of a culture's influence on regional cuisine," he says.
While the first thing you might notice about Magasin Kitchen in New Orleans's posh Central Business District is its sleek, angular decor, the food is just as impressive. New Orleans native Kim Nguyen serves variations on familiar Vietnamese fare, from spring rolls and banh mi to phở and bun.