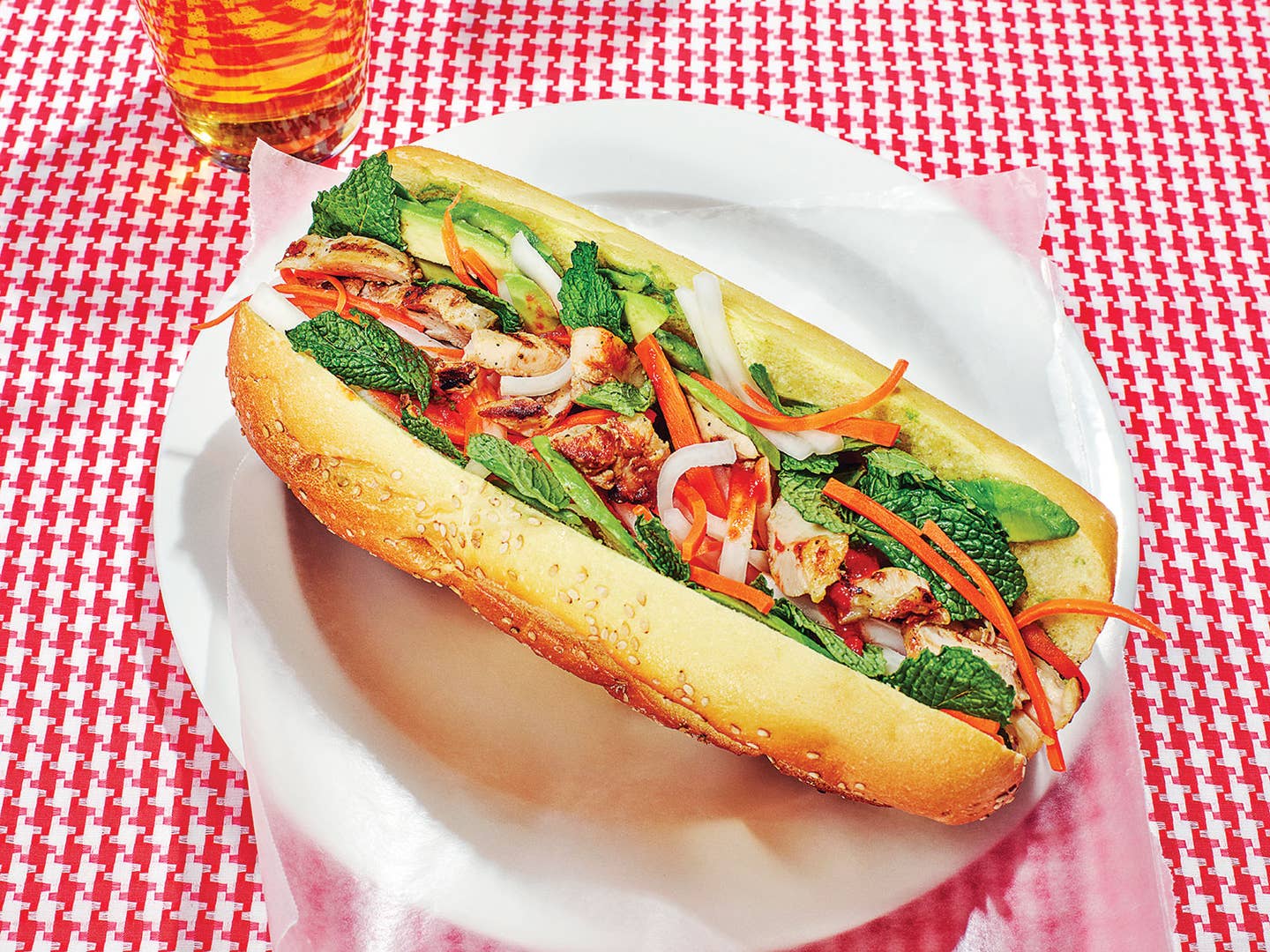 Techniques
Follow These 5 Steps to the Best Banh Mi
A foolproof formula for building this uniquely Vietnamese sandwich
People often act as if there is a holy grail of banh mi authenticity. But like a lot of Vietnamese dishes, these sandwiches are very casual and flexible, hard to mess up or interpret too loosely. You can stuff practically anything in one, which is more or less how they were invented: Good bread, butter, pâté, and Maggi Seasoning (a European umami-laden ­condiment) came to Vietnam with French colonists; porky fillings like char siu crossed the border from China; and local cooks ran with these new ingredients, adding their own vegetables and herbs to ­create something uniquely Vietnamese.
You might already know the classic dac biet (or "special") banh mi, a sandwich that originated in Saigon and is sold by many street vendors today. It features pâté, cold cuts like the mortadella-style gio lau sausage or a chewy-­tender pork shank, mayonnaise, Maggi Seasoning, some pickled carrots and daikon, cucumber, chiles, and cilantro. It's sensational, but it's far from the only sandwich that can be called banh mi.
So, what can? I came up with a loose formula for my new book, Vietnamese Food Any Day. With a combination of these five things, you're on your way to a proper one.
Banh mi actually means "bread" in Vietnamese, and that was the case long before it ever referred to a particular type of sandwich. The sandwich is a casual street food, and the bread reflects this—the shape is usually similar to a small, single-serving baguette. Finding the right loaf when making one at home is both important and easy. The best bread will be light with a thin crust, a cottony interior, and a faintly sweet flavor—a combination of traits that today are often considered characteristic of lower-quality bread, but it's exactly what you want for your banh mi. Cut a section of a softer baguette or ciabatta, or you can even try kaiser rolls. But resist the temptation to use sourdough or a crusty French bread with a firm exterior and rustic chewiness. The flavor and texture will simply compete too much with the fillings. The bread is best when served warm and slightly crisp. It should be soft, but not too soft. Use a serrated knife to slit it open horizontally, maintaining a hinge on one side. Hollow out some of the inside to make room for the fillings.
The cardinal banh mi sin is dryness. Vendors in Vietnam take inspiration from the French to avoid this: They will often generously spread mayonnaise or butter onto the two cut sides of the bread, covering the interior all the way to the edges. You can also use avocado, which is available in Vietnam, where it's known as trai bo (butter fruit). Lay down thin slices of it, then mash them a little so they better adhere to the bread.
Maggi Seasoning sauce arrived in Vietnam with the French, and its deep, meaty flavor—landing somewhere between soy sauce and Worcestershire—has become integral to banh mi's flavor. If it's not available, a dash of Bragg Liquid Aminos or soy sauce will get you close.
With the foundation set, the main filling will typically be one or two proteins. Pâté and Vietnamese cold cuts such as gio lau are classic. But grilled char sui is also wonderful and common, as is a two-egg omelet, well-seasond tofu, or even leftover roast chicken. Whatever you choose, don't overstuff the bread: A balanced banh mi resembles a salad in a sandwich, with a 1-to-1 or 1-to-2 ratio of main filling to vegetables.
Something crisp, cool, and crunchy is vital in any banh mi. Tuck in any or all of the following: daikon and carrot pickles, fresh chile slices, thick strips of cucumber, or coarsely chopped or hand-torn fresh herbs. Cilantro may be most typical, but mint and basil are also great additions.
The Wide World of Banh Mi Ingredients
The banh mi is a uniquely Vietnamese combination of ingredients from around the world. Here are some of my essentials, from classic flavor foundations to nontraditional additions.
A. Kewpie Mayo: This beloved Japanese brand, first made in 1925, tastes quite a bit different from a classic hand-whisked mayonnaise (or Hellmann's, for that matter). It's rich, with a rice-wine vinegar tang, and is flavored with spices and MSG. Don't expect to find Japanese mayo being used by a Hanoi street vendor, but it tastes great, and including it does justice to the culturally omnivorous, everything-but-the-kitchen-sink spirit of these sandwiches.
B. Chua Lua Sausage: It is entirely ­possible to find factory-made versions of this Vietnamese cold cut in an Asian market, but you'd be surprised by how easy—and how much better tasting­—it is to make your own. This simple pork sausage is flavored with fish sauce and poached in a banana leaf rather than a fussy natural casing. Folding it up is easy (no more difficult than making a burrito), and the wrapper gives the sausage a certain grassy flavor.
C. Maggi Seasoning: Swiss inventor Julius Maggi was searching for a way to improve the nutrition and flavor of mass-produced meals for the new class of industrial worker when he invented the powerfully savory Maggi Seasoning sauce in 1886. It has since become a global brand that's particularly popular in Asia and Latin America. Its exact formulation now varies around the world—some cooks will only use the version made for a certain country.
D. Fish Sauce: It's hard to overstate the importance of this pungent condiment—­most typically made from fermented anchovies—in ­Vietnamese food. Some brands are more flavorful than others: Look for Red Boat from Vietnam or Thai Megachef. It is used as a cooking ingredient in these recipes, but fish sauce is also used as a table condiment in Vietnam. It's not exactly traditional, but a dash can add a jolt of salty, savory flavor to your banh mi.