Travel
Carry-On Cocktail Kits That Upgrade Any Flight
It's never been easier to mix a mile-high drink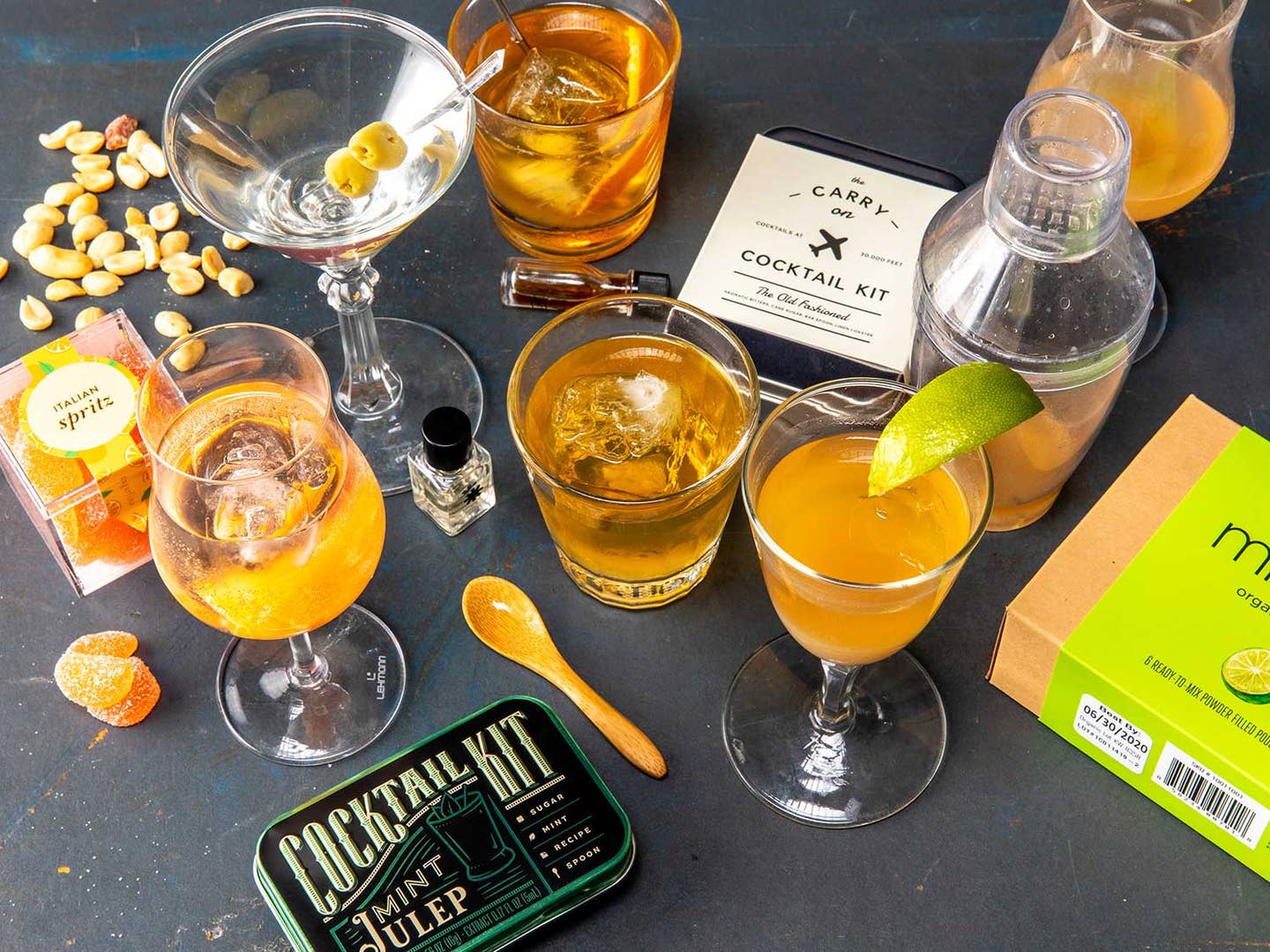 Having a sharp, flavorful cocktail at cruising altitude is no easy feat. Sure, most flights are equipped with tiny, single-serve bottles of booze, but what are the chances that members of your cabin crew are skilled at the art of mixing a drink? Or that in addition to Bourbon, the in-flight inventory includes bitters? Thankfully, there are now companies out there who have fashioned thirst-quenching solutions to this dilemma. Portable, TSA-compliant cocktail kits have emerged to provide you with all the ingredients you need to shake or stir up your favorite adult beverage—just add alcohol from the in-flight bar cart. Here, our favorites:
The Carry On Cocktail Kit
Beautifully crafted by W&P, these kits were created in collaboration with PUNCH—the digital magazine dedicated to all things drinking—to ensure that the ingredients (from the cane sugar to the citrus and spices) are of a quality high enough to appeal to staunch cocktail enthusiasts.
There are eight classic cocktail kits available, including the Old Fashioned, Hot Toddy, and Bloody Mary. Each tin contains the travel-sized tools necessary for in-flight mixology: a linen coaster (because we're classy), stainless steel jigger, and bar spoon along with the necessary mixers for two drinks. The Hot Toddy kit, for instance, comes with ginger syrup, powdered lemon juice, and cinnamon sticks.
The Cocktail Box Co offers kits to make 4 different beverages, but what we love most about them is that each container comes with flavored bitters. These potions not only lend an extra jolt of flavor, but can also help soothe a queasy stomach—a definite plus on turbulent flights. The G&T kit pairs dry tonic syrup with orange and lavender bitters (just add gin and soda water); while the Champagne Cocktail is flavored with three different types of bitters: lavender, lemon, and aromatic.
The Cocktail Box Co provides tiny tools as well, including a miniature stirring spoon that, turned upside down, functions as a muddler; each kit contains enough ingredients for at least three cocktails.
At $15, the kits from this family-owned brand are an exceptional value—each set contains enough ingredients to produce four drinks. (Particularly welcome during those long-haul flights.) Unlike the other kits mentioned here, Cocktail Kits to Go eschews minimalist design in favor of a more old-time-y aesthetic. The selection, of course, includes the Old Fashioned as well as more surprising tipples like a Dirty Martini (with olives, brine, and orange bitters) and Mint Julep (with mint extract and sugar cubes).
True to Sugarfina's sweet tooth, their kits come with something extra: gummy candy chasers. The Rosé All Day kit comes with elderflower cocktail syrup and a few rosé-flavored gummy bears, while the Italian Spritz kit comes with a box of tart orange spritz-flavored gummies and a one-ounce cocktail syrup that can be added to your in-flight glass of bubbles.
Each fuss-free kit contains six pods of an organic powdered cocktail mixer and a lightweight plastic shaker, making this bundle a bit larger than the rest, though well-worth space in your carry-on. Flavors include Cosmopolitan, Margarita, and Lemon Sour; just add booze, water (the pod doubles as a measuring cup), and ice, shake, and then use the lid as your drinking vessel.