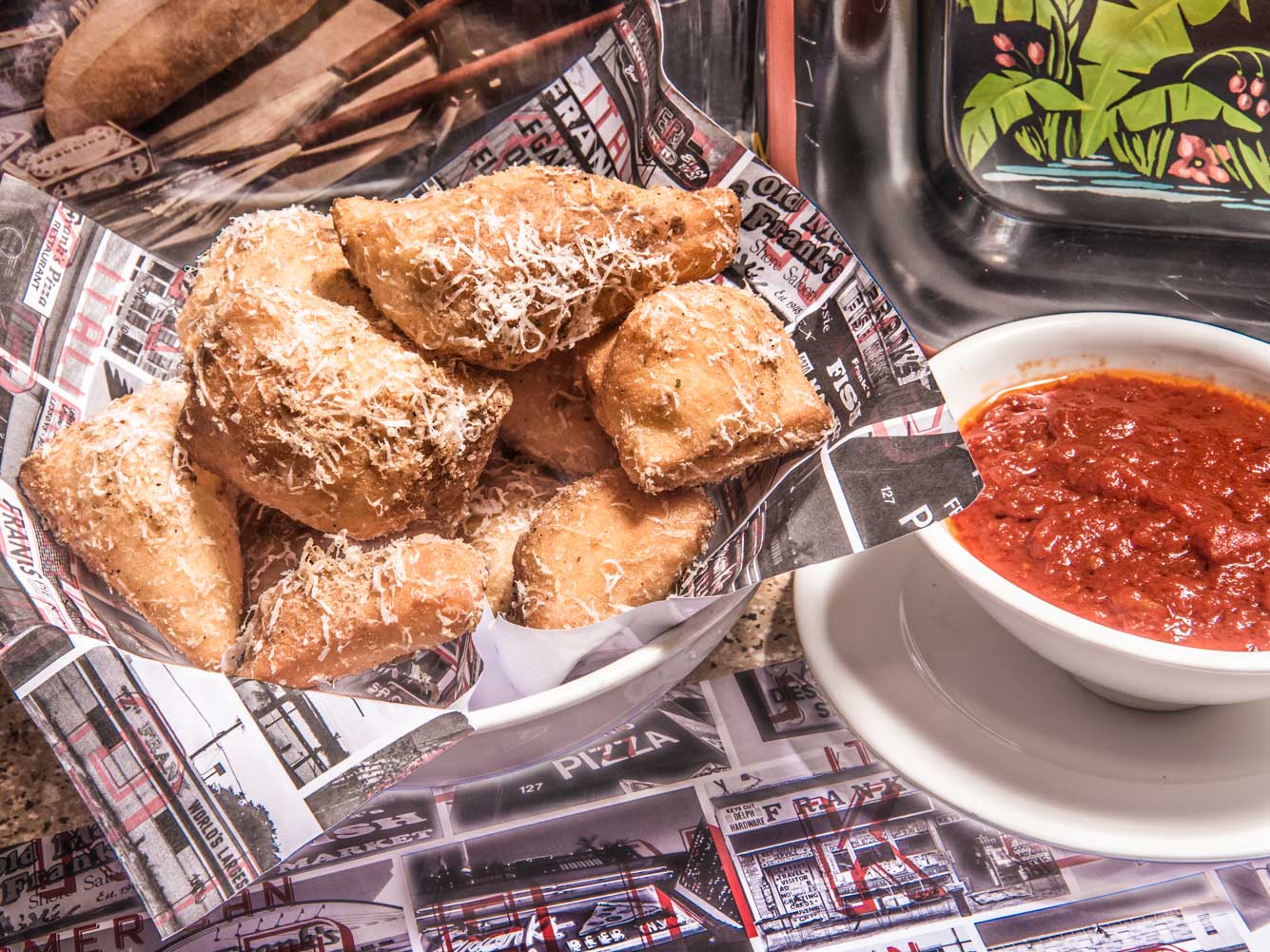 Travel
The New Jersey Chef Who's Documenting the Hong Kong Protests—and Making the City's Best Italian Food
Todd Darling splits his time between running a red-sauce empire and pointing a lens at the political conflict in his second home
Todd Darling thought his father, Rick, was messing with him when he called: "He said I had a picture in Time magazine; I said, "Why do you gotta break my balls?""
They'd had a rocky relationship back at home in Wayne, New Jersey, where Darling spent his teenage years bumming around, taking drugs, and running tables at Portobello, a red-sauce behemoth among Bergen County's banquet halls. Rick was supportive, but after his son dropped out of college and drifted, running off to Amsterdam to live with his girlfriend, then coming home to live in his childhood bedroom, Rick had had enough. "He said, 'You can stay here the rest of your life, but you have to do something,'" Darling told me last May, over a homecoming feast of chicken parm in Portobello's courtyard.
This sudden long-distance outburst of paternal pride was a shock to Darling's system. His dad had seen his photo credit on an image of the Umbrella Movement, Hong Kong's 2014 peaceful protests. Darling had taken up photography in his sobriety, but still hadn't considered its potential to further transform his life.
"When I got into photography I was depressed," Darling recalls. He had been questioning his whole adult life, including why he got into the restaurant business in the first place. Suddenly, he found in photography creativity and inspiration that bled into his restaurant work, creating a virtuous relationship between what he captured in frame and put on the plate.
That attitude has led to the steady growth of Red Sauce Hospitality, his burgeoning restaurant group in Hong Kong, while bearing witness to the continuing breakouts of political conflict in his second home have kept him in steady service to a higher purpose.
Darling's newest addition to that group is Frank's, opened earlier this year. The restaurant is named for Portobello's owner Frank Amen, a surrogate father to Darling. Amen, himself a high school dropout, hired Darling as a manager at his restaurant Francesca, in Sparta, New Jersey. Darling worked 18-hour days in front- and back-of-house, learning how to look at numbers, command servers twice his age, and communicate hospitality one guest at a time. "[Amen would say,] 'Don't be afraid to make mistakes on my money, just don't make them twice,'" recalls Darling. "That was my education."
Darling "graduated" from Francesca in 2004, when his father connected him with a family friend who owned a chain of gyms in Hong Kong and was seeking a chef to operate their first restaurant, Red—California cuisine on the roof of the IFC Center overlooking Victoria Harbour. Darling jumped at the opportunity, and five years later, formed Red Sauce Hospitality, making it his mission to reinterpret the Italian-American cuisine that had given him comfort and purpose back in New Jersey. Just as first-generation Italian-Americans like Amen brought new life to his mother's old-world home cooking and the farmland his father developed along New Jersey's highways, Darling was determined to mine Hong Kong's terroir to similar effect.
At first Darling struggled to develop relationships with suppliers. "I would visit a farm, agree to purchase all of the eggplant available the following Monday, and when I came back it was all sold at the farmers' market over the weekend; they wanted the guaranteed money," he says. He eventually won them over, and now saves them time and money, not just by picking up the produce himself, but picking it from the fields, too.
Quality produce became such an obsession for Darling that it took him deep into the mainland, and across borders as well. He recently traveled to Afghanistan to source grapes, figs, and nuts untouched by chemical fertilizer for his food distribution service Homegrown Foods, which delivers hard-to-find ingredients directly to consumers.
Such dedication to sourcing has allowed Darling's restaurants to thrive, and form a Little Italy in Central Hong Kong, steps away from the crowds commuting along the Mid-Level escalator. At Posto Pubblico, fried pizza ladled with a tangy, acidic tomato sauce and layered with house-made charcuterie is a crowd-pleaser that solves the issue of baking dough in the city's high humidity. A daily special of burrata is paired with sweet local heirloom tomatoes and hidden under a thatch of tomato leaves and dill flowers the cooks picked hours earlier. Down the block at Fini's, linguini isn't laden with clam sauce, but tossed with typhoon shelter crab that's been sautéed in pickled chiles, black beans, and a garlic-scallion gremolata. There's also local choy sum, and eggplant parm blanketed in mozzarella made with curds imported from New Jersey's Park Place Dairy. While the shipping involved raises the costs ten times over, the cheese has become an irreplaceable staple of the menu. At Frank's, the mozzarella is a complimentary starter—and typically the first thing to touch the table, along with a side of gnocco fritto.
Darling's growing restaurant empire has also allowed his photography career to flourish. He won the British Journal of Photography's 2017 Breakthrough Award, and last year he received a fellowship to document the drug-dealing corner boys and street poets hustling their way out of poverty in Paterson, New Jersey, where he had often run into trouble as a teenager. Spending more time at home for the project gave Darling pause, to consider raising his family in New Jersey and even taking over Amen's empire.
Protests against a new extradition law began in force and show no signs of slowing down despite increased force by the local police. Festivals have been canceled. Tourism is impacted. Takeout delivery services are turned off during the marches. "But we're muscling through," he tells me over email. Everyone takes a little longer to get to work when roads are blocked, and employees can legally give notice to take off work to protest. "Otherwise we just have to treat the strikes the same way we treat typhoons," he writes. Of course one difference is, Darling's once again picked up his camera, continuing to document the extremes of Hong Kong's new normal, providing images that complement international headlines in Time and The Guardian. New Jersey would have to wait—Darling isn't going anywhere.