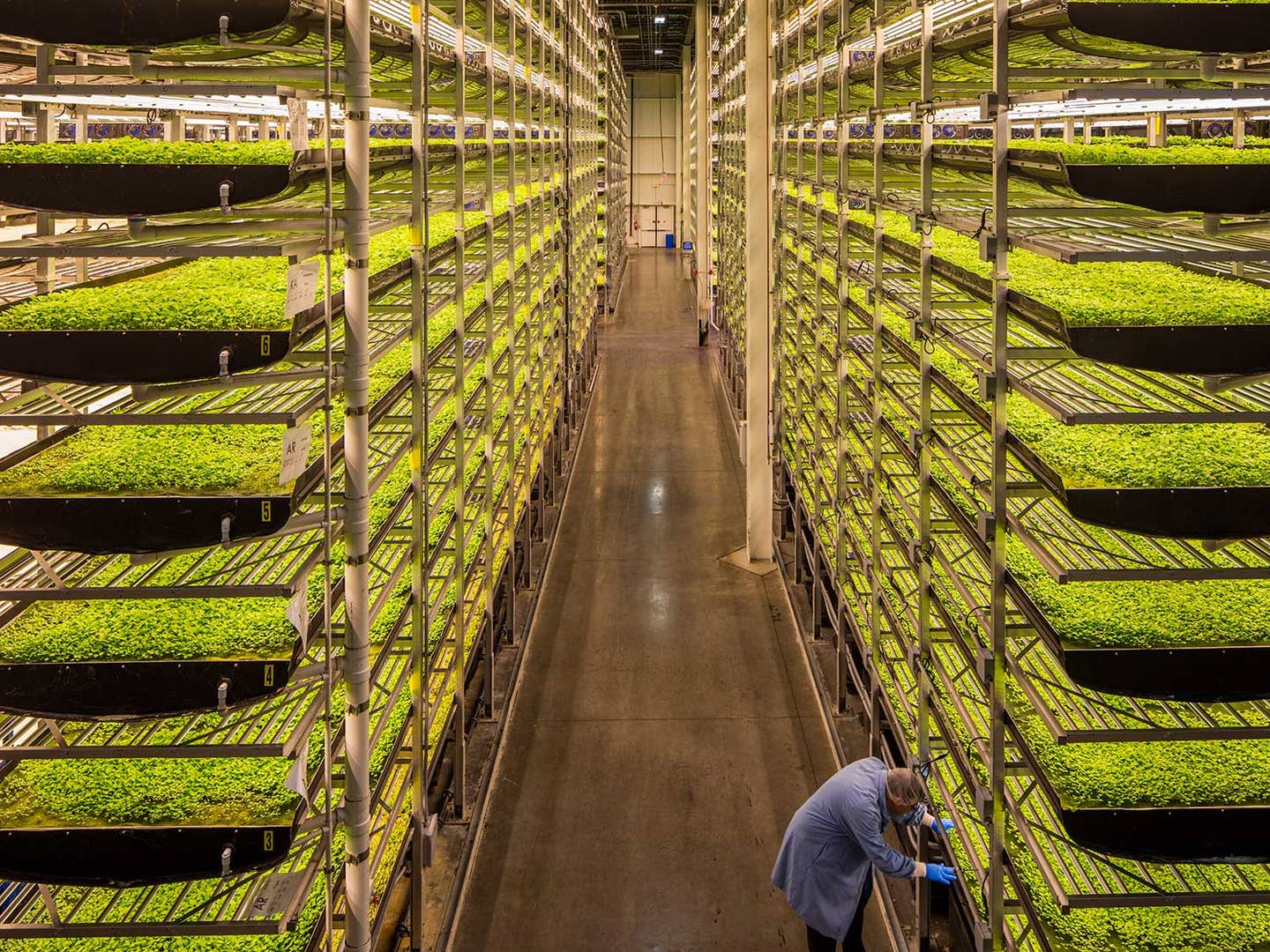 Travel
Singapore Airlines Makes Farm-to-Table Feel Fresh Again
The airline's "farm-to-plane" program is bringing locally-grown greens to its inflight meals
When you picture an in-flight meal, the first image that probably comes to mind is the all-too-familiar rectangular plastic container covered with aluminum foil, carrying "fresh" food—that is, freshly reheated in the convection oven onboard. If there's a salad included, the greens are most likely limp, with a lone cherry tomato if you're lucky. But lately, more and more airlines are trying to redefine what it means to have fresh food while up in the air.
While farm-to-table has become a tired buzzword, farm-to-plane is a growing trend: Emirates spent the last year building the world's largest vertical farm to create their own supply chain of fresh vegetables. Japan Air Lines plans to grow produce for in-flight meals at its agritourism attraction near Tokyo's Narita airport, dubbed the "JAL Agriport," which is slated to open in 2020.
Meanwhile, Singapore Airlines recently partnered with Aerofarms, a vertical farm in Newark, New Jersey—just five miles from the airport—that grows produce using sustainable aeroponics technology. Instead of growing leafy greens in soil, Aerofarms relies on a patented growing cloth made from recycled plastic bottles to hold the seeds. There's no need for huge acres of land, copious amounts of water, pesticides, or even sunlight. Aerofarms meticulously controls the humidity, temperature, and custom-made LED lighting to create the most optimal environmental conditions for its various crops year-round.
"There's control sensors built into everything," Mark Oshima, co-founder of AeroFarms, tells SAVEUR. "What it's allowing us to do is monitor plants 24/7. We can make adjustments, which allow us not only to have a faster growing process, but also ensure the right quality. And when we talk about quality, we're talking about elevating flavor, elevating nutrition, and producing varieties you can't really grow out on the field."
Of the more than 700 types of plants that AeroFarms offers, which includes more than 300 varieties of leafy greens, Singapore Airlines narrowed their selection down to a few choice ingredients to incorporate into three dishes: baby bok choy, arugula, watercress, and mixed greens (typically a blend of baby bok choy, ruby streaks, mustard greens, and watercress).
Inspired by Singapore Airlines's home base, one of the dishes is a soy-poached chicken reminiscent of Hainanese chicken, served with zucchini ribbons, sweet potatoes, AeroFarms baby bok choy, and pickled ginger vinaigrette. Representing Mediterranean flavors is an heirloom tomato ceviche with cured ham, palm hearts, and Aerofarms arugula. The third dish is smoked salmon with asparagus, broccolini, avocado, Aerofarms mixed greens, and lemon vinaigrette.
All of the Aerofarms produce gets to the plane within 24 hours of harvesting. "Once the caterers plate the dish and put it in the holding fridges, the produce sits quite nicely for the in-flight experience," explains Antony McNeil, director of food and beverage for Singapore Airlines. "The caterers do 90% of the completion, and the crew add the sauce at the last minute before the food is presented to you on your table onboard the aircraft."
For now, these meals are only available in business class on flights from Newark to Singapore (and soon JFK to Singapore), but expanding to more routes is not off the table. McNeil says, "Wherever we travel to, wherever our destinations are, we always look to engage local markets, local farms, and we always task our caterers to look for new and existing concepts that may be able to be worked on for in-flight experiences."