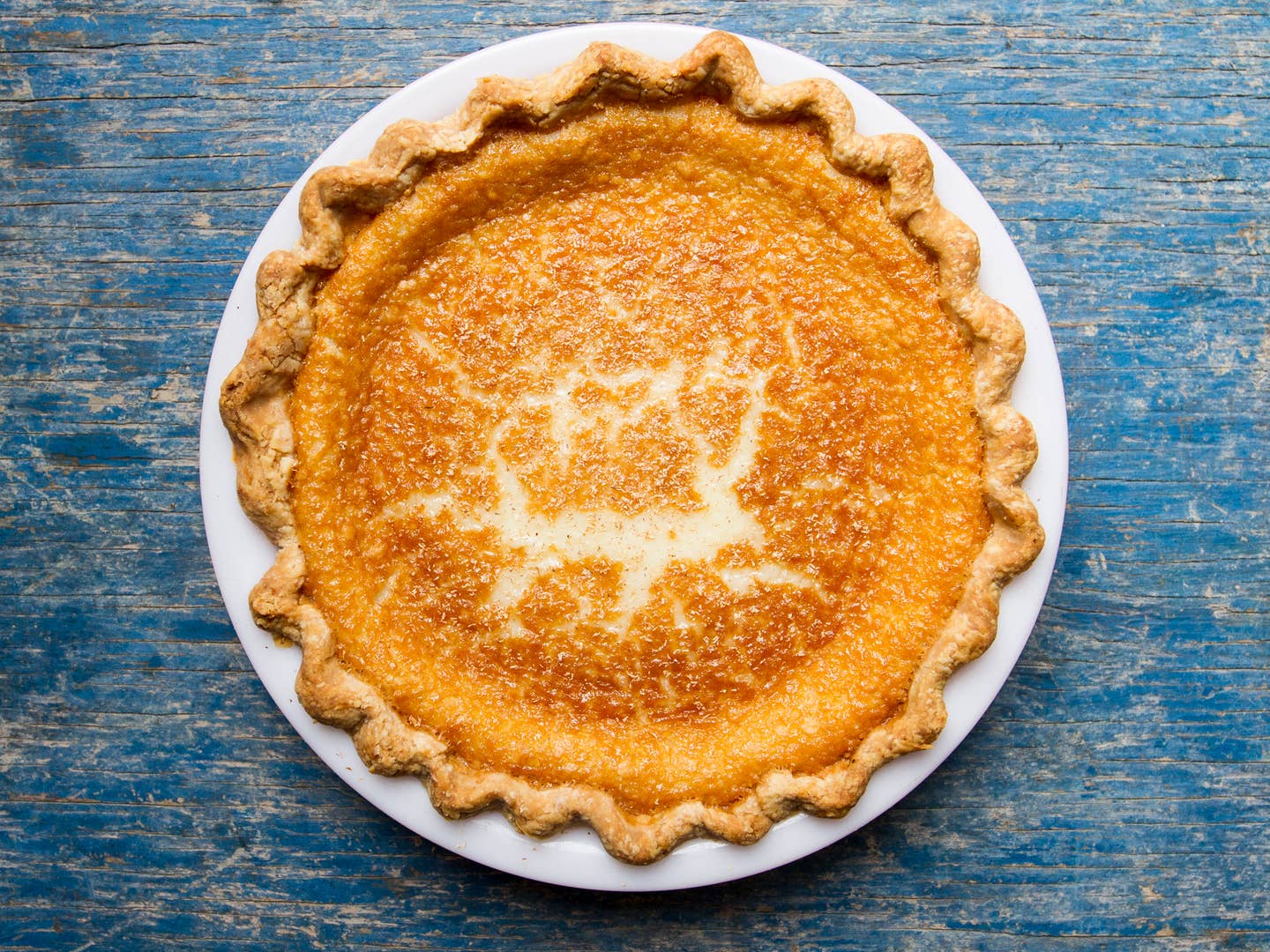 Culture
On Memory, The Midwest & Sugar Cream Pie
A Hoosier remembers her first taste of the rich, nutmeg-dusted pie
I had my first slice of sugar cream pie at a Borders bookstore café in Fort Wayne, Indiana. Displayed in a fingerprint-smudged display case, the pie was room temperature, the pale crust was obviously not homemade, and the filling, if possible, was a little too sugary and a little too creamy. I was seven years old, and I deemed it the best thing I had ever eaten.
Ask any other Hoosier about the first time they tried the nutmeg-dusted custard pie—or Hoosier Pie, the name that became increasingly popular in 2009 when Indiana declared it the official state pie—and their story will likely be much more precious. They probably had their inaugural slice after hearing their grandmother coo the dessert's name, or maybe they grew up eating it at Indiana's famous Wick's Pies shop. But those stories are not my stories. No grandmothers were involved in the making of my memories.
I never thought twice about my relationship to the pie. At the ripe age of seven, when I was still able to eat dishes without words like "authenticity" peeking their judgmental noses into my thoughts, foods were sorted into one of two categories: those that I didn't want to consume, like my mother's salmon casserole, and those that I would much rather consume, like sugar cream pie. I didn't wonder if the filling contained nontraditional egg in the traditional cream-sugar-flour-butter combination; I didn't care that the first taste of something so Midwestern—so part of my identity—was in a chain bookstore.
Born from the Shaker and Amish communities that settled in Indiana in the 1800s, the custard pie has been sitting on Hoosiers' dinner tables for over a century. Anecdotes about bakers stirring the filling with their finger circulate the internet; the Indiana Foodways Alliance has a "Hoosier Pie Trail;" and many a diner in Indiana show off a few slices in their display case. It falls into the category of "desperation pies," which includes pies of the chess, vinegar, and shoofly variety. When fresh fruit wasn't available or money was tight, and you just wanted pie, sugar and cream were there for you.
And for me, the pie was always there—at Borders café; in diners that served Indiana's other little darling, pork tenderloin sandwiches; and at the stuck-in-the-seventies "Italian" restaurant near my family's lake cottage. "Dad, look!" I'd whisper into his ear, grabbing his shirtsleeve with one hand and using the other to point at the portioned slices perched behind a glass counter anytime I spotted one.
So maybe that's why it doesn't matter that my pie recipe doesn't come from my grandmother, or that my first taste of it wasn't at her apron strings, or that I've never successfully made it except for the time that my younger brother and I tried and failed, which ended with us balancing dripping spoonfuls of the uncooked creamy-sugary-buttery-nutmeggy filling into our mouths. Or, maybe it's exactly that—that when you combine sugar, cream, and butter, it doesn't matter who's making it or where. It's always going to be good.