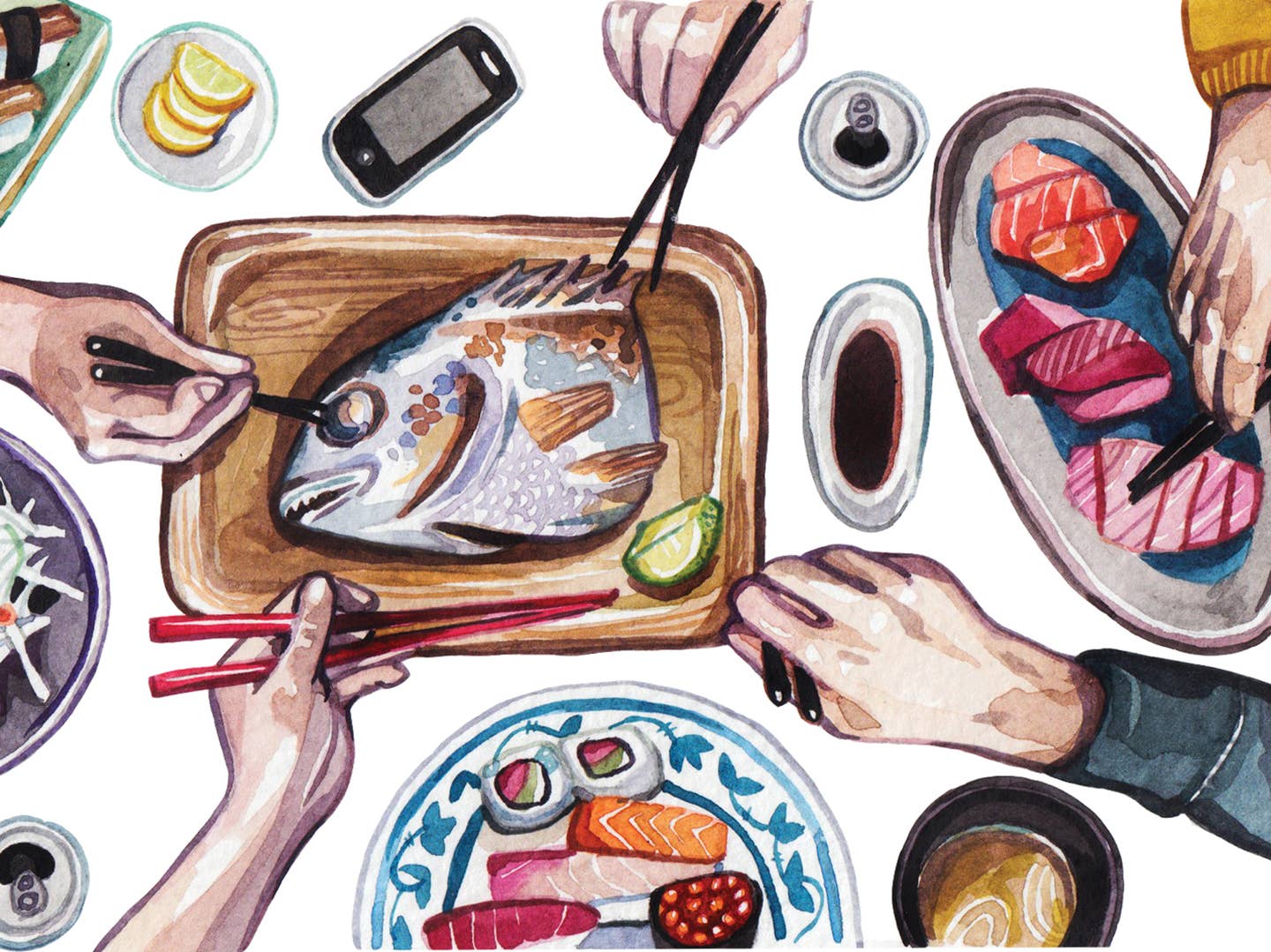 Travel
The App that Lets You Eat Sushi with Strangers in Japan
How to eat in the home of someone you've never met
I hadn't slept in two days, but a swarm of questions sent a rousing current through me. What if I botched Japan's status-centric seating order? What if I forgot that I must never touch my face with the hand towel they gave me? How do you speak Japanese? I arrived at my first-ever Tokyo dinner party with many questions, but also the delirious conviction that everything would work out marvelously. Or terribly. My jet lag was fogging things up a bit.
I needn't have worried about the language thing. A solid dozen people in Tokyo speak English and half of them had turned up. I was among them because I'd paid $58 to EatWith, one of those Airbnb-like websites that hook up eager diners with skilled home cooks around the globe. Type in almost any major city in the world and up will pop a number of hosts, ranging from intrepid amateurs to moonlighting professionals, all opening their homes to eaters from near and far. On offer is everything from elaborate, multi-course French meals to casual, buffet-style Moroccan tapas. In my case, I'd signed on for an "Art of Sushi" dinner with a roomful of strangers and the happy absence of Yelp-borne preconceptions.
My time so far in Japan had been pantomime-heavy, my own Kabuki theater of pointing moronically at fellow diners' plates in restaurants in hopes of ordering something similar. But in someone's home, I'd have refreshingly little say in what I'd be served. (And there was the bonus of being able to see what kind of shampoo my chef uses.) I was happy to cough up some yen for that.
Upon my arrival at the dinner, a group of young people in various stages of texting greeted me politely, then returned to their phones. I stood there, feigning extreme interest in my surroundings, like an architecture student at Fallingwater and not a jet-lagged writer in a bare-walled, nondescript Shibuya apartment.
That was fine; it gave me more time to contemplate my chances for lousing everything up. Two days after arriving in Japan, I could operate an ATM without phoning the consulate and use the subway without crying. But navigating etiquette was another matter. Tokyo looks much like any other metropolis, which only underscores the wild differences beneath the surface. I'd heard of visitors getting ejected from restaurants for removing their shoes in the wrong area, though of course mute dismay frightened me more. Worse, I lacked words to smooth over any offense. Insult the essence of their nation and my only recourse would be to say "good morning" a lot.
Then Shin, our chef for the night, emerged from the gyoza-sized kitchen and my nerves melted away. He was a perma-grinner, a good-time guy with a playful arrangement of spiky hair, a trimmed goatee. "There is no greater joy than expressing myself creatively through the art of sushi and sharing an exquisite meal with a table full of people from all over the world," Shin had written on his profile page. In person he was eminently more casual. He gave me two thumbs up, made a can of beer materialize in my hand, and told me to sit wherever. One guest blustered in half an hour late, in shorts. He'd been photographing a bunch of cats he'd come across in a parking lot, and they just wouldn't hold still.
If strict protocols were at play, I saw no sign. What I saw was dorm room lighting, corporate housing decor, one guest wordlessly mopping the sweaty head of her boyfriend with a napkin during a lull, an image simultaneously bizarre and touching. To eat in a stranger's apartment instead of that cute restaurant down the road—you roll the dice. Which is the whole point of having dice, as I see it. You risk nothing at all when you enter a smooth-running operation. You forfeit the chance to behold people being sixteen percent more themselves—people like Eri, the otherwise grown-up woman to my left who stuck out a cartoonishly pouty lip whenever anything displeasing came up. I have no doubt this is why people travel. In that funny pout lay all the singularity of the world, all the wonderful oddness our species only reveals around a cozy table at someone's home.
>" There was nothing left to do but memorialize it all via selfie stick.
And so we began a genuine if halting dinner party. We laughed our way through the inevitable conversational eddies, and then Shin, grinning, emerged from the tiny kitchen bearing a bright daikon salad. People talked about their work, and how they met their partners, and why the couple Spotifying in the corner had allowed another awful Spanish slow jam to come on. We went through the ritual of abasing our respective cultures. "Japanese men are too shy, and only like soft girls," a woman with likably goopy mascara said, sneering. "Eri and I cannot be popular. Too strong." Eri's lower lip protruded.
My favorite was Shin. Beneath the grin I sensed layers. He'd bring out another dish—deep-fried sushi rice topped with spicy tuna, or a roll he'd invented with shiso leaf and salmon, or a massive platter featuring the raw and appalled-looking head of a sea bass—and I'd buttonhole him in a way you just can't do in a restaurant. In a restaurant you don't get to learn that your chef is 38 and learned to cook by traveling the world for years, and that while abroad he'd been turned inside out by The Apartment, the 1960 film with Jack Lemmon. Upon discovering this movie, Shin realized he'd been put on earth to act. He pursued theater, appearing in plays here and there to mild success. These painstaking meals he prepared for assembled strangers weren't just some side gig to pay the bills; they were another kind of performance for him. And for us.
We plowed through the Sapporo and the mochi ice cream. Then, there was nothing left to do but memorialize it all via selfie stick. Smiles dialed themselves to eleven, peace signs flashed maniacally. I watched Eri, and Shin, and the not-soft mascara woman all gaze back at the camera with practiced ecstasy. It dawned on me that the post-dinner photo session was the one bit of etiquette not to be trifled with. I smiled to eleven, and meant it. Peace.
Chris Colin is a San Francisco-based journalist and co-author of This is Camino (Ten Speed Press, 2015).