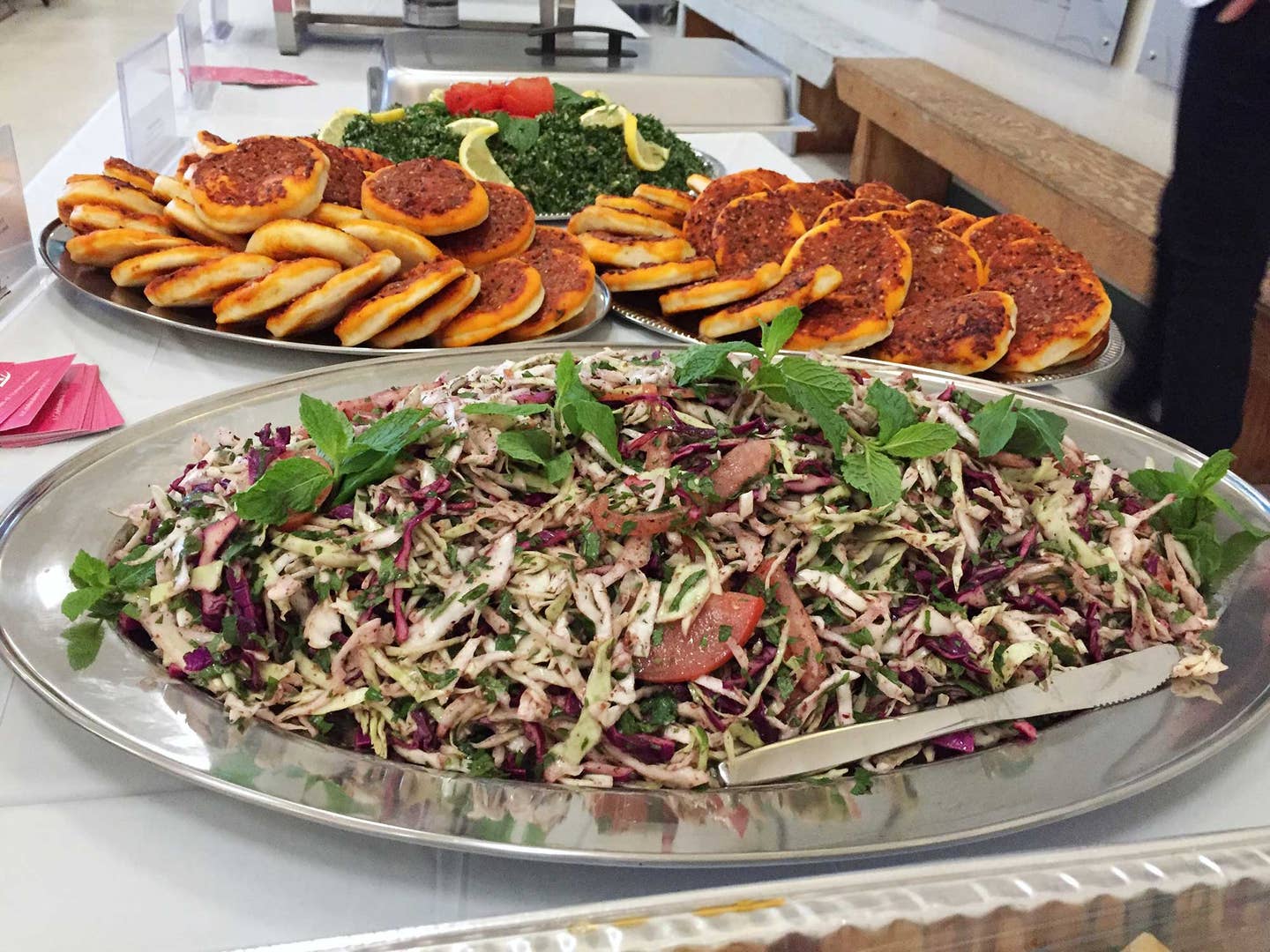 Travel
Vancouver's Wildly Popular Dinner Series is Helping Syrian Women Settle Into a New Home
Tayybeh, a Canadian pop-up and catering project powered by immigrants, sells out 150-seat meals in hours
What is Syrian food? It is muttabal shamandar, a velvety dip fragrant with beets, tahini, and olive oil; it is baba ghannouj, a chunky riot of eggplant and bell pepper; it is kebab hindi, tender meatballs swaddled in spicy tomato sauce.
To Vancouverites, Syrian food is in part a way to support recently arrived refugees. And to the Syrian women who prepare the food, it is a way to find their footing in a new home.
One year ago, Nihal Elwan founded Tayybeh: A Celebration of Syrian Cuisine. With a $500 CAD grant from a local foundation, the Cairo-born international development consultant organized what was to be a one-off dinner to connect Syrians and Canadians. Today, Tayybeh (pronounced tie-beh) holds dinners every six to eight weeks, typically selling out the 150-seat feasts within hours. They've also launched a catering company.
"We want to create bridges with different communities in the city," says Elwan. So far, they've cooked in a Palestinian restaurant, church halls, and a grade school cafeteria.
In September, I was one of 160 people at the largest Tayybeh dinner to date, held at the Vancouver Japanese Language School. "[The location] really resonated with us, given the Japanese community were newcomers and that they went through their fair share of adversity," says Nihal, referring to a period in the 1940s when the government seized Japanese-Canadians' property and sent them to internment camps.
Under the roof of one community's resilience, we dug in to help another establish itself. I couldn't stop spooning up mloukheye bil jaij, Middle Eastern greens with chicken. The first bite yielded a silky green reminiscent of tea—slightly tannic, with the texture of chard—that gave way to the richness of a Sunday roast chicken, then a punch of tomato and lemon. That night I dreamed of pomegranates, chicken stew, and nearly fluorescent beet dip.
When I meet Maha Almaarabani a few weeks later, her magenta headscarf and hot-pink Tayybeh apron echo the color of that dip. Originally from Damascus, she came to Vancouver in October 2016, and coincidentally, mloukheye is her favorite dish to prepare.
"The stew with greens and chicken?" I ask. My excitement needs no translation. With Nihal acting as interpreter, Maha explains that each Syrian city has a different way of preparing the dish.
A few feet away, Raghda Hassan pauses from stuffing rounds of dough with a cheese-olive mixture to wink at me.
"You tried the recipe from Latakia [where Raghda is from]," says Nihal. As Raghda and Maha debate, she translates. In Latakia, the greens are boiled in water first, while in Damascus they're pan-fried in ghee for a crunchier texture. In Vancouver, the ladies buy the greens dried, and can only find them in a few Arab stores—a far cry from back home, where Maha got fresh leaves and dried them herself.
Canadian cheese is challenging, too. Nihal says they've tried many different kinds, "but they keep saying, 'it's not right, it's not right!'" Meat comes frozen from the halal butcher. When I ask about it, Maha makes a face. "She says everything tastes different here. The meat is almost dry," translates Nihal.
Still, the ladies power through as best they can. The notion of a recipe, in the Western sense, seems foreign to them; Maha says she has a "breath" for cooking that doesn't rely on instructions. Another Tayybeh chef, Hasna Shekh Omar, blends dishes and techniques from Idlib, Aleppo, and regions across the Turkish border.
For the ladies, the Tayybeh project is a natural extension of what they've done their whole lives: cook and welcome people to the table. It is especially fitting for Hasna, whose seven children are now spread among Canada, Turkey, and Syria. "You see how all these people come to our dinners and they love our food? This is the same that we had [in Syria]," she says through Nihal.
But it's also something new. Raghda and Maha and Hasna have never worked outside their homes, never mind in a professional kitchen. For them, the company is a gateway, not just to a better income than they'd receive in other restaurant work, but to developing the skills they need in Vancouver: learning English, navigating public transit, and building up a resume.
So what does Syrian food taste like? It tastes like dried greens from the Arabic store, soaked in water like they do in Latakia, melded with stock from too-lean Canadian chicken, and stewed until silky. To Vancouverites, it tastes like a pop-up dinner in a community hall. To the ladies of Tayybeh, it doesn't quite taste like home. But it tastes like home for now.