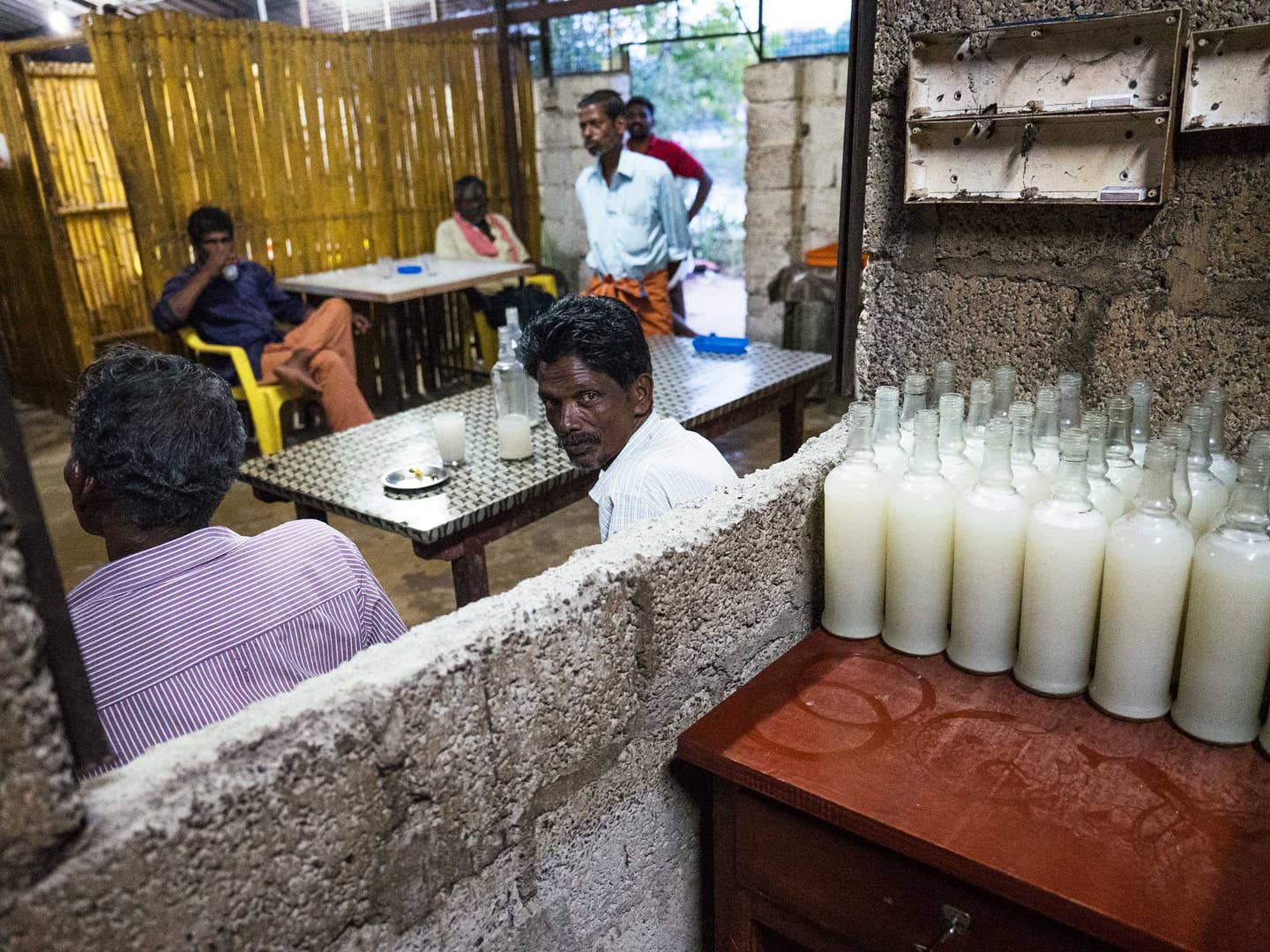 Travel
In Kerala, Coconut Sap Gets a Boozy Kick
Inside the south Indian state's toddy shops, the local watering holes devoted to fermented palm sap and the Keralan love of all things coconut
While reporting on India's Attukal Pongala festival for our summer issue, photo editor Michelle Heimerman and I spent an extra few days exploring Kerala. A mix of coast and jungle, Kerala is a long strip of land along the southwest coast of India. It's known for its placement along the spice route where cardamom and black pepper are grown in abundance. Tropical, with a climate similar to South American jungle or Florida's Everglades, the region has historically been a cultivation center for coconuts and other heat-loving crops. ("Kera" means coconut tree.)
Here, coconut palms grow wild, soaring in grand arcs over canals, along highways, alongside airport runways. Every family has at least one in its yard, and every single part of the tree is used. The coconuts are halved and shaved on small stools outfitted with hooks against which the flesh is rubbed to produce finely zested meat. Leftover shells are turned into spoons and cooking utensils. The leaves are woven into baskets, mats, and roofing material. Dried bark becomes firewood and, in one case, we observed children in a small village who'd cleverly transformed them into cricket mallets.
One early evening, while cruising around the backwaters outside of Kochi near Alleppey (also called Alappuzha), our guide pointed out a small cinderblock building dimly lit from within. "Toddy" was carved into a sign above the door, and the guide explained that "toddy" is the sap of coconut flowers. It's also called palm wine.
Every morning and every evening, toddy collectors scale the trees to tap the flowers, under which clay pots are attached to catch the sap. They cart the resulting milky liquid back to the shops where they're left to lightly ferment and gain strength. The longer it ferments, the more alcohol accumulates, but it must be drunk before turning to vinegar—usually within a few days. (The sap is also evaporated and turned into jaggery, a rich, brown palm sugar.)
Inside, a small television blinked with a static-addled game show. Small straw cubicles were populated with a plastic chairs and tables, and bottles of toddy littered the surfaces alongside tin plates scraped clean. Essentially bars with tiny, pop-up canteens hidden in the back, toddy shops are most often found in rural areas, and are gathering place along the region's backwaters or at village perimeters.
They're mostly the domain of men. A dozen of them played cards at the front, occasionally glancing up at the screen. A pot-bellied cook felt his way around ten or so pots filled with some of the spiciest food in Kerala. The hotter the food, the more you need to drink, so toddy shops are known for fiery dishes like meen, a red fish curry, and dry rice dishes laced with chiles and vegetables.
The toddy itself is vaguely sweet, a bit tart as if spiked with apple cider vinegar, and entirely refreshing after a large bite of tingly, red curry. The heat spreads and then the toddy douses, and so each evening passes this way in the quiet Keralan countryside.